New CPUs Target the IoT Edge
Across the IoT, edge computing demands are on the rise. From factories to eateries, it seems that every sector is deploying artificial intelligence. The desire for rich media experiences—such as multi-screen, 4K video—is also becoming pervasive. And edge devices are being asked to take on ever-more-complex workloads, mixing traditional embedded tasks with business applications.
That's where the new 9th Generation Intel® Core™ Processors for IoT (Coffee Lake Refresh S and H) comes in. For the first time, these CPUs offer up to 8 cores—and up to 46 percent better deep learning performance. And the chips deliver this performance in the same 35–65 W TDP range as the previous generation.
Of course, many IoT applications have lower power budgets. For these applications, the new 8th Generation Intel® Core™ U-Series Processors for IoT (Whiskey Lake) will be of interest. These new parts offer many of the same benefits as the S- and H-series CPUs, but with a TDP configurable between 25 to 12.5 watts.
Both of the new processor families offer an array of features targeting high-performance systems, including:
Enhanced Gen 9.5 Intel® Graphics
Faster and larger memory with DDR4 and Intel® Optane™ support
Expanded I/O including up to 40 PCIe Gen3 lanes
Integrated Gigabit Wi-Fi and Thunderbolt™ 3
Integrated programmable quad-core audio DSP
Together, the new Intel Core processors provide a much-needed performance boost for a wide range of applications, including retail, industrial, gaming, and public sector. Let's look at a few examples.
Restaurants, Retail, and Factories
New opportunities are appearing in applications like futuristic restaurants, smart shopping malls, and connected factories. These applications require autonomous machines with AI, computer vision, and graphics capability to process data and make decisions.
For example, some restaurants are using robots to serve customers, including taking and delivering orders. Other restaurants offer table-side tablets so customers can view a short clip on how a dish is made. Both scenarios call for high performance and power efficiency—the precise targets of the new chips.
Or consider the clever ways shopping malls are attracting foot traffic and engaging customers. In one possible scenario, the new processors could be used to design a smart kiosk in malls or inside retail stores. With its AI capability and multiple-camera support, kiosks could help engage a potential customer by first identifying the gender of the person and then displaying the latest fashion on a human-size HD display.
Its multiple-camera setup can capture a 3-D view of the customer to display, for example, a woman standing in a new dress, which is then shown in different colors accompanied by a matching handbag. This type of AI application will engage customers, increasing the time they can visualize themselves in the clothes, and increasing the likelihood of purchase.
In an industrial setting, connected factories increasingly strive for efficiency by adopting AI. Instead of using one computer to control a conveyor belt and another AI machine to do parts inspection, for example, an 8-core 9th Gen Intel Core processor can handle multiple workloads with ease.
Additionally, multiple cameras are supported to ensure most critical angles are covered for the parts inspection. When an alert signal is triggered, whether from a machine needing attention or the discovery of defective parts in a manufacturing process, the responsible personnel could be immediately informed.
How to Get Started
To speed development of these advanced applications, members of the Intel® IoT Solutions Alliance offer a broad selection of solutions based on these new processors.
As one example, SECO offers COMe-C08-BT6 COM Express Compact Type 6 (Figure 1). Supporting the 9th Generation Intel Core processors, the module can manage up to three independent 4K displays at once. The processors integrated graphics have an H.265/HEVC hardware encode/decode accelerator, making it a good fit for gaming, digital signage, infotainment, and human-machine interface (HMI) applications.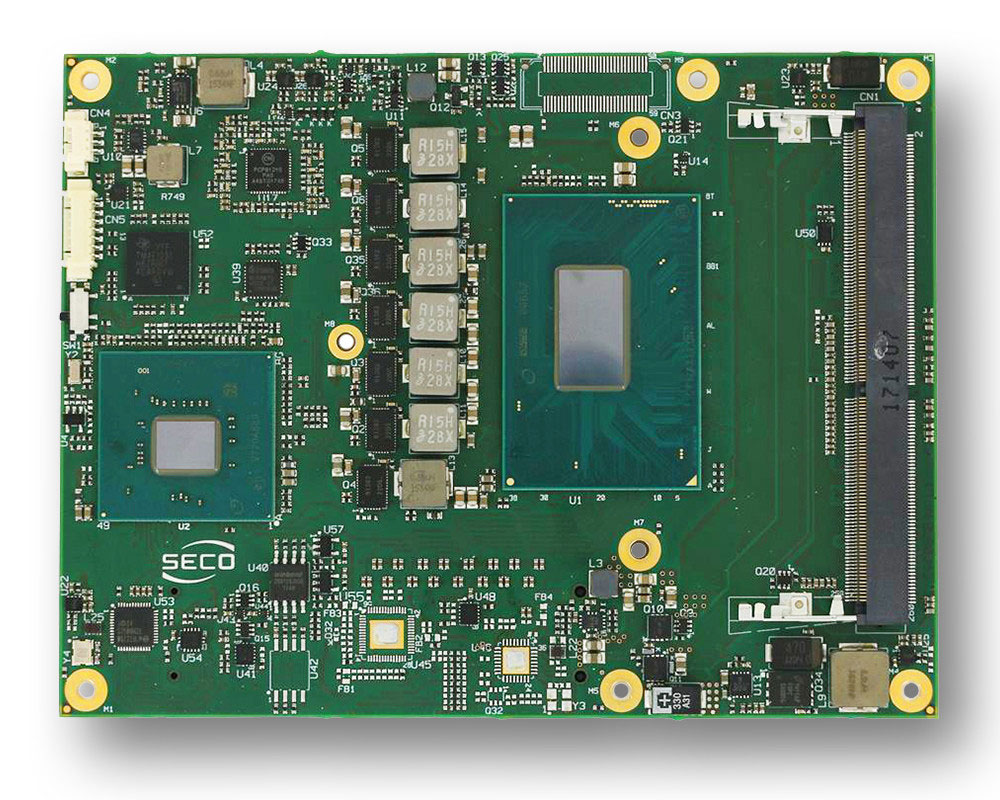 For a lower-power option, consider the conga-TC370 (Figure 2). Another COM Express Compact Type 6 module, this Congatec solution supports the 8th Generation Intel Core processor family. Notable features include configurable power down to 12 W TDP, up to 64 GB DDR4, and optional eMMC 5.1 onboard storage.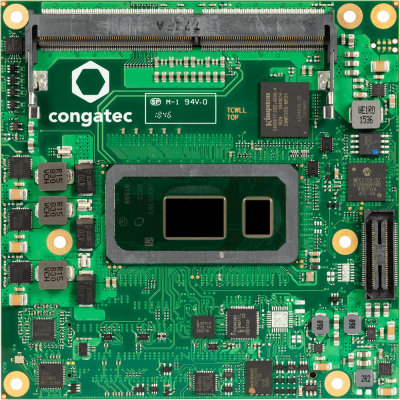 Whatever solution you choose, system architects, IoT solution providers, and developers have exciting new options for edge computing. Whether you need a high-performance 8-core design, a power-efficient 12.5 W module, or something in between, there are plenty of ways to get started quickly.