Ed Tech Goes the Distance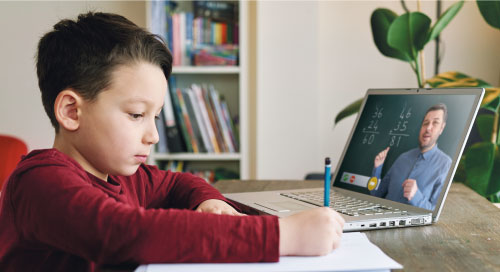 From consistent curriculum to better learning outcomes, e-learning offers benefits for teachers and students alike. For years, school systems worldwide have been moving toward a wider adoption of distance-learning models.
But practically overnight, educators have been forced to take on remote instruction. Unfortunately, most were not prepared. Teachers, students, and parents have had to rapidly transition lessons from classroom to home, literally learning as they go.
Videoconferencing software platforms may have become a quick fix, but they've not proven to be a sufficient long-term replacement for the classroom experience. The challenge they don't address is the massive gap between an analog, physical classroom and the digital learning environment for the teachers.
"Digital-native students adapt well to new tools, but 80 percent of teachers really are not digital natives," said Craig Scott, chief technology officer of ViewSonic. "They've gone from a space where they could look at students in the face to being thrown into a completely digital environment with a whole new set of tools and challenges."
But there's good news. New tools are coming online, and education organizations are making investments in technology better suited for the classroom of the future.
Finding the Right Educational Technology Fit
If teaching didn't require humans, students could learn with PowerPoint presentations, videos, and online quizzes, with AI bots grading their work. But clearly, teachers are an essential part of the education process.
"Teachers are the 'guide on the side,'" said Scott. The pedagogies are going to have to change to accommodate and support the teacher's individual style."
While digital-native students adapt well to new tools, teachers have been thrown into a completely digital environment with a whole new set of tools and challenges. @viewsonic
Even if they're mastered, video platforms have shortcomings. Many teachers are trying asynchronous learning methods to cope with the new setting, recording lectures for students to watch independently, assigning homework, and reconvening on video to talk about what they learned. Yet others who prefer a more participatory style are trying to interact with students over video, and they're struggling to find a sustainable way to incorporate their feedback in real time.
Educators are quickly learning that a one-size-fits-all solution won't work. Instead, digital learning platforms need to be flexible enough to adapt and fit every situation (Figure 1).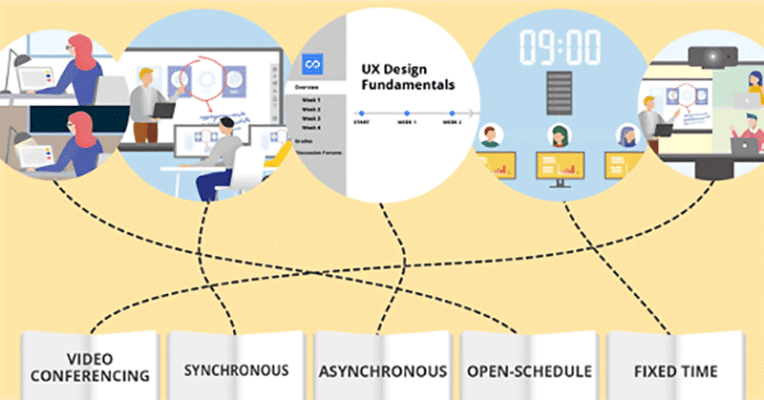 Advancing Distance Learning
To address the gap between analog and digital, Scott and his team studied the dynamics in physical classrooms. What they discovered helped them expand the capabilities of ViewSonic's interactive digital whiteboard ViewBoard with myViewboard.
For example, audio is more important than video in an asynchronous learning method. While the teacher doesn't need to see the students' faces to convey a lesson, it's imperative that the students hear the teacher. For synchronous learning, students need a structure for asking questions without interrupting the teacher, and teachers need a quick method for measuring student engagement.
The solution provides interactive tools that meet different educators' needs (Video 1). A teacher can send and receive content from students who are working at home on laptops or tablets. For example, during a geography lesson, a teacher can call on students by asking them to circle a spot on a map. Or during a math class, a student can "go to the board" and solve an equation.
Video 1. Fostering distance learning by offering ways for teacher and students to interact. (Source: ViewSonic)
myViewBoard also makes visually rich content accessible for lessons from multiple sources for the teacher to present to students. And high-quality audio ensures the best teacher-student experience. If the video drops, the audio will survive.
The ultimate measure of the success of a distance-learning system is whether the student is engaged during the lesson and has retention and understanding afterward. An essential missing piece with videoconferencing is feedback during the teaching process, which impacts engagement.
"Eighty percent of communications are nonverbal, and without seeing students' body language, teachers cannot tell if they're engaged," said Scott. "Teachers are having to learn to basically teach blind. How do they deliver content to a student community with no feedback? How do they know kids are paying attention and actually listening?"
The distance-learning platform is based on ViewSonic's ViewBoard Interactive Flat Panel Display and myViewBoard solution that incorporates technologies such as Intel® Core™ vPro® and Intel Unite®.
The software has features that look for visual cues and alert teachers if a student is paying attention, versus needing to decipher engagement by looking at 30 different faces on a screen. Teachers can also create instant huddle spaces that put students into groups to collaborate on work or projects.
"We're not trying to take videoconferencing and jam it on top of teaching," said Scott. "We're working to understand the in-the-classroom and out-of-the-classroom models, to bring them together in a way that instructors do not have to change the way they teach."
As more information about the needs of distance learning is being collected and understood, myViewBoard will continue to evolve by adding new features and capabilities. In fact, ViewSonic solicits input from teachers to help ensure its solution can bridge that massive gap between analog and digital learning.
"Everyone's making guesses on what the right answer looks like," he said. "My suggestion would be, don't look for the perfect solution, just understand that you're going to oscillate to the best solution over time."