AI Matures at Intel® Innovation 2023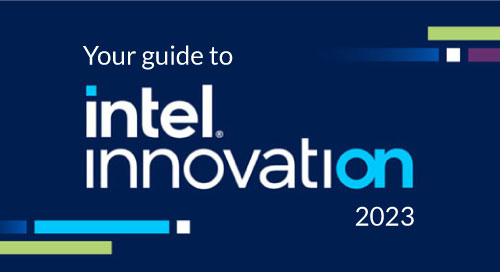 Last year, Intel® Innovation 2022 focused on democratizing AI for everyone, and that commitment shone through at this year's event. Intel® Innovation 2023 still had the same underlying mission to make AI more accessible to developers and partners, but showcased even more Intel® processors, software, and AI capabilities.
"AI going forward must deliver more access, scalability, visibility, transparency, and trust to the whole ecosystem," says Pat Gelsinger, CEO of Intel.
Gelsinger demonstrated exactly how Intel is at the forefront of this next generation of AI with the announcement of new solutions and technologies infused with AI.
For instance, the company unveiled its Intel® Core™ Ultra processors, code-named Meteor Lake, expected to arrive December 14 with low-latency AI compute and new opportunities for AI experiences.
For Intel, the Core Ultra represents a lot of firsts:
First device built on the Intel® 4 process node
First to integrate a neural processing unit (NPU) AI co-processor
First to include a low-power island that independently executes certain workloads
Mix in heterogeneous tiles of on-die CPU and GPU cores, and in the Core Ultra you have what Intel believes will kick-start the "AI PC" era.
The AI PC Era Isn't About Hardware
The Core Ultra (as well as 5th Gen Intel® Xeon® processors "Emerald Rapids" CPUs, also available December 14) offers a glimpse into workloads Intel believes will drive computing over at least the next half-decade—AI and computer vision. Look deeper, and this was confirmed by software releases at Innovation 2023 like the general availability of the Intel® Developer Cloud for building and testing high-performance applications, which also includes a free tier to help developers kick-start their AI development.
Pat Gelsinger demonstrated exactly how Intel is at the forefront of this next generation of #AI with the announcement of new solutions and #technologies infused with AI. @intel via @insightdottech
To streamline the development of AI apps, the Developer Cloud contains a variety of software tools, including the Intel® oneAPI that provides unified interfaces for programming heterogeneous compute nodes, and support for the OpenVINO™ toolkit, which was updated to version 2023.1 at the show.
The OpenVINO 2023.1 release comes packed with enhancements for PyTorch solutions, broader support for large language models (LLMs), and greater AI workload portability across edge and cloud. But a lot more has been going on under the hood, such as improved integration between OpenVINO and the Intel® Geti™ AI modeling suite, which was evident at the show. Geti is designed to help domain users build computer vision models in less time with less data. It accelerates dataset labeling, model training, and export while developers leverage OpenVINO to optimize models for deployment on Intel® silicon and streamline AI applications from end to end.
AI Everywhere at Intel® Innovation 2023
The impact of AI could also be seen all over the Innovation 2023 floor as the Intel AI ecosystem showcased its new and innovative solutions. For example:
Those were just a few of the AI ecosystem partners on location at Intel Innovation 2023 exhibiting the potential of deploying AI everywhere on top of Intel technology. Other partners included edge data intelligence firm EPIC iO Technologies, video analytics company SAIMOS, intelligent surveillance system provider Irisity, AI-backed video monitoring company Vehant Technologies, and private 5G pioneer Juniper Networks. And those were just the AI partners.
Vendors from all walks of industry and vertical markets ranging from telecommunications to transportation displayed how AI empowers what CEO Pat Gelsinger calls the "Siliconomy"—a new era fueled by AI, ubiquitous compute, connectivity, infrastructure, and sensing. And they were all doing it on top of Intel technology that's available today.
See what else you missed at Intel Innovation 2023, and learn what the era of "Siliconomy" means for the future of AI.

This article was edited by Christina Cardoza, Editorial Director for insight.tech.