Fill form to unlock content
Error - something went wrong!
Your content is just a step away. Please submit below.
Video Safety and Security Lead to Business Efficiencies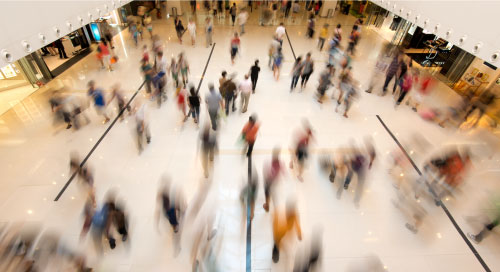 Security video and sensor data can deliver plenty of business insights to organizations looking to optimize building utilization and user safety. So when organizations invest in expensive video infrastructure for safety and security reasons, they also want to leverage data for business purposes.
Take retail. Images of shoppers in stores not only help deter theft and keep people safe but also tell retailers how patrons move through a store and where they spend most of their time.
The challenge is to get the insights cost-effectively. Cloud-based management of video solutions helps control costs, but using the cloud to analyze the amount of data captured by cameras gets expensive. It's cheaper to do it at the edge.
"The cloud-based management platform is excellent for a lot of workloads. But for workloads like video, where it's very demanding and very expensive to move that workload off-premises, there needs to be some level of flexibility," says David Grey, Senior Manager for the Video Appliances Product Group at Genetec, a video physical security solutions vendor.
Genetec solves the problem by providing customers with a combination of technology and global services. The company's unified security platform combines video with access-control data from sensors. An appliance, called Streamvault Edge, sits on the edge at customer sites to analyze the data and give it context.
About 70% of the data is handled at the edge. Genetec transfers anything requiring further analysis to the cloud. Then the company converts data insights to an easily consumable format that customers access through a web interface.
Beyond Safety and Security
"Only 5% of video collected from security systems is played back—to investigate incidents," says Grey. "The other 95% in a traditional deployment is just getting thrown away, essentially. At the end of a 30-day cycle or at the end of the retention period, it gets rewritten."
Organizations that make substantial investments in video frown on that kind of waste. One way to derive value is to use real-time analytics to prevent security incidents. Someone captured on camera acting suspiciously can be stopped before slipping into a building illegally or stealing something.
Today, companies look for more capabilities from their existing video #SecuritySystems. They look for actionable business #intelligence. @genetec via @insightdottech
But today, companies look for more capabilities from their existing video security systems. They look for actionable business intelligence. For example, by knowing the number of individuals entering and exiting a facility, companies can measure occupancy trends. Visibility into these types of trends can drive decisions from energy management to conference-room demands.
"Operationally, if you're an office, there's a lot of value in understanding what's actually happening in your premises," says Grey.
Video Data Leads to New Opportunities
Whether you're a retailer, a sports stadium, or an airport, operational efficiencies derived from security data can create commercial opportunities. Retailers, for instance, are always interested in tracking the customer journey to create better shopping experiences. Genetec helps them by monitoring traffic flow and checkout queues.
"Once a certain amount of people has lined up at a cashier, is it time to open another cashier? Can you count people that have decided not to purchase because the queue was too long? There's a lot of insights into how to operate a retail store more efficiently," says Grey.
Other industries, such as financial services, also can benefit. One financial services customer with global reach needed to monitor locations without access to the company's network. Extending the network to each site would have been costly.
So the company tapped Genetec to deploy Streamvault Edge at those sites. Because the solution is managed through the cloud, it required only two minor changes to the company's network for security monitoring and access control.
The company saved money in two ways: The solution didn't require major network integration, and the customer got access control without having to post security guards in the buildings, Grey says.
Continuous Improvements: From Video Security to Cybersecurity
Beyond video security, analytics, and business intelligence, cybersecurity plays a big part in Genetec's solution and service strategy. Grey says all of the company's hardware and software are hardened and penetration-tested by a third party. And all of their software partners go through cybersecurity training twice a year.
The platform tracks cyber risks in real time and issues alerts if someone tampers with a camera. Grey says Genetec won't work with cameras lacking security controls such as password protection: "Cybersecurity is a huge part of our credibility with our customers."
Partnering with Intel furthers that credibility. Genetec uses Intel CPUs to power Streamvault Edge and works closely with Intel on R&D and go-to-market strategies.
Going forward, Grey is confident Streamvault Edge will open inroads into new markets. The solution is quick and easy to deploy, and its software is updated continuously. "When new features become available, those features are automatically available to our customers so that they can always be consuming our latest and greatest," says Grey. "It's our desire to protect the flow of everyday life by providing organizations around the globe with a means to improve their business intelligence, operational awareness, and security."
This article was edited by Georganne Benesch, Associate Editorial Director for insight.tech.