Fill form to unlock content
Error - something went wrong!
Get the latest updates on IoT for smart cities.
You are following this topic.
Smart Buildings Harness the Power of Data Analytics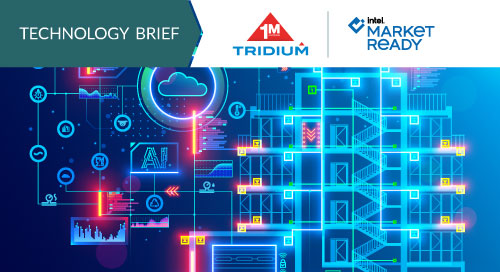 What do hospitals, factories, businesses, and schools all have in common? They have a big data problem. Organizations struggle to use all the information they are collecting across the enterprise. But when you harness the power of data, transformational possibilities are practically endless. You can move toward achieving sustainability goals, lowering operational costs, and creating more agile operations.
What begins as a quest for distinct, application-focused data often ends with too much information from too many sources.
"People often have a very specific problem they're trying to solve, but they realize over time they can't scale that discrete solution to cover other issues," explains Nathan Kehr, channel manager at Tridium, Inc. "They collect data from many systems and have more than they know what to do with, so they have to turn around and go back to the application side."
"This cyclical process of adding more data streams and bolting on more applications is common in large institutional and multi-site organizations," Kehr continues. "Soon they realize they have a data problem." To solve it, they need a comprehensive solution that can aggregate, process, and analyze data from many sources.
One such solution, Tridium's Niagara Framework, allows users to move data from disparate sources into an organized framework, allowing enterprises to gain insights and apply logic. "We have lots of provisioning steps built into the framework." Kehr says. "As you're bringing new devices, equipment, and other sources online, you can precondition a lot of that data through metadata tagging according to a standard methodology that helps bring order and interoperability."
From Smart Buildings to Operating Rooms
Based on its Niagara IoT framework, the Tridium platform has many potential use cases, including occupant comfort, energy management, and power-grid responsiveness—across schools, university campuses, hospitals, and smart factories.
The move to smart-building technology is a key goal across all sectors. In this case, the solution collects data from building services such as heating and cooling, ventilation, and lighting subsystems. Using data from connected equipment that can range from big air handlers on the roof to small sensor packs attached to interior fixtures and furniture, the software can monitor usage, calculate energy consumption, and generate reports. It can even feed the data it aggregates and normalizes to other applications, giving facility managers the flexibility and choice of tools they need to reach sustainability goals.
In the fast-moving smart-building space, software developers are quickly advancing the field of special-purpose algorithms. These algorithms are designed to enhance air quality and further optimize energy use within specific building types. The algorithms developed for a data center might be tuned to keep power-hungry computers sufficiently cool and dry.
But the algorithms for a schoolroom are quite the opposite. And the common goal for all facility managers is to recognize and reject the creation of data silos and to maintain an open future growth path.
And it is not just mechanical, power, and lighting systems that organizations may want to link into their building data framework. They can also choose to add security cameras, access control systems, process control applications for manufacturing, and more.
The university campus can also benefit from the same system. Typically built over many years, their different buildings have likely been upgraded in an ad hoc manner. Campuses are rarely unified when it comes to all the equipment and systems that deliver core building services.
"You end up in situations where you have multiple manufacturers and generations of equipment installed, and different contractors coming to service and maintain them," says Kehr. "Just getting all that data under control gives the university visibility into every system through a single pane of glass, allowing managers to make decisions about prioritizing contractors, scheduling repairs, and optimizing their budgets."
Tridium's Niagara Framework is a good fit for hospitals and healthcare settings as well. When preparing an operating room for example, certain parameters need to be met before the procedure can begin—typically involving humidity, temperature levels, lighting, ventilation, and air changes between operations. The solution can effectively regulate the environment for critical surgical procedures, handling mechanicals, lighting systems, and occupancy.
Organizations are wise to look at their existing #DataSystems and craft a plan for maximizing its effectiveness, particularly around #building and #EnergyManagement. @TridiumInc via @insightdottech
Scalable and Secure from Edge to Cloud
Designed with scalability in mind, the Intel® technology-based solution's edge-to-cloud framework runs the same software in the cloud, on a local server, and at the unitary level on specific pieces of equipment—for example, a fan cooling unit in a building, or smart-factory robot.
This structure allows for more control and allows managers to use a single tool set for programming, servicing, and commissioning all equipment and devices. "There's also a security element," Kehr says. "Loading the software at every level allows us to encrypt data all the way down to the individual device."
Managers access the data through a web-based dashboard system. What they see when they login depends on their position in the organization or area of responsibility. For example, an energy manager might see a dashboard showing consumption and energy costs, while a contractor working on a specific subsystem might see a more detailed report to help them diagnose problems and outages on specific devices.
As technology continues to evolve, organizations are wise to look at their existing data systems and craft a plan for maximizing its effectiveness, particularly around building and energy management.
"It's very much a worthwhile endeavor to sit down with your operations and IT teams and say, 'What do we have? What are we doing today? And do we have a plan for the future?'" says Kehr. "Even if you just went through a controls retrofit or new construction project five or six years ago, a lot has changed. And how we're using technology to derive more value from data has evolved quickly and significantly during that time."
This article was edited by Georganne Benesch.