Fill form to unlock content
Error - something went wrong!
Your content is just a step away. Please submit below.
Smart Buildings Enrich Workforce Collaboration and Culture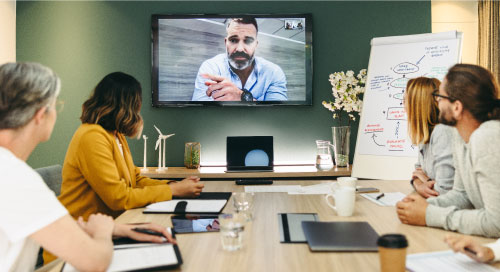 Today's smart buildings aren't just reducing costs and boosting sustainability efforts. They're becoming an essential part of an organization's digital transformation.
A world-class healthcare provider, for example, turned its hospital and clinics into smart spaces to meet its mission of delivering better care through its practice, education, and research facilities. Working with GPA, a global collaboration strategy consultant with locations in 50 countries, the organization delivered audio and video (AV) technology that enables their culture and knowledge sharing foundation to connect teams of doctors around the globe to share their discoveries and be leaders in transforming healthcare outcomes in the future. The solutions provided allowed the organization to record as many as 30 different channels of content each day—cataloging, curating, and meta-tagging them for searchability.
"Technology connects people and moves initiatives forward," says Brad Sousa, Global GPA Innovation Leader and CTO for GPA's U.S. business unit, AVI Systems. "But it's not just tech and spec; it's about connecting that to real human outcomes. In the case of the customer above, it's about a child in the neonatal unit who could go home with their parents because we brought together a team of people from around the globe to structure a treatment plan for this infant, collaborating and delivering something amazing."
Smart Building Technology Engages Employees
In addition to supporting outcomes like patient recovery, smart building technologies in their many and varied forms can drive core organizational goals and outcomes beyond just connecting a remote and global workforce—in today's market it has the capacity to foundationally support and enhance an organization's culture.
In the U.S., for example, 58% of employees can work remotely full- or part-time, according to McKinsey & Co. Having a large portion of the workforce out of the office each day introduces a new level of complexity. When remote employees want to feel connected to their peers and the organization in all senses, they may venture to the office. But in the office, they want to optimize the time they spend there and ensure it is both personally and professionally rewarding. Smart buildings and smart spaces that help create a new relationship between the worker and the workplace are the solution.
A comprehensive and integrated #SmartBuilding #technology approach expands past the collaboration mandate within the meeting room, and beyond real estate priorities like #EnergyEfficiency or building footprint optimization. @GPA_AV via @insightdottech
"I believe we're in a new realm," says Byron Tarry, CEO of GPA. "We have to make the office experience better, or people will stay at home. And as a result, we are seeing a shift away from a technology-first focused customers toward one where that human-centric premise of smart workplaces is at the forefront. It's changing the conversations themselves, but also who we are being asked to engage with."
"We believe ideally organizations want to buy AV like they buy IT," Tarry continues. "It's the 80-20 rule. They want the 80% to be simplified so they can spend their time on the 20% of the important stuff."
In the case of GPA customer, the scope they sought was around outsourcing the management complexity of standardizing, deploying, and supporting more mainstream meeting technology solutions within thousands of rooms to free up internal resources. "This would enable them to focus on more strategic internal efforts and to plot the evolution of their overall workplace technology approach. But increasingly customers are looking to us to go beyond the meeting room and support them in architecting and delivering the depth and breadth of that overall workplace evolution strategy," says Tarry.
A comprehensive and integrated smart building technology approach expands past the collaboration mandate within the meeting room, and beyond real estate priorities like energy efficiency or building footprint optimization. It leverages a unification of all the disparate systems these encompass to intelligently help to remove friction from an employee's day.
As just one set of examples among many, a comprehensive solution approach might coordinate and automate how one enters and traverses the workplace, offer IT or other services available within the facility, and recommend, understand, and sync schedules with known peers. From there, users can proactively facilitate meetings and make the most of the time spent in the office. Tools and technologies can also understand or provide context around different meeting space options and availability to recommend the best places to gather, or even understand group preferences to suggest nearby restaurants when ordering lunch for a group.
How to Create Smart Spaces
Smart buildings allow organizations to focus on outcomes and culture; but they can be difficult to scale and deploy, creating both challenges and opportunities. Instead of piecemealing collaboration and video solutions, organizations can get help from multi-disciplined integration companies like GPA that build systems supporting a smart workplace in consistent ways.
A comprehensive smart-workplace solution may include intelligent cameras, high-definition video screens, conferencing software, content production and streaming services, and smart workplace UIs for apps. A majority of these systems leverage Intel technology both at the edge and/or in the cloud to provide the computing needed to power each of these solutions.
"Time is as critical a commodity as cost in this race to adapt and compete in this new era. Intel provides a credibility factor—both in perception and in reality—in addressing key factors like security issues and enterprise-grade network environments that can really ease the approval and implementation path," says Tarry. "And that's a critical consideration in design considerations, and in how we and customers look to manage project and program risk."
When one understands the importance of customization and alignment of these complex and integrated solutions, opportunities align to a company's needs and culture. While there is no one-size-fits-all solution, there are best practices an organization can follow. GPA uses a consultative process to select a combination of hardware and software to achieve an organization's goals. That's difficult enough to do within a single region, but understanding the disparities in culture, workflow, regulatory, or otherwise that occur at global scale makes it critical. Global understanding and experience are at the core of that consultative skill set, according to Sousa.
"Ultimately, we believe our role is to help our customers imagine the right way to solve their problems within their regional and global culture," Sousa explains. "We offer the ability to deliver on a global footprint, to optimize and refine regionally, and then continue to optimize and sustain those solutions with a human outcome-oriented, services-centric approach that's consistent and measurable—ensuring the tools driving those outcomes never become outdated."
The Opportunity Ahead
In this new post-COVID world order, we're seeing a shift to where the entire workplace is becoming an experience center, Tarry adds. "An organization's customer is not just an external third party, the employee is also now the customer. The office—and the technologies that directly or indirectly support and facilitate meeting and collaboration—has become the very foundation for employee engagement. We believe that's an incredible opportunity for us, for our customers, and for our partners like Intel to be a part of."