Fill form to unlock content
Error - something went wrong!
Get the latest updates on IoT for smart cities.
You are following this topic.
Personalized Services Are the Future of Public Transit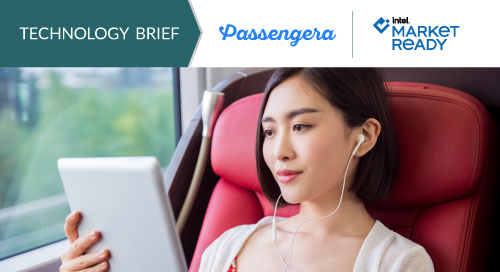 Passengers used to be thrilled if reliable Wi-Fi were available on public transportation—and were willing to pay a premium. Today, always-on connectivity is a commodity, and customers expect it no matter how they travel, be it on trains, ferries, or buses.
This presents the transportation industry with both new challenges and new opportunities. Post COVID-19 pandemic, people are starting to travel again. But they have many choices and in a highly competitive environment, transit entities must go the extra mile to get passengers on board.
Transportation systems around the globe are being digitized, and on-board internet connectivity helps improve the passenger experience while adding new revenue streams, lowering costs, and improving daily operations. Passengera, a global provider of digital transportation solutions, focuses on the future of public transit, and makes these new opportunities possible.
"Our vision is to lead the path of mobility digitization and introduce a new level of travel experience, both for transport companies and their passengers," says Jan Kolář, CEO of Passengera. "We aspire to increase the appeal of public transportation, because when more people decide to buy a train ticket rather than getting in their own car, our planet can be a greener one."
Enhancing travel experience means providing entertainment to passengers who seek relaxation during their journey and stable high-speed internet connectivity to those who prefer to work—while delivering the trip information they need when they need it. With these services, the journey goes from meeting expectations to creating next-generation digital travel experiences.
With the @Pssngra #Fleet Connectivity and Infotainment Solution, operators gain insights into #passenger preferences and interests that can be used to personalize experiences in real time. via @insightdottech
Travel Technology Enhances Passenger Experiences
New technologies and AI in transportation provide all sorts of new ways for travel companies to increase revenue. In the past, operators didn't have ways to know their customers—from demographics to infotainment preferences. With the Passengera Fleet Connectivity and Infotainment Solution, operators gain insights into passenger preferences and interests that can be used to personalize experiences in real time.
For example, if a passenger consistently watches animated movies screened on a train, the operator can deliver personalized information with similar characters and themes to their device over Wi-Fi. Or when people look up restaurant reviews at their destination, they can opt in to emails that suggest top dining options. And both of these scenarios present advertising opportunities not just to the transport company but to its partners as well.
Marketing options are practically endless and benefit both the passenger and transportation companies in the long term. For instance, passengers can order food from their personal devices with meals delivered right to their seat. Food sales grow if they receive special offers, discounts, and up-sell recommendations while ordering.
With its modular, centrally managed service platform, the Intel® technology-based Passengera solution makes these opportunities a reality (Video 1).
Riyadh Metro: Travel Tech Innovation in Action
The Riyadh Metro project is a great example of Passengera and its solution in action. Currently in the testing phase, it is one of the most extensive public transportation projects worldwide. With 85 stations, six Metro lines, 176 kilometers of tracks, and driverless trains, passengers will enjoy a cutting-edge experience from the moment they enter a station until they arrive at their destination.
From analysis, to design, to deployment and continuous support, Passengera delivers a connectivity and application hosting solution capable of seamless handover between trains and stations.
While traveling, people can view targeted advertising content on their personal devices and potentially even on the in-train screens. This focused advertising model is a plus for both customers and vendors alike. Travelers can learn about and take advantage of special offers. And when based on people's locations and profiles, there's greater potential for conversion rates and new revenue streams.
Another bonus for both the Metro and travelers is the higher likelihood of on-time transportation. Metro employees receive real-time analysis of train locations and passenger loads, as well as notifications of potential issues via centralized monitoring. The outcome is fewer crowds to manage and satisfied customers who are likely to use the Metro again and again.
And Passengera's capabilities go beyond the complex connectivity solution deployed in Riyadh. For other customers all over the world, the platform also delivers other digital solutions, including infotainment platforms, monetization platforms, as well as management and monitoring systems (MMS). Through the Passengera infotainment platform, travelers can:
Personalize their experience by selecting a preferred language, tracking their current location, ETA, and wait times
Explore food options and ordering, and check destination weather conditions
Relax by watching a movie, playing games, or listening to music
Using audio guides to learn about their destination and journey
The Future of Public Transit
"Because Riyadh Metro is growing and expanding its transport options, it needs a travel technology framework that will scale in the future," says Kolář. "Our solution allows the client to easily expand the deployment of new trains, lines, buses, and bus stops with minimal investments to purchase additional gateways. Also, they have the ability to adopt new technologies such as 5G, which will ease the expansion of connected services to buses and other ground transportation without the need for further communications infrastructure."
As autonomous trains and metro systems become a reality, transportation companies and transit authorities are reimagining the future of digitization with innovative technologies.
"Without a driver in the vehicle, the digital communication systems will play an even more essential role in the future," Kolář concludes. "Solutions like our business and communication platform, together with reliable connectivity, will become crucial for the era of autonomous vehicles. The way of interaction with passengers will be through digital communication."
This article was edited by Georganne Benesch, Associate Editorial Director for insight.tech.