Fill form to unlock content
Error - something went wrong!
Get the latest updates on IoT for smart cities.
You are following this topic.
One-Click Meetings with Interactive Digital Displays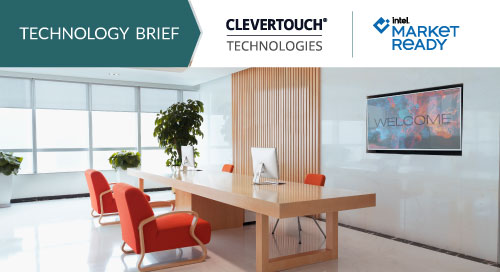 From smart speakers to smartphones, we use innovative technologies for seamless entertainment, security, communications, and much more. It seems logical that we should be able to do the same in the workplace. For example, what if you could pull into a parking spot reserved from home, while at the same time, schedule a meeting room, order lunch for 10, and confirm a teleconferencing system is available and ready to go?
There's no reason these things can't be achieved, except that our current office environment typically involves disparate apps that don't speak to one another. Fortunately, that can be solved in a cohesive ecosystem.
Preconfigured, Interactive Screens Keep Trains on Track
The conference room is a good place to start, and UK Network Rail is a great example. The organization operates and develops Britain's railway infrastructure: 20,000 miles of track; 30,000 bridges, tunnels, and viaducts; along with thousands of signals, level crossings, and stations.
Network Rail needed to upgrade and standardize more than 1,000 conference rooms and training facilities. The company's goal was to create a standard experience across its countrywide footprint. Clevertouch, a provider of interactive touchscreens, digital signage, and collaboration software, makes it possible.
"Network Rail's biggest challenge was disconnected technology in every meeting space," says Adam Kingshott, group marketing director for Clevertouch. "None of it matched and the whole thing was so complex people weren't using the rooms."
The company deployed the Clevertouch Interactive Communication and Collaboration Solution, which includes a preconfigured PC module—powered by Intel® technology—in every meeting room. Someone can walk in, press a screen button, and perform at most three steps.
"Our mantra is to minimize the number of clicks," explains Shaun Marklew, CTO of Boxlight, the parent company of Clevertouch. "You can connect and collaborate. Either way, staff knows that all the A/V equipment will work together as it should."
With the same system configuration in every room, UK Rail employees can connect to the interactive screen and launch a presentation or share a document in the same way—whether they are in London or Cardiff. "This capability to collaborate quickly has become even more valuable as they realize not everyone will return to work on-site," Kingshott says.
And with remote management, I.T. support resources are not overburdened—leaving them time for more constructive tasks.
"The capability to collaborate quickly has become even more valuable as companies realize not everyone will return to work on-site."—Adam Kingshott, Group Marketing Director @myCleverTouch via @insightdottech
Wireless Displays Are an A+ for Education
With the aim to boost teaching time, a similar transformation is underway at the New South Wales Education Standards Authority. The government agency is responsible for setting and monitoring teaching, learning, assessment, and school standards in Australia.
"The agency came to us requesting a completely wireless solution that would allow teachers and students to connect using their own devices," Marklew says. "They were interested in components like a screen on the wall, a room booking system, and digital signage."
Now, students and teachers don't have to worry about cables or wires, and the interactive screen's all-in-one configuration makes it easier to get classes started.
"Previously, it may have taken 10 minutes for an instructor to boot up a computer and launch a lesson plan," says Marklew. "The time savings is immense—especially when calculated over the number of lessons given daily, multiplied by the number of days across all the schools."
Digital Signage Serves Many Needs
This type of digital communication is also fundamental to productivity in a wide variety of markets such as retail, medical, fitness facilities, public spaces, hospitals, and more.
Companies can display announcements and send out emergency alerts building-wide. A gym might update its schedule and inform members of health and safety protocols. And the marketing opportunities in retail stores are practically endless.
In these fast-growing markets, systems integrators benefit, too. With every customer looking at digital signage solutions, there are additional, integrated applications with the ability to add on new sales and services. "We build the tools so clients can purchase the solutions they need," says Marklew. "And our systems integrators help customers rethink their strategy to focus on a broader set of high-value solutions."
These are exciting times. Technology is evolving faster than ever, giving companies the ability to innovate in ways that increase productivity, lower costs, and create better experiences. Interactive displays, one-touch control, and a single digital ecosystem are making it possible today.