Fill form to unlock content
Error - something went wrong!
Your content is just a step away. Please submit below.
Mobile Access Control Promotes Sustainable Buildings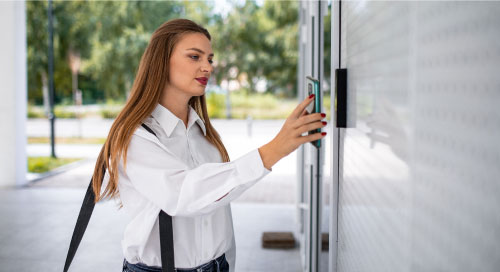 Have you ever lost your key when staying at a hotel? You know, the plastic one the size of a credit card. If you answered yes, well, you're not alone.
The average 200-apartment residential building goes through approximately 12,000 such keys per year. Collectively, this results in 1,300 tons of non-biodegradable waste annually. And that doesn't even account for the time wasted when guests realize they don't have a working room key and bug their property managers for a new one.
The problem goes well beyond hotels. Apartment complexes, gyms, office buildings, logistics buildings, and a host of other access-controlled spaces know this story all too well. So while plastic key cards may seem cheap and convenient, are they really?
An Alternative Solution: Mobile Access Control
Minimizing the shortcomings of access control systems requires a blend of security, cost efficiency, and convenience that protects spaces from intrusion while keeping the guest experience as streamlined as possible. And there happens to be something nearly everyone owns that checks all these boxes: a smartphone.
A hallmark of #smartphones is flexibility, evidenced by app ecosystems that allow you to turn a mobile device into almost any tool imaginable. NTT System via @insightdottech
Today's smartphones integrate a suite of technologies that support access control use cases, from unique, encrypted device IDs to wireless connectivity for communicating with door locks and other devices. Plus, because smartphones have essentially become a cyber-physical extension of their owners, it's far less likely that guests will lose or forget them than a disposable plastic key card.
But the prospect of mobile access control is not without its challenges. At minimum, wireless access control requires secure, on-premises wireless infrastructure that integrates smart building system equipment while automatically provisioning guests' smartphones at scale. In other words, it isn't possible if an IT professional is needed every time a guest checks in.
Further, the devices that comprise a physical security system like the one in question need the same resources as any other IoT device: power, connectivity, and intelligence. All this could ultimately require a rip and replace of existing infrastructure, including rewiring entire floors or buildings to accommodate a solution that's supposed to be more convenient.
Clearly, this is no trivial undertaking in terms of hotel operator time, cost, or effort.
Opening the Door to Modern Access Control
However, a hallmark of smartphones is flexibility, evidenced by app ecosystems that allow you to turn a mobile device into almost any tool imaginable. On the IoT communications infrastructure side, flexibility is usually found in the form of a wireless gateway.
Put them both together in a modern access control solution, and what you have is Blue Bolt by NTT System S.A. (Figure 1).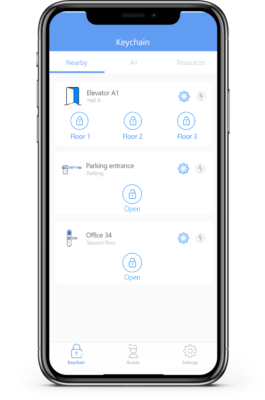 NTT Blue Bolt is a wireless access control system that links a smartphone app to smart building systems over a location-aware Bluetooth connection. Between the two lies a building automation gateway based on the Intel® Next Unit of Computing (Intel® NUC), which translates access commands from a guest's smartphone into protocols understood by any number of building automation systems. "This includes doors, garage gates, turnstiles, and essentially any restricted area in the building," explains Maciej Łabuszewski, a Junior Onboarding Specialist for NTT System.
"The system was designed to be as universal and as versatile as possible, so essentially the hardware can accompany any door, any control system," says Łabuszewski. "Our hardware is based on Intel's NUC devices, and they communicate with the mobile app via Bluetooth. They have to be installed within a fairly close range to the lock they are supposed to open or, in the case of elevators, on the actual elevator."
"All that's needed is a connection to a power source for the hardware and a location that enables Bluetooth connection," he adds.
Intel NUC is an ideal gateway platform, as it is compact, low-cost, and can be flexibly deployed almost anywhere in a facility to provide access to smartphones within Bluetooth range, Łabuszewski explains. NTT service partners help integrate Blue Bolt with elevators, parking lot gates, and other infrastructure that relies on proprietary communications protocols. Meanwhile, Wi-Fi or Bluetooth-enabled smart door locks powered by batteries provide an upgrade path for hotel rooms that doesn't require any opening up walls.
The app back-end allows hotel operators to customize access control solutions by choosing to automatically open locks when a user's smartphone is near their room or only when commands are issued from the Blue Bolt app; what areas users can access; and even how many people can enter a space at any given time.
NTT maintains an anonymized Blue Bolt database that integrates with other smart building systems to optimize energy use (lighting, elevators, etc.) while also eliminating plastic waste from key cards.
Smarter, More Sustainable Access
By providing a modern access control solution that can be deployed somewhat ad hoc, Blue Bolt eliminates the need to install yet another building automation system. Rather, through seamless integration it helps modernize and extend the service life of existing ones.
But that's not all. By connecting to these subsystems, Blue Bolt can also support smart building use cases by exposing anonymized access and occupancy data to HVAC, lighting, and other systems to curb energy use in unoccupied parts of a facility. And, of course, you eliminate all the excess plastic.
Can your room key do all that?
This article was edited by Christina Cardoza, Associate Editorial Director for insight.tech.