Digital Signage Keeps L.A. Metro on Track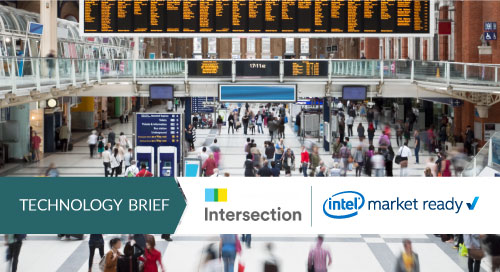 Digital displays are the signs of our time. From Times Square to Tokyo, colorful screens show entertainment, advertisements, and alerts.
But today's displays do more than flash between a few preprogrammed images. They're the face of a hidden digital network. Through an online platform, managers align content with its intended audience. And artificial intelligence tools and touchscreens send data from the edge to the cloud.
Displays, edge computing, and connectivity are getting cheaper, but some city managers still believe budget limitations will prevent them from adopting the technology. Advertising revenue streams can solve that issue.
"To make their digital signage network viable, public space operators need to build a business model," said Chris Grosso, Chief Operating Officer at Intersection, a smart cities and out-of-home media company. "And increasingly, advertising is key to making it work."
L.A. Metro's Signage Success
The Los Angeles County Metropolitan Transportation Authority (LACMTA) Metro Rail is the second-largest transit system in the U.S. The transit authority encompasses 93 stations across two heavy-rail and four light-rail lines. In 2018 it saw a total ridership of more than 1 million. And on an average weekday the system provides more than 344,000 rides.
L.A. Metro is investing $120 billion over the next 40 years to build a 21st-century public transit system that aims to fundamentally transform mobility in the region.
As part of those updates, the transit authority needed more ways to communicate with its passengers. It already had hundreds of screens deployed for advertising. The goal was to use those screens to also manage announcements and push notifications to rail lines and stations if service interruptions occurred.
To meet these challenges, L.A. Metro chose Intersection as its partner for content, interactive services, and advertising sales. Working together, they are deploying a network of interactive map cases, powered by the IxNConnect public space communications system. The solution uses digital displays and interactive kiosks, each equipped with a small Intel® NUC computer.
The solution reaches hundreds of thousands of riders each week, informing them about arrivals, delays, station closures, and other information.
The cloud-based content management system (CMS) allows L.A. Metro to send updates to individual screens. The CMS automates recurring events, such as bus and train arrival times, including adjustments if traffic or other issues delay schedules (Figure 1).

A combination of hardware and software creates a real-time communications management system. L.A. Metro can upload content through the dashboard or integrate with feeds from a third party, for example, updates on available tables at nearby restaurants.
Interactive kiosks provide advanced way-finding tools, giving passengers a realistic picture of what to expect. And each screen can display several information categories at once—such as an advertisement, a rail line update, and a city event announcement.
In case of emergency, L.A. Metro can take over the entire network of displays to quickly and accurately inform passengers and staff, improving safety and security.
The content system can automatically adjust information based on factors like weather conditions or time of day. When data from a weather API indicates a balmy afternoon, displays could pop up an advertisement for iced tea. Later, if the air turns frigid, the ad might show hot tea.
"This ability to drive communications to users in real time is an extremely powerful tool for a transit authority," Grosso said. "Because they contain mission-critical information like train arrival times, consumers pay close attention to the screens, making them also a perfect location for advertising."
While other forms of traditional media are declining, out-of-home digital advertising is growing—making it central to the solutions business model. It's the most effective way to reach Millennials in cities, according to Grosso.
"They don't read newspapers or watch TV. They avoid ads on websites. But they do take subways and buses. It's why many of our advertising concessions generate tens of millions of dollars per year," said Grosso.
An urban digital display system needs hundreds (and in some cases, thousands) of screens. That requires robust hardware, software, and remote management to keep the system running for hours on end.
"Intel® technology is reliable, predictable, and stable," said Grosso. "And they support our research and development efforts by introducing us to complementary partners. Most of all, they share our commitment to creating great experiences in public spaces."
Data and AI at the Edge
IoT capabilities deepen the impact and power of digital signage solutions.
Information generated from interactive kiosks generate an important layer of insights. System managers can analyze data to understand customer interest in certain retailers on a mall map.
Alternatively, screens can adapt to real-time triggers from data generated elsewhere in the system. For instance, a problem at one station could activate an alert for passengers to use an alternative station.
Finally, by overlaying geofences around a screen, anonymized location data can provide important insights on what people do after they see an ad or content on a sign.
Over time, the screens get smarter and smarter. As IxNConnect gathers data from a broad set of feeds, it uses that information to improve the relevance of content on each screen. Moreover, by normalizing and displaying that data on the user dashboard, IxNConnect gives transit operators a new set of insights to understand what is happening on their system.
The next layer is using those analytical insights to drive behaviors, for example, leading riders away from an overcrowded train platform. "Just like Google or Facebook influences people in the digital world, we do the same in the physical world," Grosso said. "As screens get smarter, they can motivate people to choose an alternate route or stop in at a local restaurant. When you're running a public space, that level of influence offers tremendous benefits both to consumers and operators."