Case Study: Monash University's 100% Renewable Future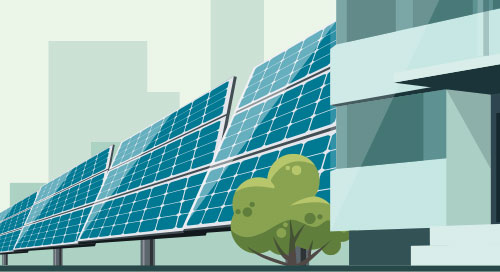 When it comes to green innovation, Monash University is leading the way. Its NetZero initiative will eliminate coal-fired energy by 2030—an ambitious goal for Australia's largest university. The roadmap to implementing NetZero includes:
Deploying the country's largest urban solar farm, turning rooftops and carparks into solar power generators
Filling out its energy needs with commercial renewables
Converting all buildings and appliances from gas to electric and/or renewable energy
Moving to smart building technologies and energy-efficient lighting throughout its 150 buildings
Building an on-site microgrid to manage efficient energy use
Its vision and actions are winning awards. In 2018 the United Nations presented Monash and ClimateWorks Australia with the Momentum for Change Award. The Monash NetZero video illustrates why (Video 1).
Video 1. Monash University is building a game-changing energy incubator.
To achieve its goals, the university is innovating in other areas as well: funding, R&D, development partnerships, and more.
For example, it is the first university to issue a certified "Green Bond" in the U.S. private placement market. Leading the way in green finance is a win-win for the university and the market—providing investment opportunities while raising more than $218M AUD.
The university is also developing more than 25 energy-relevant research programs and funding 10 PhD scholarships dedicated to the advancement of sustainable technology.
Turning a University into a Smart City
Central to Net Zero is the Smart Energy City Project, a collaboration between the university and Minsait, an Indra Company. Together, Minsait and Monash are implementing a Smart Energy Management platform across the Clayton campus.
To build, test, and deploy the company's Active Grid Management (AGM) solution, Minsait secured $2.97M AUD in funding from the Australian Renewable Energy Agency (ARENA).
One goal of the Smart Energy City Project is to show how each connected building can participate in a transactive energy market. It can provide flexible energy use in real time to respond to market pricing signals, locally and from the wholesale market.
The microgrid will enable the university to optimize and coordinate its own generation, storage, and load control. And this in turn enables its participation in an ancillary services market.
"This project will go beyond the campus," said Giovanni Polizzi, Business Development Director for Minsait Digital Energy Solutions. "It serves as replicable model in the wider network with customers and distributed energy resources as network assets. In that sense, it demonstrates how precincts can bring value to customers in the presence of a high penetration of renewable energy and services to the grid."
AI at the Edge
AGM is an IIoT software platform with a centralized module and an edge component that runs on gateways powered by Intel®. It performs monitoring and control of power quality by analyzing data collected at grid assets.
Running on the gateway are algorithms that control values against threshold parameters. If, for example, a transformer is loaded to 90 percent of its capacity, a warning is calculated directly at the edge and sends an alarm. There's no need to continuously transmit data to a centralized system.
It also acts as middleware to distribute real-time data across other grid assets such as energy management and transactive energy platforms. This enables the interaction of these components and visibility of the resulting effects over Microgrid performance.
Finally, centralized management monitors and controls the entire grid (Figure 1). Cloud-based analytics are optimal for longer-term decisions. If, for example, a big storm is on the horizon, a determination can be made to charge batteries instead of using solar to supply demand.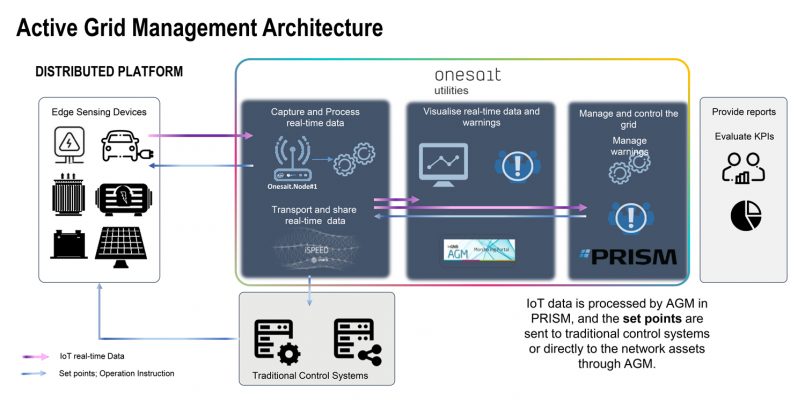 Open to Integration
Monash needed a solution that would help it implement and present an innovative smart grid solution to the utility sector, one that would handle Distributed Energy Resource (DER) intensive grids—as are present in many areas of Australian distribution systems. The AGM system met this need.
The open-source platform enables Monash to develop or use third-party software to communicate with the Minsait system.
"The university wanted to promote collaboration with the industry as well as integrate its academic knowledge to enable new learning," said Polizzi. "The platform had to move away from proprietary protocols and use as much open-source code as possible for seamless integration of third-party applications."
One example is the integration of an algorithm to forecast short-term solar PV generation. This integration can provide precise forecasts of how much power will be available from a given panel over the next 15 minutes or the next 2 hours. Both are critical data points if renewables are to be integrated in the grid operations.
"It's important to understand how much energy the solar is going to produce when, for example, a storm comes along," said Polizzi. "And the only thing we actually do is deploy one of the market-available APIs on an AGM gateway."
The Minsait system also supports a range of proprietary protocols to integrate with solar or battery inverters, building automation systems (BAS), and other equipment. Management software configures the protocol communication, directly in every gateway. For instance, integration with a Honeywell BAS is deployed in the gateway, allowing Modbus communication.
Data is processed at each node and selectively distributed through the middleware. Third-party software runs as Docker containers on the gateway, sharing common data space. "This openness allows collaboration with academics involved in the development of asset management and power quality assurance algorithms," said Polizzi.
A Partnership Beyond Technology
Minsait takes a broader approach with software designed from the beginning to work with Intel technology across multiple markets and applications. Intel processing power supports the distributed intelligence required for Minsait grid and other solutions.
But the company's decision to design its edge platforms using Intel processors is more than just about technology.
Polizzi summed it up: "Working with Intel represents an asset for our entire team and customer base. It provides access to other Intel partners with whom we are able to tailor solutions for each customer, rapidly, robustly, and with the highest standard of security."