Big Changes for System Integrators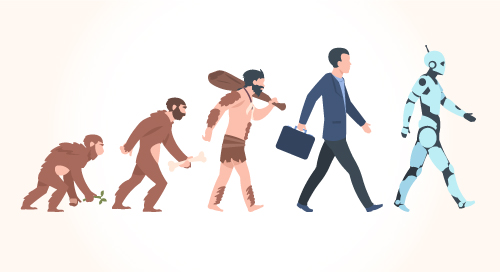 "Adapt or perish." For system integrators (SIs), this is more than a famous quote. It is the fundamental principle of their business.
Gone are the days when SIs simply assembled parts. Today's customers want advanced features like AI and machine vision that require highly specialized skills.
And as the IoT pushes technology deeper into field operations, SIs need to know the details of their customers' businesses. An industry-agnostic approach simply won't cut it.
In short, the role of the SI is rapidly evolving. Customers are looking for SIs integrators that can be partners and not just vendors. They want SIs to help them solve complex, application-specific challenges.
"SIs that want to engage in retail, manufacturing, or smart cities need offerings that can either save costs or increase revenue," observed Dennis Niu, Vice President, IoT Solutions Department, Asia Pacific, WPI Group. To do so, SIs must deliver solutions that are:
Highly integrated, to minimize the technical burden on the customer
Open and flexible, so they can work with existing infrastructure
To understand why these have become critical requirements, let's consider an example from the sea freight industry.
Case Study: Logistics
The shipping logistics industry had enjoyed few advances over the past five decades. But with the advent of the IoT, everything changed.
A modern container ship contains a long list of high-tech systems. Propulsion systems are closely monitored by sensors that ensure efficient operation and predict maintenance needs. High-value cargo includes cloud-connected containers that track temperature and other factors. On-board networks offer sophistication that rivals on-shore infrastructure.
And that's just on the ship. When the vessel nears its destination, it can inform the port of its arrival, its cargo, and where the goods need to go. Once docked, the ship can communicate with smart cranes for automated offloading.
What's more, the harbormaster can be alerted of any hazardous materials onboard. This advanced warning can increase safety and reduce downtime. The port can prepare for the vessel instead of placing it in quarantine, where it will wait for a qualified team and an appropriate berth.
Building any one of these systems—from crew entertainment to smart cranes—is a major undertaking. Getting everything to work together, in ports and vessels across the globe, merely adds to the complexity.
The scope and scale of these challenges illustrate why SIs are becoming more specialized. And why customers are asking SIs for more help.
The Changing Role of the Distributor
Just as the role of the SI is changing, so too is the role of the distributor. It is no longer enough for distributors to offer a parts catalog. Instead, they are taking on work previously done by an SI.
In fact, some of the SI's old roles are passing all the way through the distributor and ending up with their technology providers. For example, technology providers now offer Intel® Market Ready Solutions (Intel® MRS) and Intel® RFP Ready Kits (Intel® RRK), a set of pre-integrated solutions for specific applications.
With this shifting of roles, distributors can transform themselves into aggregators. In this new capacity, aggregators can offer SIs just-right solutions through a combination of pre-integrated and customized systems.
WPI's Niu explained how his firm approaches Intel MRS and Intel RRK solutions.
"These combine hardware and software designed to accomplish specific tasks for specific use cases, and they work well in many situations," Niu said. "But aggregators see a trend in decoupling or deconstructing elements from solutions from multiple vendors." (Figure 1)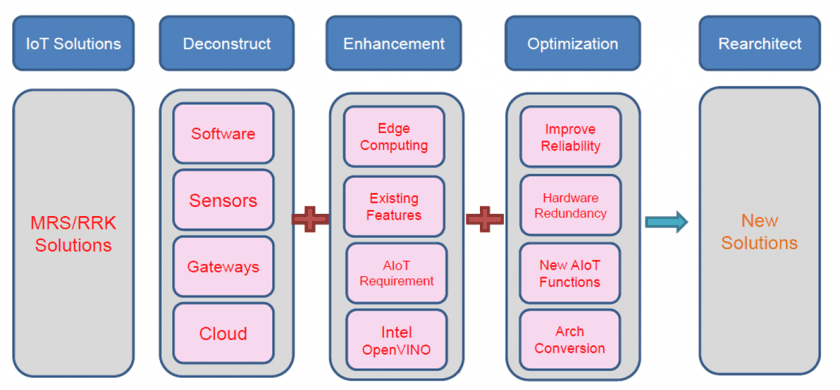 After deconstructing the initial solutions, aggregators can add functionality like AI. They can also optimize the combined solution—such as removing any redundant hardware that arises from merging the solutions.
The result is a just-right starting point for the SI—one that delivers the necessary technologies without the expense of extra, unneeded features.
The Evolving AI and IIoT Market
Besides creating optimized solutions and handling more of the non-differentiated work that SIs used to do, aggregators can support SIs in other ways. For example, WPI provides training for the Intel® OpenVINO™ Toolkit to help SIs get up to speed on machine vision.
"Intel® today is no longer just a CPU company," Niu said. "It is a data company. Its involvement in every sector—smart manufacturing, smart retail, smart cities—has produced domain expertise. We help share this knowledge with SIs so they can better serve the end customer."
This sharing of knowledge can also extend into unexpected areas. As SIs increase their expertise to gain traction in a specific sector, for example, they may need support in another. In addition, many SIs will concentrate on either IT or OT.
"Large SIs may possess the resources to develop multiple domain practices," Niu said, "offering solutions for smart cities and retail, or manufacturing. But they may still need a partner to work with them on either IT or OT, whichever's outside their expertise."
An aggregator can connect two complementary SIs to work together on a particular project. "Such compatibility leads to more work for SIs and more project success," Niu said.