A Smart Gateway to Smart Buildings
The Internet of Things (IoT) is creating tremendous opportunities in building automation for new and existing buildings. Through IoT smart building solutions, owners and property managers are improving energy efficiency, reducing maintenance costs, and increasing occupant comfort. However, as with any new technology, developers and system integrators must make the right choices to ensure competitively priced solutions that deliver the promised savings and efficiencies.
In this article, we look at the benefits and requirements for connecting building systems to the cloud. We examine an IoT gateway solution designed specifically for smart building applications. We explain the gateway's unique modular structure and how it enables upgrades and customizations that help future proof a solution (Figure 1). We consider its use of Intel® IoT Gateway Technology to deliver advanced connectivity, management, and security capabilities. We then discuss how the gateway's Intel® Quark™ processor contributes reliability, software flexibility, and energy efficiency.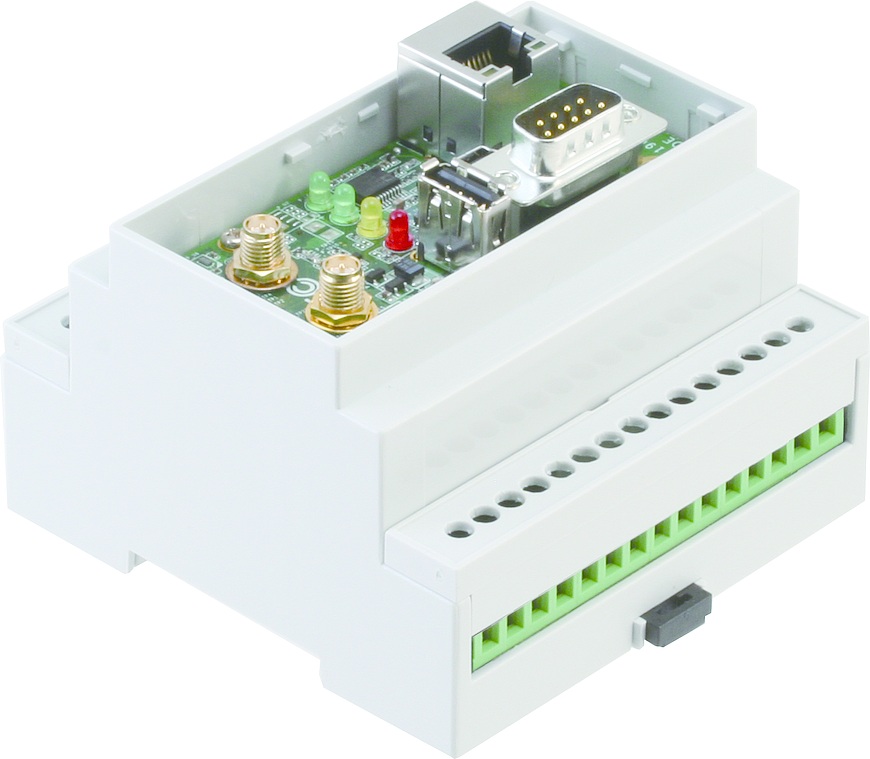 Figure 1. The AAEON AIOT-DRM features a unique modular IoT gateway design for smart building applications.
The Advantages of Smart Buildings
In a world of increasing population and urbanization, conserving energy used in heating, cooling, and lighting is a major priority – both from a bottom line and an energy conservation perspective. Connecting lighting control systems, thermostats, HVAC systems, and other building equipment to the IoT enables collecting data on real-time energy usage patterns. This data can be used to guide remote and automated building system adjustments that improve energy efficiency and reduce energy costs. In many countries, IoT building management systems help builders meet green building guidelines and goals for combatting climate change.
Close monitoring of building systems plays an important role in maintenance and safety. For instance, a sensor that can tell when an electric fan motor is beginning to fail can alert maintenance staff of an upcoming failure before it impacts occupants. It can also provide important data on product reliability for guidance on future purchase decisions. Sensors on equipment such as elevators can reveal when components operate outside norms, signaling the need for replacement or repair well before there is any risk of injury.
From a tenant perspective, coordinating occupancy data with lighting, temperature, humidity, and ventilation can improve comfort. On a sunny day, sensors can activate shades or window-darkening systems. When a room is empty, sensors can adjust controls for lights, heating, and cooling to save energy. Collecting data on this activity in the cloud enables building managers to track building usage patterns and perform remote adjustments as needed.
For developers and system integrators, the growing popularity of the smart building market represents a big opportunity. In 2015, market research firm Memooria published a report, "The Transformation of BAS into the Building Internet of Things 2015 to 2020." In it, they predict the IoT smart building market will grow to $155 billion in 2020 from $46 billion in 2014.
Smart Building Challenges
An effective IoT building automation system (BAS) uses sensors and on-premise IoT gateways to collect system data and act immediately on what needs to be responded to locally. It also sends data to the cloud for analysis to uncover additional opportunities for operational efficiency, comfort, and safety.
Such a smart building system can be simple or complicated depending on building size, number of sensors and gateways, parameters tracked and analyzed, and degree of automation. As an example, consider a modern skyscraper with retail, apartment, and office space. Sensors may track occupancy, lighting systems, heating, cooling, humidity, fans, window shading, access doors, noise levels, and more. Data from the various devices used in these systems can be digital or analog. Collecting and transmitting this data generally requires the use of wired and wireless technologies, as well as numerous protocols (Figure 2).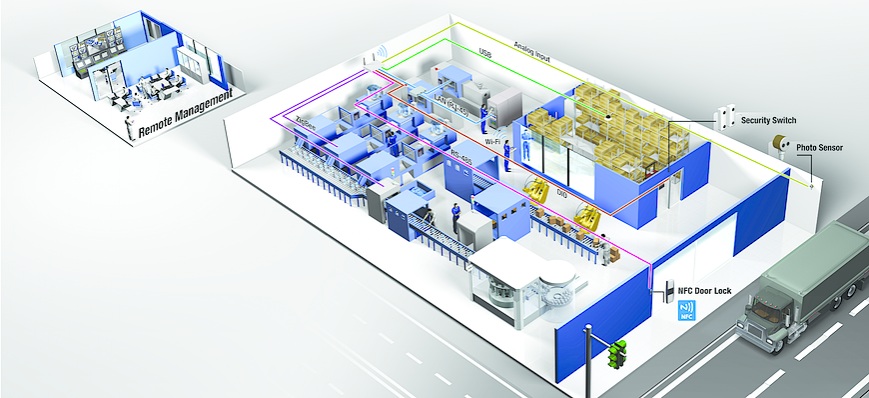 Figure 2. Collecting and transmitting building data can require the use of wired and wireless technologies and numerous protocols.
As with any Internet-based solution, security is an important consideration. Some building management data may be considered proprietary or contain personal data from occupants. There are also concerns of sabotage or mischief from outside parties or a disgruntled tenant.
An IoT Gateway Designed for Smart Buildings
One way developers and system integrators can address many smart building challenges is by selecting an intelligent IoT gateway. A good example is the AAEON AIOT-DRM Building Management System. Based on the latest Intel IoT Gateway Technology, it provides a secure, reliable solution for collecting sensor data, performing initial processing and filtering, and exchanging information with the cloud or back-end servers (Figure 3).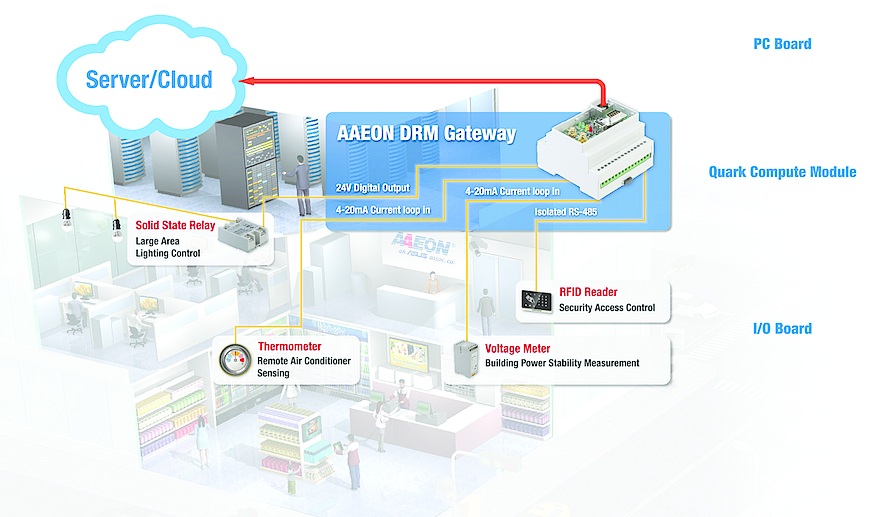 Figure 3. The AAEON AIOT-DRM Building Management System provides a secure, reliable solution for collecting sensor data and exchanging information with the cloud or back-end servers.
A unique, modular, three-step pyramid design allows easy customization and upgrades for maximum flexibility and future proofing. As technology demands grow and change, so can the AIOT-DRM.
Listed from top to bottom, the unit includes the following layers stacked atop one another and connected by a backplane to create a compact system:
Peripheral connection board for Internet access and expansion. Connectivity options include one RS-232, one USB 2.0, one mini USB 2.1, and one 10/100 Mbps Ethernet port – plus a Mini-PCI Express* (mPCIe*) slot on the back of the module.
CPU board for computation. This layer features an Intel® Quark™ SoC X1021 with an industrial temperature range, plus 512 MB DDR3. A 4 GB eMMC handles storage.
I/O board for analog-to-digital conversions. Offerings here include six digital-in (DI) ports, two digital-out (DO) ports, one isolated RS-485, four analog-to-digital converters (ADCs), and one digital-to-analog converter (DAC).
For control and monitoring purposes, the ADCs detect and convert analog signals – such as those used for temperature, pressure, and sound. The DAC allows digital signals from the control side to activate analog-based end devices, enabling remote control of functions such as adjusting an alarm's volume. For secure connectivity, each DIO and ADC connection point includes holes for tightening connection and enclosure screws.
The "DRM" in the gateway's name stands for "DIN-rail mountable." The AIOT-DRM mounts vertically on a single DIN rail or horizontally on a flat surface. The unit's small footprint (224.5 x 163 x 46 mm) and light weight (600 g) facilitate multiple deployments throughout a building. The step-pyramid design makes maintenance and updates easy, as any board disabled by faulty components or available with newer components is easily swapped out, minimizing downtime. In addition, the unit's fanless design protects it against a common source of failure in computing devices.
Equipped with Intel® IoT Gateway Technology
Solutions based on Intel IoT Gateway Technology provide leading performance and security for intelligence at the edge. These designs enable near-real-time analysis and tighter, more efficient process controls, while reducing data transmission costs.
Intel IoT Gateway Technology-based solutions can connect legacy and new systems, help data flow securely between edge devices and the cloud, and accommodate a broad range of applications. They offer support for multiple operating systems and processor performance levels. Remote manageability options and proven security give developers the tools they need to quickly create and deploy innovative and cost-effective solutions.
Application-ready Intel IoT Gateway Technology solutions, like the AIOT-DRM, efficiently aggregate and filter data at the edge. Such edge intelligence allows building owners and managers to analyze and act in near real time upon information closer to its source, as well as save money on data transmission, storage, and analysis.
Based on the Intel IoT Gateway, the AIOT-DRM comes preconfigured with the Wind River Helix Device Cloud* agent. This agent provides cloud connectivity that facilitates device configuration, file transfers, data capture, and rules-based data analysis and response. Using it, developers and system integrators can quickly build smart building-specific IoT solutions that integrate disparate enterprise IT systems using API management.
For protecting data and the device, Intel IoT Gateway Technology includes McAfee Embedded Control* security technologies. McAfee Embedded Control tightly integrates the critical hardware-based security of Intel® processors with operating system and application software security. The result is a seamless, secure data flow from the edge to the cloud that protects data in flight or at rest.
Easier Application Development
Intel IoT Gateway Technology includes the Wind River Intelligent Device Platform (IDP) XT 3.1. This pre-installed evaluation operating system enables easy exploration of basic gateway capabilities. Wind River IDP XT 3.1 is a scalable, sustainable, and secure development environment that simplifies the integration and deployment of IoT gateways. Based on Wind River's industry-leading, standards-compliant operating systems, it includes Wind River development tools.
Wind River IDP XT 3.1 embraces MQTT, a lightweight protocol for data transport, and provides native support for Wi-Fi*, Bluetooth*, ZigBee*, and other short-range IoT wireless and wired protocols (Figure 4). It also supports well-established management products such as TR-069 and OMA-DM to enable remote management of gateway devices. Built-in security features help secure the communication channels, data, and end device.

Figure 4. The AAEON AIOT-DRM IoT gateway provides the pictured connectivity options and more through the Wind River Intelligent Device Platform (IDP) XT 3.1 and its own I/O.
New in 2016 is inclusion of the Intel® IoT Gateway software suite. This suite provides developers with yet another quick and easy way to get started creating their solutions. There's also a new Intel® IoT Gateway Developer Hub with a user interface that enables quick development right on the gateway.
Other new Intel IoT Gateway Technology features and capabilities include:
Intel® IoT Platform Marketplace (inteliotmarketplace.com) for hardware and software components
Binary runtime operating system for easier application development
Intel® Package Repository for access to software development kits (SDKs), commonly used protocols, and more.
Intel Performance in a Low-Power Processor
The onboard processor, the Intel Quark SoC X1021, is a low-power CPU. It helps limit the AIOT-DRM's overall power consumption to approximately 5W when under full load, eliminating the need for active, fault-prone thermal solutions such as fans.
Featuring secure boot, extended lifecycle support, and an operating temperature range of -40 °C to 85 °C, Intel Quark SoCs are ideal for commercial and industrial IoT control applications. Compatible with the Intel® Pentium® processor instruction set architecture (ISA), the Intel Quark SoC X1021 provides extensive software compatibility, giving developers greater space for differentiation. The SoC offers rich I/O capabilities and flexibility via high-bandwidth interfaces and connectivity options that seamlessly interface with sensors.
A Smarter Gateway to Smart Buildings
By combining modular design, rich functionality, comprehensive connectivity, and developer tools into a single, compact, convenient package, the AIOT-DRM brings simplicity, versatility, and security to building management. This application-ready solution offers a more expedient way to bring traditional structures into the IoT, taking the concept of smart building from blueprint to reality.