AI Biometrics Modernize Public Transit Operations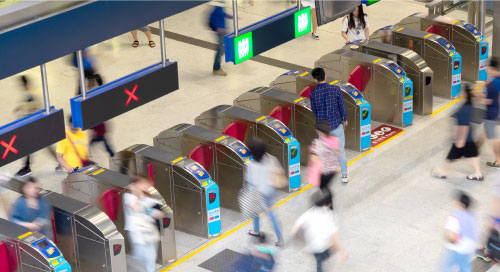 Urban rail transit is making our cities more livable and more sustainable—but as rail operators are discovering, mass adoption brings growing pains as well. A good example is the case of automated fare collection (AFC) systems based on QR codes and fare cards. Rail operators have turned to AFC to address the challenges brought on by an increasing number of riders such as bottlenecks at ticketing kiosks, overcrowding safety issues, and inefficiency caused by large, disorganized crowds.
But while AFC solutions are an improvement over manual ticketing, challenges remain.
"Fare cards can be slow, and the big problem with QR-based approaches is that they don't work when there's poor signal, or when a passenger's smartphone battery is dead," says Hukemei, Sales Director at Huaming, a manufacturer of AFC solutions for public transportation. "In addition, much of the hardware used in current solutions is not ruggedized, which becomes a problem when these systems have to withstand extreme temperatures and the powerful vibrations found in many urban rail settings."
Until recently, there wasn't a better alternative. But now, AI computer vision techniques, purpose-built edge AI hardware, and AI software development toolkits (SDKs) enable a new kind of AFC based on palm vein recognition. These solutions will make urban rail transit safer, easier, and more efficient. And this same technology will enable biometric identification in other settings as well.
Edge AI Powers Biometric Ticketing Kiosks
Palm vein recognition is high-tech, but its main benefits stem from human physiology. The pattern of veins in a human hand is as unique as a fingerprint and remains stable throughout a person's adult life. And hands, of course, in contrast to smartphones, do not depend on cellular networks or batteries. This makes palm vein patterns ideal for biometric identification: They're consistent, hard to spoof, and "always on."
But to capitalize on these biological advantages requires technological sophistication. Huaming's AFC solution incorporates several edge AI-powered technologies to provide a comprehensive ticketing system for urban train operators.
Passengers begin by registering their palm vein print at a customer service kiosk. This connects their biometric data to their user information, enabling future palm-based identification and automatic payment at smart ticket gates.
When a passenger wants to enter a station, they simply hold their hand in front of a scanner, which uses near-infrared light to capture an image of their palm vein pattern. An edge AI appliance performs feature extraction, encryption, and compression, and then sends the resulting data to an edge server to check for a match. On average, verification takes about a tenth of a second.
Hardware and Software Built for AI at the Edge
From a passenger's perspective, palm vein-based identification is as simple as holding out their hand. But behind the scenes, there's a lot of computational heavy lifting going on.
"A biometric AFC solution has to be seamless for the passenger and highly stable for rail operators," says Hukemei, "but that requires executing complex computer vision and AI processing tasks, at the edge and at scale, with very little room for error."
To develop a solution capable of delivering high-performance AI processing at the edge, Huaming leveraged several Intel technologies:
Intel Atom® X6000E processors power the edge AI appliance, providing a high-performance computer vision and edge AI processing platform that operates reliably even under extreme conditions.
Intel® Xeon® processors handle feature matching on the edge AI server, while the processors' built-in Intel® AVX-512 instruction set helps to optimize feature matching at scale.
The Intel® OpenVINO™ Toolkit inference acceleration improves the performance of the palm vein feature extraction model by nearly 4X and significantly decreases the inference error rate.
The Intel® Feature Matching Acceleration Library is used to achieve the kind of large-scale feature matching required by an AI biometrics solution for mass transit.
The result is a stable, high-performance edge AI-powered solution that performs well under the most demanding of conditions. "Intel processors are an excellent computing platform for AI at the edge," says Hukemei. "And Intel's AI acceleration tools and models are a great help in speeding development work and shortening time to market."
Beyond Urban Transit: AI Biometrics for Other Scenarios
In the coming years, AFC solutions based on palm vein recognition should generate great interest among systems integrators (SIs). The technology is efficient and robust. And better still, it can be implemented on top of existing automatic ticket gate functionality. Huaming's solution, for example, allows passengers to choose between using old-style fare cards, QR codes, or palm vein recognition. That makes implementation less of an either-or decision for city planners and urban rail operators—and an easier sell for SIs.
In addition, AI biometrics based on palm vein recognition will find use cases beyond public transportation. The technology offers a number of universally attractive benefits: secure, contactless identity verification; a low rate of false recognitions and false rejections; and an underlying computing platform that supports data collection and analytics.
"The possibilities are really exciting," says Hukemei. "We see applications for this technology in other forms of smart transportation, in smart communities, in smart cultural tourism, and more. It's going to make our cities safer, healthier, and more efficient."

Edited by Georganne Benesch, Associate Editorial Director for insight.tech.