Fill form to unlock content
Error - something went wrong!
Your content is just a step away. Please submit below.
Open Hybrid Cloud: The Key to Manufacturing Automation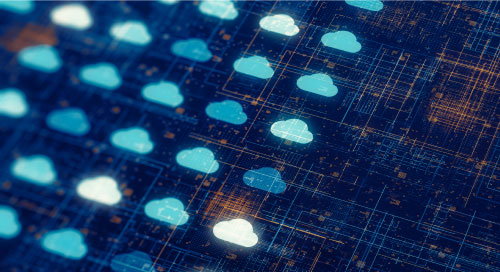 Manufacturing companies know very well that technology is a means to an end. At the end of the day, they just want their systems to work. Unfortunately, that is easier said than done—especially for those who are late to Industry 4.0, the sector's version of digital transformation.
Part of the problem is that the COVID-19 pandemic blindsided many and delayed the process, according to John Archer, Senior Principal Business Development Manager of AI/edge at software company Red Hat. Owners of operational technology (OT) have not had time to retrain, and industry is realizing that OT teams must be shown the improvements they can expect from Industry 4.0 before they can adopt what they sometimes perceive to be a "black box."
"There's an enormous transformational aspect to Industry 4.0 which, is really impacting end users and creating some level of resistance," says Reza Mokhtari, Global Telco Alliance Executive at Red Hat. He points out that while hardware providers are ready with small form factor edge computing devices that can process sensor data and deliver efficiencies, there's limited know-how as to how to go about it all.
Giving OT the IT Treatment
Complicating the landscape even further are legacy systems that are incompatible with modern-day operations. "You'll go into a shop and there'll be proprietary hardware running software that no one is maintaining except for 'hair-on-fire' types of situations," Archer explains. "So today if manufacturers want to make a change to the production line, they sometimes have to shut down the line for weeks to get software updated."
Eager not to get stuck with such antiquated systems again, manufacturers want to upscale and rearchitect solutions that are flexible. To do so, current processes will have to change. For instance, achieving Industry 4.0 initiatives requires OT assets to be managed like IT assets.
Red Hat offers open interoperable systems designed to manage OT more efficiently, according to Archer. Because open systems are compatible and can talk to one another, they can be deployed at scale, just like IT.
In addition, Archer says, "We're making it easier to conduct edge machine learning operations while increasing security."
But before open interoperable systems can be deployed at scale to facilitate manufacturing automation, enterprises need another component: strong connectivity. Latency and phase lag in data processing won't fly. It's why modernized 5G infrastructure is also a key component of Industry 4.0. Red Hat's OpenShift and Intel® Xeon® solutions help manufacturing companies that want the best of all worlds: a private 5G network with the reliability of local area networks (LAN) and the flexibility and mobility of Wi-Fi.
Hybrid #cloud enables #manufacturers to distribute workloads between on-prem and other cloud resources, as needed. @RedHat via @insightdottech
Why Open Hybrid Cloud Matters
Red Hat's emphasis on flexibility facilitates ease with respect to all aspects of digital transformation. Delivering computing resources to customers, depending on where their data needs reside, is part of that solution. "You can call it hybrid or multi-cloud or whatever, but it's really architecture for the realities of where things are," Archer says.
Hybrid cloud enables manufacturers to distribute workloads between on-prem and other cloud resources, as needed. Red Hat products such as Ansible help manufacturers prioritize workloads and automate operational aspects of such management, Mokhtari says.
Getting to Industry 4.0
The many moving facets of digital transformation can feel intimidating, so Red Hat gives manufacturers the confidence that "systems will just run and be supported," Archer says. "That's part of our value proposition here is to give you the guidance on how to right-size operations and manage it at scale. We ensure that 'if it runs our stuff, you should expect it to operate and be managed in a certain way.' No matter if the load is running on bare-metal Linux or containerized and virtualized computing environments," he adds.
To that end, Red Hat is test driving Intel's software development kit to certify it and "get it to a place where customers can consume it more readily and scale out production." Red Hat and Intel have also launched the Intelligent Edge Solution Center, a lab environment designed to advance the Industry 4.0 ecosystem. With locations around the world, this collaboration helps the two technology companies develop potential edge solutions centered on computer vision and machine telemetry models. The locations serve as test beds to develop custom solutions for customers and partners.
As part of setting up the intelligent edge for automation in manufacturing, Red Hat has been using the Intel® Distribution of OpenVINO™ Toolkit and oneAPI. They also collaborate on device management and provisioning workflows at the edge, using Intel® Edge Insights for Industrial.
Manufacturing is moving steadily forward with many companies ushering in digital transformation. No matter where manufacturers are in their digital maturity journey, they can use the open hybrid cloud and the intelligent edge to their advantage, Archer says.
"We're super focused on how to make edge infrastructure work without our clients having to manage a bunch of different bespoke platforms," Archer says. "Our clients want a single pane of glass with insights, and they want us to show them how to manage digital transformation at scale. That's the kind of guidance we deliver."
This article was edited by Christina Cardoza, Associate Editorial Director for insight.tech.