Fill form to unlock content
Error - something went wrong!
Your content is just a step away. Please submit below.
Private 5G Lowers Mining Costs, Increases Safety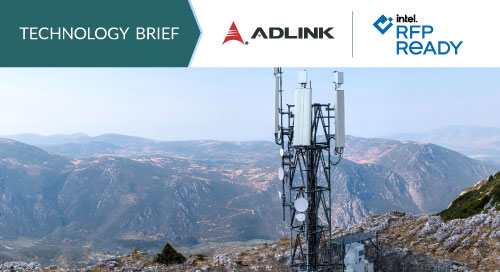 We all know the frustration of getting stuck somewhere with poor cellular coverage. For most people, life without network connectivity is a temporary annoyance. But for the mining industry—typically located across wide geographies in remote areas—it's a constant and costly limitation.
"In a time of economic uncertainty and volatile commodities markets, capital expenditure is very risky for mining companies," says Julian Ye, Director of ADLINK Network and Communications Business at ADLINK Technology Inc., a global leader in edge computing. "But at the same time, demand for raw materials is skyrocketing. It's a classic case of having to do more with less—or risk missing out on a huge opportunity."
Now private 5G networks, edge AI, and computer vision, which can be deployed in the most remote of locations, offer exciting possibilities.
Private 5G at the Remote Edge
ADLINK's implementation at a limestone mine in the Emei Mountain region of China's Sichuan Province is case in point. The mining operation covers a wide geography and each year extracts 4 million tons of the important raw material used in the construction industry, agriculture, metallurgy, and water purification.
The mine's owners had identified several operational shortcomings.
First, there were outdated systems and equipment that resulted in miscalculations and waste. Of particular concern was the mine's manually operated weighbridge, an outsized set of scales used by miners to weigh departing vehicles and measure each load of materials exiting the work area. There was also a lack of adequate centralized supervision at the site, making it hard to remedy issues in a timely fashion and ensure worker safety.
Like so many mining businesses, the company was attempting to ramp up production, setting an output target of 8 million tons of limestone annually. The mine's operators were hoping to do this without expanding beyond existing land or significantly increasing headcount.
However, there were some major obstacles to accomplishing this ambitious goal. As Ye explains, "The mine suffered from poor wireless signal throughout the entire open pit area, and because of the size of the site, laying out a wired network to expand that coverage was a nonstarter."
Working with ADLINK the mine operator was able to implement a private 5G network together with edge AI-powered solutions to address its business needs.
5G, Edge AI, and Computer Vision: A Winning Combination
First, ADLINK helped the mining company establish a private 5G network. This was done using hardware from ADLINK's technology partner Innogence Technology, a 5G radio access network (RAN) equipment and services company. Innogence provided a 5G picocell—essentially a miniaturized cellular tower—as well as an industrial gateway and 5G system core to control network functions.
With sitewide 5G coverage in place, ADLINK leveraged its own 5G Small Cell Solution, ruggedized edge computing hardware, as well as its expertise in developing edge AI-based solutions to meet mining business challenges.
A fleet of smart security cameras was installed in order to improve supervision and monitoring. This lets site management keep an eye on operations from a centralized location—allowing them to correct safety violations in real time and reduce the need for in-person supervision throughout the facility. The camera network also supports security automation, monitoring entry and exit points, and perimeter fencing to prevent trespassing.
The combination of 5G, edge AI, and high-performance computing also makes it possible to automate the mine's weighbridge, which now operates autonomously. Computer vision camera systems identify a specific load by reading a truck's license plate. Drivers are able to input additional data through a simple on-screen interface. There is minimal risk of error or mismeasurement, and the extracted limestone weighing workflow has been greatly streamlined.
Ye says that ADLINK's technology partnership with Intel was especially helpful in developing its solution. "Intel provides a lot of help when it comes to developing 5G-enabled solutions, from hardware accelerators to the Intel® FlexRAN SDK. Intel is also, of course, an excellent platform for building stable, high-performance edge computing applications."
The end result of all this technological collaboration was striking. Overall, the mining company estimates that it was able to increase its weighbridge efficiency by 200%. Modern, centralized, real-time monitoring is now available to site managers and safety officers. And the dedicated 5G network is opening up other opportunities for digital transformation at the site, including industrial as well as back-office AI-based process optimization.
Private #5G networks and #EdgeComputing will help solve many problems for the mining industry in the years to come. @ADLINK_Tech via @insightdottech
The Case for Private 5G Everywhere
Private 5G networks and edge computing will help solve many problems for the mining industry in the years to come. But interestingly, the same qualities that make private 5G so useful in developing solutions for the far-flung edge will also make it an attractive option in manufacturing.
"5G isn't only about speed. For enterprises, the true benefit is that 5G networks offer large bandwidth, wide connection, and ultra-low latency," says Ye.
Private 5G networks and edge computing combine the benefits of high speed wireless and AI with the advantages of on-premises technology, resulting in a powerful, secure, and independent platform for digital transformation. ADLINK envisions private 5G use cases that range from smart manufacturing and security to energy production and logistics—essentially anywhere that requires intelligent edge solutions running on a powerful, secure network.
As Ye sees it, this will both transform as well as empower businesses: "In the future, private 5G and edge computing will help all kinds of companies make the move from simple automation to real autonomy."
Edited by Georganne Benesch, Associate Editorial Director for insight.tech.