AI at the Edge Spurs New Industrial Opportunities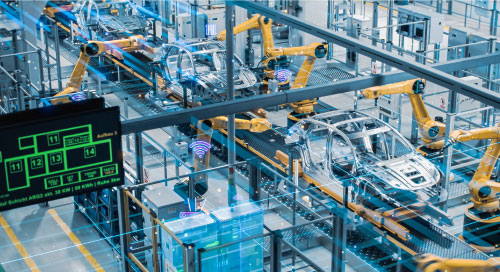 The world is moving fast, and manufacturers must be able to keep up with the pace of change. Luckily, with technologies like AI, machine learning, computer vision, and edge computing, solution developers have the tools to help them do so.
And we are already seeing major results—both inside and outside the factory.
Product Defect Detection
For instance, smart manufacturers have started to deploy AI at the edge on the shop floor to reduce the risk of unplanned shutdowns and production issues. By automating the process with AI platforms like the Intel® OpenVINO™ Toolkit, image analysis can be performed directly on smart factory equipment, and workers can be quickly notified of any issues happening. This reduces manual work, which is prone to errors, and stops problems before they snowball.
And with tools like the Hitachi Industrial Edge Computer CE series Embedded AI model, which leverages OpenVINO, adding these advanced capabilities to the factory is made simple. For example, Hitachi can detect product defects and equipment issues from multiple production lines and devices simultaneously—speeding up the time it takes to alert operators and address the problem.
Supply Chain Management Gets Streamlined
OpenVINO is also being used outside the factory to tackle supply chain issues.
With just-in-time manufacturing, staying ahead of supply and demand was already on manufacturers' minds well before 2020, but when the pandemic hit, a lot of pressure was put on their digital transformation timelines. It is now clear that traditional approaches no longer can keep up with new supply chain demands.
People are shopping in bulk more than ever, and home improvement projects have skyrocketed. As a result, consumers notice many shelves or supplies are empty or out of stock.
Smart #manufacturers have started to deploy #AI at the #edge on the shop floor to reduce the risk of unplanned shutdowns and production issues. @IntelIoT via @insightdottech
While manufacturers cannot consistently control the availability of raw materials, one thing they can handle is how their goods are delivered to stores. Instead of sending out goods as soon as possible, they can meet demands and save money by waiting until transport vehicles are at 100% capacity.
To do this, they need a combination of computer vision and AI, which allows them to constantly monitor shipping containers, fill vehicles, and alert managers with operation status. With advanced AI algorithms and edge computing, manufacturers can get dock occupancy status, wrong place detection, and even deploy automated robots to handle, load, and unload freights.
To ensure these AI applications don't compromise on the smart factory's performance, power, and cost, some manufacturers have turned to Avnet Embedded, a leader in embedded compute and software solutions. With its MSC C6C-TLU module, based on the 11th Gen Intel® Core™ processors and paired with OpenVINO, applications can withstand rugged environments, meet performance demands, and process data in real time.
Automating Human Response
And, of course, manufacturers have to worry about the human factor when it comes to product and equipment inspection. For instance, factory workers typically have their own way of doing things, which can be problematic when you're trying to keep production and quality consistent.
With computer vision, AI, and machine learning, manufacturers can now pair human behavior analysis to its assembly line machine metrics to understand the performance of each operator.
Vecow enables this capability with the Vecow Human Behavior Analysis solution, which includes the VHub AI Developer software platform. With the solution, developers can create AI models and applications with computer vision capabilities. Those apps can be connected to a factory's existing cameras to collect and analyze data at the edge and detect inconsistencies. Vecow leverages Intel® Core™ i5 and i7 processors for computing power, and OpenVINO for AI model generation.
Deploying AI to Robots
Finally, robots equipped with AI and computer vision are also handling quality control these days. For instance, when robotic arc welders are being used in high production applications such as the automotive industry, it can be difficult for a manual inspector to visualize and catch any potential defects.
But when you add solutions like the Edge Arc Welding Defect Detection from ADLINK, a global manufacturer of edge computing solutions, AI and computer vision can be added to the process. Powered by ADLINK Edge IoT software, OpenVINO, Intel Core processors, and Intel® Movidius™ Myriad™ X VPUs, robotic arc welders can capture, process, analyze, and act on data before issues become bigger problems.
These are just a small set of possibilities AI and high-performance edge computing can offer smart manufacturers. For those struggling to deploy some of these AI capabilities and boost their industrial applications, check out the Intel Edge AI Certification Program or take the 30-Day Dev Challenge.
This article was edited by Georganne Benesch, Associate Editorial Director for insight.tech.