Fill form to unlock content
Error - something went wrong!
Your content is just a step away. Please submit below.
Telehealth Creates New Opportunities for SIs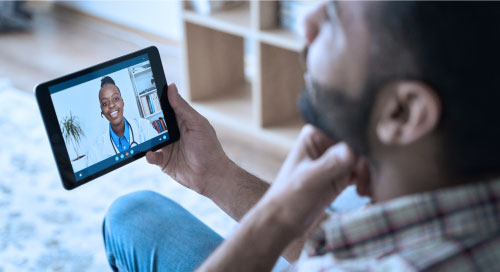 Over the past three years there's been a profound change in the healthcare industry. Telehealth and virtual care are not just here to stay, they are the new normal. Not only do providers and patients benefit, but systems integrators (SIs) do so as well.
With healthcare organizations and hospitals seeing less of a strain on resources and more areas for revenue, they are looking to invest in the digital health space. And this equals new possibilities for SIs that turn to BlueStar, a global distributor supporting SIs, VARs, and MSPs for the right technology, solutions, services, and expertise.
"These solutions are definitely key to success…with a greater opportunity within the healthcare space," says JoAnna Whitting, Healthcare Business Development Manager at BlueStar. "Telehealth is obviously not going to go away. I think it's one of the things where it probably would have been implemented sooner. But you just may not have had the strength of some of the software partners that had their solution baked and ready to go."
Solution Providers and SIs Tackle Healthcare Needs
Telehealth was the only immediate solution that could deal with the demand of COVID-19. Hospitals were at overcapacity and having to open temporary triage stations to treat everyone. On top of that, patients still had appointments, medications, and treatments they could not wait until the unforeseeable future to receive.
"Telehealth became the only stopgap measure that health systems quickly had to adopt as a technology because you simple couldn't get in the door," says Whitting.
So, as a reactive measure, healthcare organizations started to make use of consumer videoconference solutions like Google Meet and Zoom. Once the initial shock of COVID-19 wore off, the industry started to realize these solutions were not built or ideal for healthcare services. It started to look for more proactive approaches to addressing the new demands.
With almost every aspect of healthcare now impacted – communication systems, supply chain, standard care services – the industry turned to partners and SIs to tackle healthcare's specific needs.
For instance, telehealth had to be reimagined to not only provide home access to healthcare providers but limit physician interaction with infected patients through remote patient monitoring at home and in the hospital.
At the beginning of the pandemic, BlueStar ISV partner VeeMed worked with healthcare system provider Banner Health to transform existing hospital TVs and displays into telehealth endpoints leveraging its virtual care platform. This allowed Banner physicians to gain instant feedback about a patient or conduct immediate telehealth sessions without having to expose themselves to the virus.
There was also a huge demand for temperature monitoring or screening to make sure anyone granted access into a hospital or building was not running a fever and putting everyone at risk. Video and photo editing software provider CyberLink redesigned its AI facial recognition technology solution FaceMe to take temperatures, check for proper-fitting face masks, and ensure social distancing, explains Whitting.
"You could do all this through walking through a gateway, so to speak, that had cameras on it and thermal sensors on it, and had AI capabilities built into it from a platform perspective, and be able to very quickly recognize whether this person was conforming with the requirements that were in place," she says.
CyberLink was able to repurpose this technology for the healthcare industry by partnering with BlueStar, which brought together servers, cameras, and sensors from IoT supplier Advantech to FaceMe. The solution also leveraged Intel® OpenVINO™ for its AI capabilities and flexibility.
"We bring the piece parts together," says Whitting. "We're really trying to stay ahead of that curve, look at all the software entities out there and what they do, and how they can interplay with some of the other technologies that we offer."
The Future of Healthcare Solutions
For these technologies to continue to transform and add value to ongoing wants and expectations, it will take collaboration and partnership with hardware and software providers. Just as VeeMed did with Banner Health, BlueStar works with partners to analyze healthcare demands and understand net new growth opportunities. Whitting explains that just remote patient monitoring alone is going to be worth $117 billion by 2025.
"It's really just more of engagement and networking with some of the key hardware providers, with some of the key software providers like VeeMed, for example, with their telehealth platform and understanding just some of the educational pieces of the technology," she says.
Through BlueStar's healthcare initiative VARMED, it identifies key players in the space, takes time to vet solutions, creates unique healthcare services, and educates and trains its partner community so they can feel confident these applications will be successful.
Whitting adds that BlueStar's partnership with Intel has also been key in introducing new opportunities and onboarding different partners to build solutions.
"Our relationship with Intel continues to grow, coming out of a pilot to a tier-two aggregator, and part of that benefit has been the bilateral introduction of different software and hardware platforms that can be utilized to put together a solution. I think that's been an invaluable part of our relationship thus far," says Whitting.
Whitting expects to see more tools and technology that help healthcare providers retain staff, maintain operational efficiency, minimize potential patient errors, provide more convenience to care, and better access to information in the future.

---
About BlueStar
BlueStar is the leading global distributor of solutions-based Digital Identification, Mobility, Point-of-Sale, RFID, IoT, AI, AR, M2M, Digital Signage, Networking, Blockchain, and Security technology solutions. BlueStar works exclusively with Value-Added Resellers (VARs) to provide complete solutions, custom configuration offerings, business development, and marketing support. The company brings unequaled expertise to the market, offers award-winning technical support, and is an authorized service center for a growing number of manufacturers. BlueStar is the exclusive distributor for the In-a-Box® Solutions Series, delivering hardware, software, and critical accessories all in one bundle with technology solutions across all verticals, as well as BlueStar's Hybrid SaaS finance program to provide OPEX/subscription services for hardware, software, and service bundles. For more information, please contact BlueStar at 1-800-354-9776 or visit www.bluestarinc.com.