Fill form to unlock content
Error - something went wrong!
Get the latest updates on IoT for retail.
You are following this topic.
Unified Retail Device Management Increases Uptime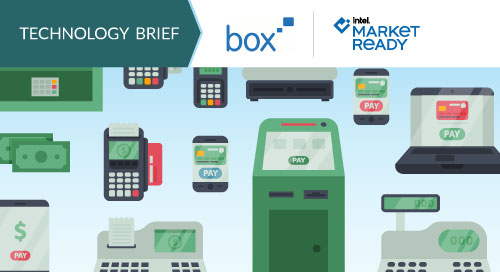 As digital transformation sweeps the industry, every retailer is on a quest to gain operational efficiency and lower costs. But that's easier said than done as they grapple with a multitude of device types, from point of sale to digital displays, and beyond. And then consider the immense scale on which a large retailer operates, with hundreds of devices in each store across hundreds or even thousands of locations.
So, what if store operations could run as smoothly as a car? Today's automobiles alert us when tire pressure is low, when an oil change is needed, when it's time for new brake pads. Under the hood, sensors and computers are hard at work—monitoring, managing, and fine-tuning—all while presenting information to avoid a breakdown when the driver needs it most.
"We were inspired by this analogy," says James Patterson, Director of Marketing and Strategic Accounts at Box Technologies, a retail customer engagement solutions provider and division of Flytech. "Everyone is looking at how they can save money on the bottom line and increase device uptime. And ultimately that's the reason why we decided to go on the journey with Inefi Spotlight."
#Retailers using Inefi Spotlight report they can reduce #engineering calls to retail stores by up to 35% annually. @BoxTechnologies via @insightdottech
Unified Retail Device Management
The Box solution eases retail operational challenges with a device-agnostic platform. Its remote monitoring and maintenance functionality provides system-wide visibility through one unified management system. This allows retailers to replace their traditional service model with one that is centralized, automated, and predictive—as shown in Video 1.
For remote monitoring, the Inefi agent is the go-between from mission-critical devices, their associated peripherals, and a cloud-based intelligent management system. This allows for endpoint problem-solving—even before an issue might occur.
"With our solution, sales associates whose job is serving customers don't end up troubleshooting problems," Patterson explains. "And IT staff don't have to rely on someone stumbling upon an issue and reporting it after the fact."
Once a problem is identified, it can often be resolved with an automated fix. Retailers using Inefi Spotlight report they can reduce engineering calls to retail stores by up to 35% annually—mitigating costs that can arise from service calls and downtime.
Data-Led Insights
The cost savings can be impressive. As one example, Box analyzed the data for one of the largest retailers in the U.K., with more than 20,000 locations and hundreds of thousands of devices. In the period of one year, 20% of its field service calls were all down to one specific type of printer.
Rather than triaging the issue, the service provider would send an engineer to swap out the printer, fix it, and return it to equipment inventory—resulting in excessive capital outlay and wasted staff time. "Our customer could never get to the root cause of the problem," says Patterson. "So there was never any data-led insight to what was causing the problem."
The Inefi solution was able to collect functional data from the printer at a granular level, identified the root cause of the problem, and remotely implemented a remedy. Eliminating this one printer issue would bring the retailer's field service demands down to a far more manageable level—into single-digit percentages.
BI Maximizes Efficiency
Business intelligence can save immense amounts of capital by improving the ability to manage how devices are put to use across an entire store network. In one common situation, a retailer might find that three out of six PoS terminals are used most frequently throughout the day, while the others stand idle.
Because the Inefi platform centrally monitors and analyzes device usage, in this case, store managers can spread out the use of all terminals, which increases equipment wear and tear.
The platform uses Intel® Active Management Technology (Intel® AMT) and Intel vPro® software for its remote management capabilities—from troubleshooting to updating device software. It can even improve energy efficiency by remotely managing endpoint power states.
And with out-of-band support, even if the OS stops working, remote monitoring and troubleshooting continue without interruption.
Running Retail Ops on All Cylinders
The benefits of predictive and automated device management will continue to expand as edge-to-cloud AI technologies are more pervasively deployed. Data trends over time could identify, for example, that panel PCs are likely to fail once they reach a given number of transactions.
With the ability to plan equipment maintenance cycles, retailers are better able to achieve smooth-running operations—just as we can with our automobiles. Patterson concludes, "If we can deliver what we experience when we step into our cars each day, through connected, predictive platforms, then that's our mission and ultimately that is the future."