Fill form to unlock content
Error - something went wrong!
Get the latest updates on IoT for retail.
You are following this topic.
Retail Digital Signage Gets an Upgrade with Computer Vision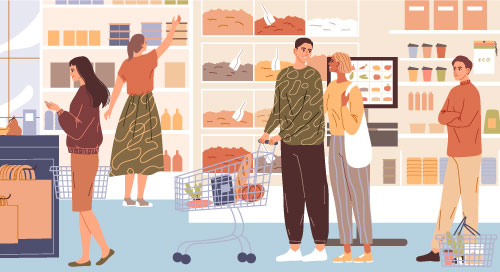 You would think that over the past two years, with the rush to e-commerce, brick-and-mortar would be on the decline. But it is quite the opposite.
"It's a complete myth that brick-and-mortar is dying. Retail has not been impacted negatively by COVID at all. Grocery, convenience, and home improvement stores are up between 120-160% year over year, and that's during the pandemic," says Jay Hutton, Co-Founder and CEO of VSBLTY, a digital display solutions provider.
Hutton entered the digital-signage space with an eye on where industry leaders failed to evolve or innovate. "We felt that the technology underpinning digital displays had advanced to the point the next iteration was possible, but none of the major players had taken that step," he explains.
He took that step with VSBLTY. By using computer vision and advanced object recognition technology, the company was able to develop a solution that could see and act in real time.
"If you're doing digital display, the most important part about the performance of that display is who's seeing it. When they look, are they paying attention?" Hutton says. "It gets enormously more impact once you're able to use and correlate what's happening from an audience perspective. And once it's measured, it can be packaged up and monetized."
Physical Retail Versus E-Commerce
While online shopping offered more convenience and safety in the early days of the pandemic, that didn't stop consumers' desire to shop in stores. For instance, most shoppers want to be able to go and pick out their own produce and not rely on the delivery services to do so.
What e-commerce has done over the past couple of years is change the experience shoppers expect from their products and stores. Many retailers and brands turned to digital-signage solutions to offer that extra digital interaction, but it's still not serving their needs.
Most retailers have the advantage of engaging and interacting with customers at the point of sale, but they lack the visibility into customer behaviors and journeys that e-commerce offers.
"What if we could do that and more in retail? What if we could measure the audience so intimately and in such a granular way that you could deliver a superior level of analytics than the internet," Hutton says. "You can more directly target messaging. You can deliver and laser-focus the narrative. There's enormous value to doing that."
Digital Signage for Brands and Retailers
VSBLTY recently signed a deal with Mexico's Grupo Modelo, which is part of the brewing group Anheuser-Busch InBev (AB InBev), to build a digital-signage network over four years. The network will comprise screen and camera technology in up to 50,000 stores across Latin America. The goal is to develop a closer relationship with customers, increase brand loyalty and sales, and accurately measure results.
As part of the initiative, VSBLTY will work with Intel® and Retailigent Media, a leading smart-retail solution and analytic provider in Latin America.
VSBLTY will provide its proprietary software, licensing for analytics, and visual display powered by Intel® NUCs. And Intel vPro® provides the secure, central management required in a digital display network of this scope. Together, the companies will offer more details into store traffic, customer anonymous demographics, daily sales, and critical operations-related data.
"What if we could measure the audience so intimately and in such a granular way that you could deliver a superior level of #analytics than the internet?" –Jay Hutton, Co-Founder and. CEO @vsbltyco via @insightdottech
The effort is already underway in Mexico, Ecuador, Colombia, and Peru, with the goal of achieving a network of 5,000 locations in its first year.
According to Hutton, AB InBev is unique in that it is both a brand and a retail company. "As a brand, they want a closer relationship with their customer. And they want to deliver valuable impressions to those customers," he explains. "On the store side, it's monetizing real estate and learning more about customer behavior. It's another media channel, but it happens to be higher value because it's delivering impressions right at the moment of truth. Right where the action is happening. Right where you can influence shoppers."
Bringing Awareness to Retail Digital Signage
The VSBLTY platform can detect whether a customer is enticed, engaged, and interacting with a digital display in real time as well as measure their movements. The platform ingests third-party data from mobile devices to identify shopping patterns throughout the store.
This gives brands and retailers immediate insight into their marketing efforts, enabling them to make changes on the fly. All the data collected is PII (Personally Identifiable Information) compliant, and they can then use that information to redirect or change the display content based on who is looking at it.
"It's changing the landscape of what's meaningful to a brand and changing their marketing strategies," says Hutton.
The Intel® OpenVINO™ Toolkit, a computer vision library, helps make these real-time analytics possible. "We perform best with an Intel engine because we can process much faster. It's more efficient from a cost standpoint, and it's also more accurate," says Hutton.
In the future, Hutton sees computer vision in retail advancing to the point that it could even improve inventory management. For instance, retailers and brands can now know immediately if their shelf is getting low and needs to be replenished, instead of waiting for the nightly audit. There is also an opportunity to address planogram compliance and ensure products are displayed in their proper place.
"Computer vision is not risk. It's not a question anymore. And it's happening right now," says Hutton. "We're always thinking about ways that the technology can be leveraged to achieve other outcomes that are valuable and create new opportunities in retail."
This article was edited by Georganne Benesch, Associate Editorial Director for insight.tech.