Fill form to unlock content
Error - something went wrong!
Your content is just a step away. Please submit below.
High-Impact Spaces Say "Hello!" to the Hybrid Workforce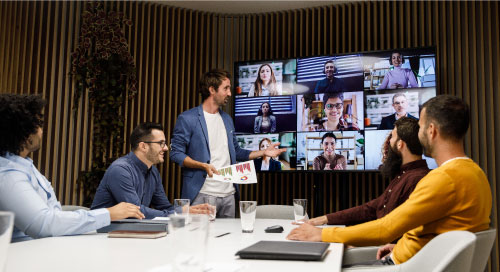 The way we work is forever changed. At the beginning of the pandemic, most of us started off working from home and got comfortable using videoconferencing software. As quarantines lifted, workers began splitting their time between home and company offices, and the use of these platforms continued. Today, it's the norm for meetings to comprise a mix of in-person and remote attendees via Zoom or Microsoft Teams.
But as the way we work evolves, the spaces we work in must evolve, too. Hybrid workforces are driving the creation of "high-impact spaces" in office buildings and other public spaces designed to support in-person and remote users simultaneously (Figure 1). Purpose-built to maximize productivity and engagement of distributed groups, high-impact spaces deploy customizable blends of video processing, voice-activated camera switching, echo cancellation, edge computing, connectivity, and other technologies that transform traditional meeting rooms into unifying hybrid work environments.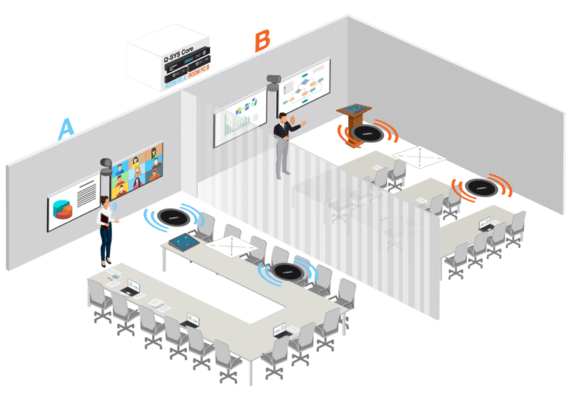 For a high-impact space to deliver seamless meeting experiences for businesses, schools, and other organizations, all these disparate technologies must work in unison. In addition, it must have automation built in to identify who is talking, where they are, and adjust cameras, lighting, audio equipment, and displays based on their location.
All of this can seem like a burden to the IT department. But with the right hardware and software infrastructure, retrofitting a normal space into a high-impact one can be a highly automated experience that doesn't require specialized skills and creates new opportunities for today's workforce.
Lowering Barriers to High-Impact Workspaces
The requirement that multiple local and remote systems operate as one with unified communications platforms is what separates high-impact spaces from your typical AV project. Therefore, integrating all the components needed to bring a space to life is the most important step in any hybrid office retrofit.
Aside from the AV equipment you'd expect, this can even include smart building systems that help automate "everything about a room and the experience," says Patrick Heyn, Vice President of Marketing for Q-SYS Americas, an integrated audio, video and control platform provider.
With the right infrastructure, retrofitting a normal space into a high-impact one can be a highly automated experience that doesn't require specialized skills and creates new opportunities for today's #workforce. @QSYS_AVC via @insightdottech
"The tenets of a high-impact space are professional-grade multi-zone audio, video distribution, camera switching, and control. There's an incredible amount of room automation," Heyn explains. "The system is taking into account the environmental elements in the room. The room is reacting to people in the room.
"You're needing to fuse multiple systems together—not only audio, video, and control, but also bringing third-party technologies under a single ecosystem," he continues. "If you think about putting together a board room, you're usually looking at a control processor, an audio processor, and a video matrix system. There are at least three or four different processors you need to connect to each other to even get out of the gate."
Openness in Hybrid Work Environments
Historically, this is where challenges arise for IT departments. Because many AV solutions on the market today are built around specialized DSPs or proprietary ASICs, they often must be programmed with specialized or proprietary languages. Multiply this across all the systems and peripherals needed to create a high-impact space, and the integration and maintenance effort can quickly outweigh any advantages.
Avoiding this outcome means reducing barriers to entry, which means substituting closed, esoteric technologies for open, accessible ones. Q-SYS took this approach by designing its integrated audio, video, and control platform around Intel® Xeon® processor technology, which delivers ample performance for multichannel signal processing, compatibility with a range of IEEE communications protocols, and a broad ecosystem of support.
The company's off-the-shelf hardware runs on the Q-SYS OS and delivers a flexible software package for managing components in a high-impact space that comprises:
Audio, video, and control engines
A real-time network packet processor
User-controlled interface server that accepts Lua and JavaScript commands via APIs
The result is a standards-based IT architecture that can be managed from the cloud and simplifies the integration of technologies for high-impact spaces, both from Q-SYS and third parties.
"The Q-SYS Platform provides the architecture and processing in addition to a portfolio of native devices like cameras, loudspeakers, amplifiers, and touchscreen controllers. We're handling all the echo cancellation, and we're handling all the bridging between the AV system and the computer," Heyn says. "Those audio video and control pieces are fully integrated. There's a singular Intel® processor to drive all these things, which means that an end user or programmer doesn't have to work to get those pieces to work together.
"There's no learning curve to get those pieces to talk to each other because they're already designed to talk to each other. That integration piece is huge," he continues. "Then when you're bringing those third-party pieces in, we have this growing library of plug-ins and technology partners that make integration with Q-SYS easy."
In other words, widespread compatibility with its Intel-based hardware makes the Q-SYS Platform a blank canvas capable of incorporating HVAC, lighting, door locks, myriad sensors, and virtually any other system in a room or building that can communicate over APIs.
"This option lets us transform the platform into whatever the user needs based on the software that's running," adds Heyn.
A Doorway to Higher Impact
It is expected that the high-impact space market to reach billions of dollars as they extend beyond office spaces to classrooms and other public venues. As hybrid workforces become the norm, these transitions are already taking place.
As organizations prepare for a cyber-physical future, many questions must be answered. "Can we consolidate our space since fewer people are in the office?" and "Should we arrange our space to accommodate groups instead of individuals?" and "Will we be able to get the most from our remote employees?" are some of the basic challenges that operations officers, facility managers, and IT staff face today, according to Heyn.
With open, standards-based AV infrastructure, the answer to all those questions is the same: Yes, as long as it's high impact.
This article was edited by Christina Cardoza, Associate Editorial Director for insight.tech.