Digital Signage Fosters Workplace Communities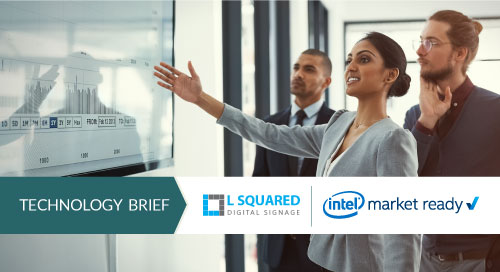 With more than 7,500 employees across operations in 45 countries, a leading global supply chain company struggled to connect with employees in a consistent and compelling fashion. As business needs grew, its legacy communications approach—a combination of paper, email, intranet, and electronic displays—failed to deliver.
In particular, it had trouble reaching warehouse employees, who didn't have computers, let alone access to email and the intranet. And the company's existing displays were on disparate platforms, making it difficult to manage and maintain a unified communication system. Sharing content wasn't possible, and there was a lot of duplication of effort.
Business leaders landed on digital signage as the right solution to engage employees and create a feeling of inclusion within the workplace community—from the warehouse to the carpeted office—anywhere in the world.
But the solution needed content to be dynamic, easy to create, and quick to roll out. It also needed an IT- and user-friendly digital signage system that enabled a "set it and forget it" configuration while still allowing global collaboration on its communications. The company found what it was looking for in the L Squared Hub solution from L Squared Digital Signage (Figure 1).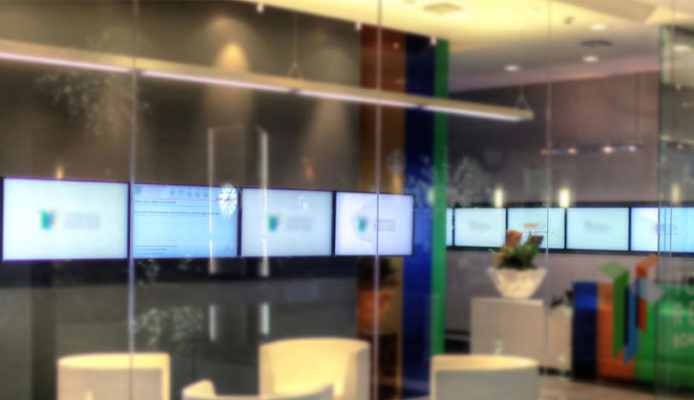 Company management was impressed with how a centralized digital signage platform helped improve warehouse safety, and started rolling out the solution more broadly across different departments and countries.
"Once they deployed it across Canada, they realized there's a powerful communication platform for many different parts of the business," said Ratnavel Gajendra, L Squared CEO. "It quickly grew to a sales tool where teams in different parts of the country were using it to communicate their wins—motivating the entire salesforce."
In the first week, the business saw results when a sales success story went live, improving morale and earning kudos for the IT director in charge.
Content and Workflow Coordination
The company wanted centralized control while allowing multiple levels of creators to use the same network without stepping on one another's toes. Content and workflow permissions are broken down into three tiers: global, regional, and local. This allows administrators to access control and coexist with one another.
"Users can tell the system to display specific content at a set time in a determined location based on groups or tagging," said Gajendra. "The system takes all of these schedules, which are basically rules that say which content, when and where to display it, and then it handles conflicts, overlapping content, or anything like that."
Creation is accomplished through an innovative user interface with drag-and-drop capabilities, so marketers and communication leaders are not overwhelmed by technology. Users can bring content from various different sources into a library, from basic images to streaming videos, and existing third-party data sources, such as weather, news, and social media feeds.
The next level up is integration with specific business data, from the call center, ERP, and business intelligence dashboards. Once content is in the library, users can distribute it not just to any digital display but specific areas on the screen.
From edge-to-cloud and everything in between, the @lsquareddigital system is designed to make it easy for the IT team.
Digital Signage with a Global Footprint
With so many locations across multiple countries, time zones, and languages, the business benefited from the ready-to-roll solution, localized for its offices around the world. L Squared Hub delivered on its core requirements:
A single platform localized throughout the globe with plug-and-play deployment right out of the box
Easy content creation tools integrated with common workplace software
Automatic digital signage player updates with relevant content from all departments
Connected content sharing from HQ to individual countries
Scalable with support for thousands of nodes
The system provides multiple levels of security such as end-to-end encryption, hybrid hosting models, rule-based scheduling, role-based permission, and more. "Security, especially in large enterprises, is incredibly important because anytime that you add a device to the customer's network, there's risk of compromising the entire network," said Gajendra.
L Squared built a private hosting environment using the Azure platform. Along with Azure's best-in-class security features, the IT team understood and was comfortable with the technology (Figure 2).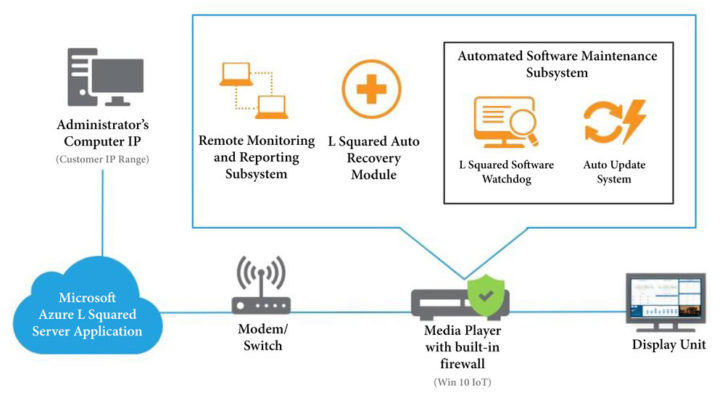 Ongoing Success
From edge-to-cloud and everything in between, the system is designed to make it easy for the IT team. Since the media player runs Windows 10 on Intel® hardware, it's just like supporting any other PC on the network.
"We're able to ship one device that works everywhere reliably," said Gajendra. "We found that there's really no better solution than Intel technology there."
Industrial-grade hardware combined with a smart network architecture creates a consistent platform with the same configuration that can be deployed worldwide. Preinstalled media player software creates a plug-and-play experience.
Even better, L Square provides managed services, such as project management, software maintenance, and content support, setting up the company for ongoing success.
The results? With much improved engagement and employee satisfaction, the organization is replacing its outdated systems around the world. What started with one deployment in Canada has spread to the US, UK, Germany, France, Dubai, and other countries—with more in the pipeline. And with a centralized platform for global teams, the business has seen a financial payoff with a 30 percent drop in systems operations costs.
There's a big bright future for digital displays. Is your enterprise ready?