Conversational Kiosks Take Orders with AI and CV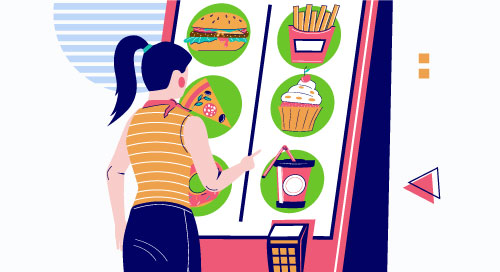 Currently, nearly half of Americans use voice assistants like Siri and Alexa. The technology is a convenient way of getting directions or sending texts, and opportunities for its usage are expected to triple by 2023 as more devices become voice-enabled.
While businesses can optimize their sites for voice search as a way to connect with customers, voice technology has largely remained a home-based tool. Consumer products work fantastically well because they're in a perfect environment—simple commands in a quiet home. In a commercial setting, that goes out the window.
But innovative new systems are changing what's possible. Kiosks with voice control—like Sodaclick Voice Hands Free Digital Signage—leverage artificial intelligence and computer vision to provide systems integrators (SIs) with robust voice-enabled solutions that can be deployed in commercial settings.
With consumers becoming more apprehensive of touchscreens due to COVID-19, Sodaclick, a provider of cloud-based digital signage solutions, seized the opportunity to create a voice-controlled solution that today's customers want. Retailers can use the technology as a touch-free interactive digital solution for informational requests or order-placing at self-service kiosks and drive-throughs.
With AI and CV, Kiosks Listen and Learn
Sodaclick Voice – Hands Free Digital Signage is a global solution with more than 120 languages, including regional dialects and intonations. Its fully conversational AI virtual assistant solution uses algorithms for customized, trained voice models that are improved upon over time. Using variations of customer dialogue and product keywords, it also makes the model even stronger. And the natural-language processing system understands consumers' intent—what they are looking for and what they want to order.
Up until now, the main barrier to entry for a voice-enabled kiosk has been addressing ambient and crosstalk noise. "If you have other customers making orders nearby, it could easily affect the kiosk and mess up the order. Establishments usually have background noise, like music or talking, and that can kill the voice solution, too," explains Ihsan (Sam) Jan, Co-Founder & COO of Sodaclick.
The company tackles this issue by using computer vision coupled with enterprise-level speech recognition and directional speakers. A far-field microphone includes a noise-canceling feature that eliminates background music. Parametric, ultrasonic speakers direct sound only to the customer who is interacting with the kiosk. Algorithms cancel out anything that's irrelevant to the data being presented on screen or stored in its content. And Intel® RealSense™ cameras recognize when a customer steps up to the kiosk.
"The vision component is crucial to make the solution robust," says Sam. "The camera locks onto the person to understand who is talking. It also eliminates the need for a wake word that could possibly trigger another kiosk. Intel® technology allows for a more natural and immersive experience for the customer."
The solution is currently being tested for a large quick-serve restaurant that plans nationwide usage. "The company wanted to use technology to increase throughput and ticket size," says Sam. "Also, with the reduction of foot traffic in their stores due to COVID, they wanted to get customers in and out as quickly as possible. With this solution, all you need to do is walk up to the kiosk as if you were walking up to the cashier, say your order, and pay. The transaction takes seconds."
"We've taken all the heavy lifting of AI and complex voice-training off of the customer and given them very simple fields to create powerful informational voice assistants." —@Sodaclick
New Tools for SIs with an Edge-to-Cloud Kit
Sodaclick Voice – Hands Free Digital Signage is an Intel® RFP Ready Kit that systems integrators can use to expand their business. Out of the box, they can create a retail informational voice assistant on the cloud platform and deploy to an endpoint. To do so, an SI or end user can create their content, upload their assets, such as menus, images or videos, and link the custom voice model, all of which is done on the Sodaclick platform (Figure 1).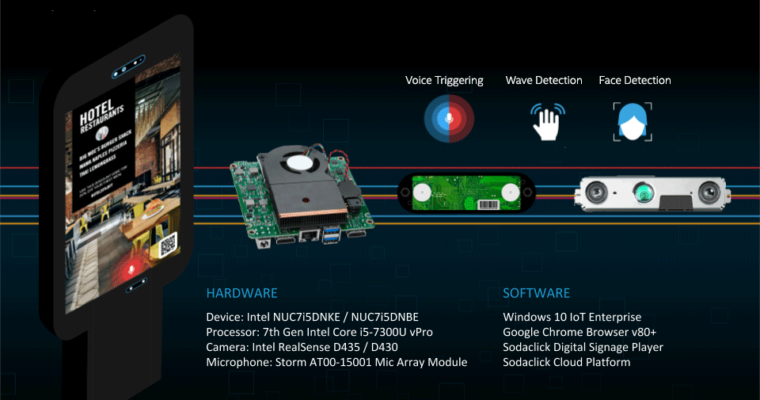 For a fully conversational AI ordering virtual assistant, the Sodaclick team can work with SIs and their customers to develop a pre-trained voice model. This type of customized model includes complex dialogue, conversational healing, and customer intent—specific to the products on offer.
"We've taken all the heavy lifting of AI and complex voice-training off of the customer and given them very simple fields to create powerful informational voice assistants," says Sam "All they need to do is add in their phrases and keywords for the speech recognition, and what the responses should be based on the brands and how they address their customers. From there, they publish the campaign and send it through our content management system."
Sodaclick Voice can be run from an on-premises server or in the cloud, which uses the tool's full performance of the architecture. The benefit of using the cloud is the ability to make changes in real time, such as adding a limited-time offer.
Deployment of the Sodaclick Voice system gives retailers plenty of ROI opportunities. First, the smart tool provides a reliable, consistent customer experience.
"Employees have to listen to and confirm orders," says Sam. "Multiply that by a busy eight-hour shift, and, as humans, we start to make mistakes. When customers go home with the wrong order, they won't remember the speed of the transaction; they will remember the accuracy. If it wasn't accurate, they won't be back."
The solution also collects data analytics that can be used for marketing and operational strategies as well as real-time promotions and upselling. If a child walks up to a kiosk, for example, rather than suggesting a coffee, it may ask if they would like to add an apple pie. These small ticket increases can add up to millions of dollars for larger brands.
"We want to make the consumer's journey a lot more fun and immersive," says Sam. "We also want to bring some sort of normality back. Providing a human experience—albeit an AI virtual assistant—will bring a lot more relevance to the customer experience."