Fill form to unlock content
Error - something went wrong!
Get the latest updates on IoT for retail.
You are following this topic.
AI-Powered Smart Buildings Get Schools Back in Session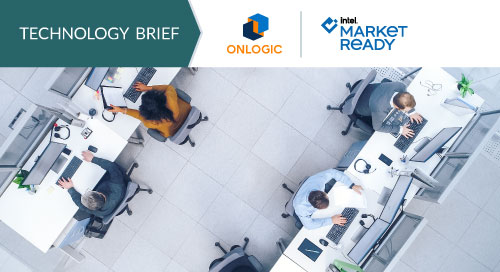 How do organizations bring people back to the workplace in a safe and comfortable way, while at the same time maintaining profitability? And how do school districts bring students and teachers back into the classroom while meeting safety regulations to protect their well-being?
There's no one-size-fits-all solution, so understanding some of the priorities and methods is an important step. After almost two years, returning to in-person activities is a top priority for educators, but it may not be an easy process. The good news is that innovative technologies and solutions can help aid facilities in the planning and execution of their in-person return strategies.
One example is Presentation High School, a private school in San Jose, California, the heart of Silicon Valley. After pausing on-campus learning in 2020, administrators sought a re-entry solution for the 2021 school year.
Their goal was to control and monitor access and student flow without making it overly intrusive. The requirements were clear:
Ensuring staff and student safety by controlling the number of individuals in their facilities
Quick entry/exit screening for large groups
Maintaining a log of who entered different facilities, buildings, rooms, and when
A human-operated solution or kiosk
Easy access to critical data, especially for contact tracing
Ease of use for the entire staff
.@OnLogic and @ThingLogix worked together in developing #Workwatch, a pandemic management solution that has been instrumental in bringing schools, businesses, cities, and other organizations back together in-person. via @insightdottech
Developing Smart-Building Technology Through Collaboration
The administration turned to OnLogic, a global industrial PC manufacturer, and its partner ThingLogix, an IoT low-code software solutions provider.
The companies worked together in developing Workwatch, a pandemic management solution that has been instrumental in bringing schools, businesses, cities, and other organizations back together in-person. The successful collaboration between the two companies came about thanks to the AWS partnership program in which OnLogic and ThingLogix are Advanced IoT Technology partners. And the AWS cloud platform is an essential element of the solution.
ThingLogix played a big role in helping Presentation High determine business and technical implementation of the project. And that implementation started just three weeks after their first meeting.
"They had to bring people back safely, and there's all kinds of emotion and challenges in making a change like that," says Brett Mancini, Vice President of Sales for OnLogic. "And when you augment efforts with technology, you can do so more quickly and more effectively. It also helps to instill confidence in the staff that they can return with minimal exposure while supporting their students."
AI-Powered Edge-to-Cloud Health Screening
Workwatch ticked off all the requirements Presentation High had on its list.
"They saw the opportunity to use Workwatch right off the bat, and they created some of their processes around it," says Mancini. "They use it for tasks such as distributing health survey responses and screening temperatures when people are coming into the building. Rapid screening is important to avoid a line of 100 kids waiting outside the door close to each other."
Workwatch is an artificial intelligence-powered platform that runs on the OnLogic Helix 500, an Intel® processor-based, industrial-class edge PC. It connects all of the required edge devices—cameras, thermal imaging and other sensors, RFID tags, and Bluetooth—to capture the state of physical locations.
ThingLogix developed the Workwatch software, which handles aggregation and analysis to channel essential information to the AWS cloud for further analysis and future reference. For example, the software reads and analyzes rules-based biometric health screening data, providing immediate feedback. It can flag whether an individual should be allowed or denied entry based on thermal imaging temperature readings.
"You can give folks badges and then with AI and machine vision quickly identify where and when people are in particular areas," says Mancini. "You've got IoT sensors, perhaps recording temperatures, and the use of PPE as they go through different areas where it might be required. This location and time-period data makes contact tracing possible in real time, with fewer errors than if humans had to do all of that monitoring manually."
Beyond Pandemic Recovery
Looking forward, Presentation High School administrators see a long-term need to know on any given day who's on campus and where they are.
The school has learned that beyond COVID-19, implementing work task management is a huge benefit. And Workwatch is making it possible. For example, the solution can be leveraged to better understand resource and staffing needs. Who knows what the future of in-classroom and remote education will be, but we do know schools need to be prepared.
Pandemic recovery is just one area where the Workwatch platform can play a role.
"This is one of those things that you could put in place now to be more prepared for a variety of use cases. You can customize it for everyday applications, not just related to the pandemic," says Mancini. "As additional sensors become available, the uses for Workwatch will continue to grow. Meanwhile, people can feel confident about coming back to work, school, and play."