The Smart Factory Makes a Quick Turn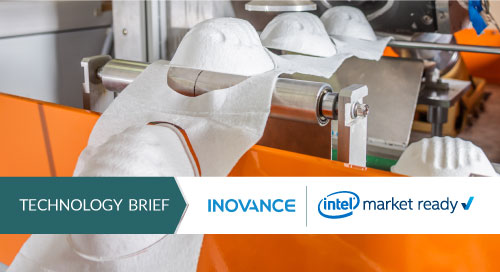 The global pandemic has led to the urgent and ongoing need for personal protective equipment, commonly known as PPE. But first responders—from the ambulance to the ICU—continue to face a shortage of KN95/N95 masks and other protective gear. Manufacturers are working 24/7 to produce enough equipment to keep up with demand.
These much-needed KN95/N95 masks are just one example of manufacturers having to shift their production from other products—practically overnight. But redeploying production lines is not an easy task. Recommissioning machines is often cumbersome, and installation of various transmission devices involves a large amount of connection, integration, and testing.
Advances in artificial intelligence (AI), computer vision, and powerful edge compute technologies are key to improving efficiency and quality control—allowing enterprises to respond to skyrocketing demand for pandemic safety and prevention materials.
Balancing Speed and Quality
Of course, speed cannot be achieved at the expense of quality. In particular, quality requirements for KN95/N95 protective masks are much more stringent than for typical masks. As a result, manufacturers must increase efficiency of inspections while maintaining extremely high testing accuracy. Neither can be compromised for the other.
While traditional machine delivery production lines and manual testing solutions may not be up to the task, fully automated systems with AI-based machine vision technology can step up to meet this formidable challenge. These systems are quite effective at helping enterprises rapidly deploy and produce quality products at high efficiency.
Advances in AI, CV, and edge computing? They're key to improving the efficiency and quality control needed for responding to demand for PPE like KN95/N95 masks.
Optimize Production Through Automation
With KN95/N95 mask production line deployment, a large part of the workload consists of machine-related installation and testing. The phase synchronization of printing and cutting, and the timing of the mechanical steps to deliver the nose wire and to put in the nose bar are particularly time-consuming. And it usually requires multiple engineers to coordinate and cooperate at the same time, with several attempts to complete the process.
The AC800 smart mechanical controller from Shenzhen Inovance Technology Co. Ltd. helps solve these challenges, allowing manufacturers to accelerate production and apply strict mask testing.
The controller is a fully automated system, capable of reducing the commissioning difficulty and workload of production lines—while optimizing equipment performance and operational efficiency. Users can develop a detection system with industrial vision technology based on AI—helping manufacturers lower costs, increase efficiency, and ensure product quality.
By using the fully automated platform with a flexible servomotor system, manufacturers can readily adjust control parameters through self-tuning or fuzzy algorithms to coordinate all production line components with greater intelligence and accuracy. In addition, the system transmits components to the most optimal position in the production line—effectively reducing difficulty and workload during deployment and significantly shortening the equipment delivery cycle.
But this solution relies more on controller computing processing capacity than in the past, and existing single-function controllers can be overstretched when facing complex operations. For this reason, Inovance based the AC800 series on high-performance Intel® Core™ processors and the Intel® Industrial Edge Control Platform (Figure 1).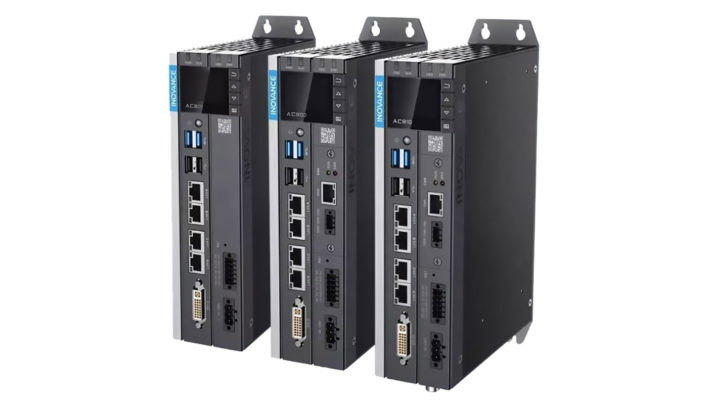 These "software defined" industrial PCs enable users to replace their single-function controllers and achieve load integration of edge testing, effectively helping equipment manufacturers lower development costs and shorten the cycle, allowing users to increase system response and reduce the difficulty of operations and maintenance, ultimately lowering costs and gaining efficiency in the entire industrial chain.
Accurate and Efficient Inspection With AI and Computer Vision
While an indispensable step in the industrial production, quality inspections are often a bottleneck and can hamper efficiency, since traditional manual inspection methods occur at multiple points throughout the production process.
KN95/N95 mask inspection is particularly complex. They must undergo inspections for foreign objects on the surface, nose bridge wire and sponge strip alignment and flatness, width of sealed edges, and positioning of ear-wire. But with non-uniform testing standards and inspection worker fatigue, accuracy can be greatly impacted.
The Inovance, AI-enabled KINOVISION platform helps resolve these challenges. Integration of Intel Core processors and the Intel® OpenVINO™ Toolkit optimize the server and acceleration engine for the entire process. It has been deployed in multiple KN95/N95 mask production lines, and the results are impressive.
The volume tested reaches 150 masks per minute, with an accuracy rate of 99.98 percent.
The average production line can achieve a reduction of 2-3 detection personnel.
Manufacturers can reach uninterrupted 24/7 production, effectively reducing labor costs while improving testing efficiency and ensuring quality standards.
Global Response and Readiness
The Inovance AC800 and KINOVISION platforms are making it possible for manufacturers around the world to accelerate line redeployment while improving inspection results. As we respond to the challenges of a global pandemic, and move toward recovery, producing essential PPE is as important as ever. Innovative use of technologies like AI, computer vision, and high-performance edge computing make it possible. And with these same technologies, manufacturers can deploy new smart factory solutions for continuous digital transformation in the years to come.