Fill form to unlock content
Error - something went wrong!
Get the latest updates on IoT for industrial.
You are following this topic.
Processor Innovation + Virtualization Power Edge Computing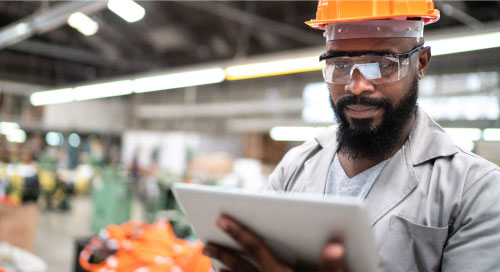 When we look back on the early 2020s, we'll remember how adversity compelled us to adapt, and in many cases, revealed parts of us we didn't know we had. Globally, we have experienced shopping, attending classes, working with colleagues, and even spending time with families in a whole new light.
The same is true in the tech world. Faced with industry-wide digital transformation, electronics companies had been maneuvering for position before the COVID-19 pandemic. Then like dominos, quarantines turned into production slowdowns, which resulted in supply chain disruptions.
ASRock Industrial, an IoT edge solutions OEM, was one of them. The company was less than four years from spinning out of ASRock Inc., a provider of industrial grade products, when COVID hit. Suddenly, demand from its low- to medium-volume factory automation, robotics, and security customers became uncertain. The ASRock Industrial team realized it could no longer rely solely on its traditional off-the-shelf hardware business.
"We are moving from pure hardware to gradual value-adds," says James Lee, President of ASRock Industrial. "We build application-ready platforms for our clients, which include the industrial PC itself, middleware, and containers to host different types of operating systems, and shared memory technology to speed up the transmission of data."
Flexibility Is Key to IoT Edge Computing Evolution
For a hardware OEM to evolve into an IoT edge solutions provider, it needs a flexible foundation with the performance to satisfy multiple use cases. Otherwise, completely custom designs would be required for every customer, which is neither scalable nor cost-effective.
Understanding this, ASRock Industrial doubled down on its heritage of Intel® technology-based designs by adding support for 12th gen Intel® Core™ processors (previously known as "Alder Lake"). These new processors introduce a hybrid architecture with up to 16 Performance- and Efficient-cores that adapt seamlessly to edge workloads.
According to ASRock Industrial engineers, performance improvements in 12th gen Intel Core processors single- and multi-threaded processing combine with the platform's real-time capabilities to enable container-based microservices on industrial automation machines.
As a result, ASRock Industrial can help customers consolidate functions like the Intel® OpenVINO™ Toolkit-driven AI inferencing, motion control, and other capabilities onto a single device, as it did for one industrial customer that builds an automated optical inspection (AOI) system.
Consolidating IoT Optical Inspection on a Single IPC
For years, the customer used a multi-PC setup to perform product quality inspections at a manufacturing plant. The system included a Windows-based industrial control PC for machine vision and image processing, and a separate Linux platform that ran the image inspection models by AI inference.
The 12th gen Intel Core processor introduces a hybrid architecture with up to 16 Performance- and Efficient-cores that adapt seamlessly to #edge workloads. via @insightdottech
Because the two systems had to constantly pass imaging data back and forth over a physical LAN, latency became an issue. The delays were so pronounced that eventually the AOI became the bottleneck in the entire manufacturing process. This prompted the customer to look for a new single, self-contained system architecture. Partnering with ASRock Industrial, it arrived at the 12th gen Intel® Core™ Desktop Series processor-powered IPC.
As shown in Figure 1, the iEPF-9010S supports all the functionality the AOI requires by hosting applications previously run on the two systems in different virtual machines. Hardware-assisted Intel® Virtualization Technology (Intel® VT) and native real-time connectivity for the application's deterministic tasks makes this possible. Plus it's compatible with OpenVINO, which can be used to accelerate AI workloads.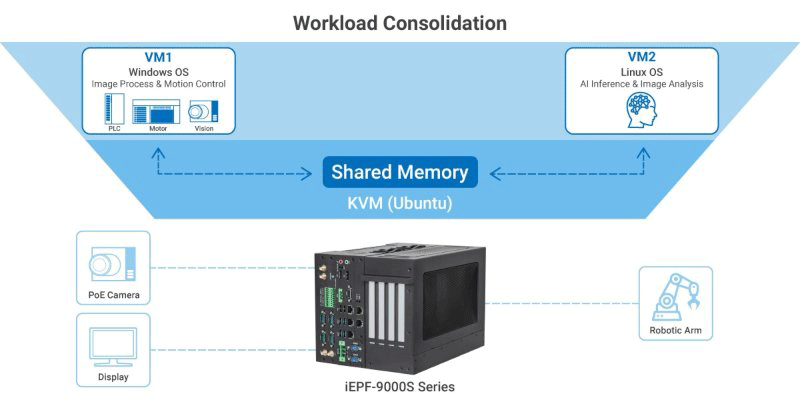 But the IPC didn't support the AOI application out of the box. To facilitate the new environment, ASRock Industrial partitioned the workloads using a KVM hypervisor and developed a virtual LAN that replaced the physical data exchange connection. The company also designed a software tool that lets users optimize the platform even further by shared memory between the virtual machines.
In all, the AOI system's data transmission speeds increased by 100x compared to the dual-platform configuration.
A New Era of IoT Edge Solutions & Suppliers
The outcome of the project is better than either party could have hoped for. The customer, of course, not only removed the bottleneck in its manufacturing plant but also benefitted from the reduced cost and complexity of having to manage one system instead of two. And on the surface, ASRock Industrial got a design win and a happy customer.
But going deeper, the technology enabled by 12th gen Intel Core processors probably transformed the IoT edge computing provider as much as it transformed its customer. With the processors' inherent versatility, ASRock Industrial can now iterate on top of its own open-architecture hardware with middleware and design services that get customer solutions to market faster.
"We see this kind of customization as a trend," Lee explains. "Right now, we're introducing this concept to our customers because they tend to be able to deploy their software. In terms of the business right now, we will gradually add on customization and software capabilities into our products, and my expectation is after five or ten years it will be more than 30% of our business."
This adaptability, born out of adversity, is what separates success from failure in uncertain times.
Listen to Inside the Latest Intel® Processors with ASRock Industrial on our IoT Chat podcast to discover even more about ASRock Industrial and how they are leveraging the latest 12th gen Intel Core Processors.
This article was edited by Georganne Benesch, Associate Content Director for insight.tech