Fill form to unlock content
Error - something went wrong!
Get the latest updates on IoT for industrial.
You are following this topic.
Inside Intel® Core™ Processors and the Industrial Use Cases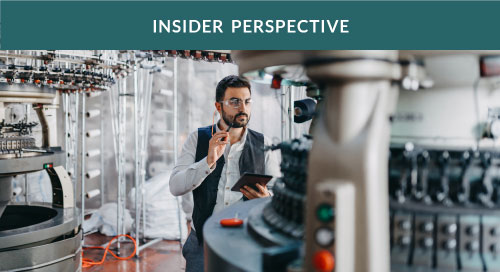 New advancements in technology are being made every day, each one claiming to be more groundbreaking than the last. But to make a strong claim like that, you need the features to back it up. For instance, the recently announced 12th Generation Intel® Core™ processors, code-named Alder Lake, are already making waves across all industries.
The processors feature a new hybrid architecture that Intel says is the biggest improvement in processor performance in years. It provides both high performance and efficiency, so solutions don't have to compromise on power to achieve high performance, or vice versa.
In addition, the release includes massively upgraded GPUs, real-time capabilities, and new hardware features. This has resulted in faster single-thread performance, multithread performance, graphics performance, and GPU image classification inference performance.
"The most amazing feature is about the hybrid architecture, combining the Performance-core as well as the Efficient-core. We can adjust which core is doing what kind of jobs accordingly," says Kenny Chang, Vice President of System Product BU at ASRock Industrial, a leading industrial computer provider.
Alder Lake in the Manufacturing Industry
Chang explains that ASRock Industrial recently started to move towards a microservice architecture, running multiple containers simultaneously on an edge platform. With the 12th Generation Intel® Core™ processors and their flexible architecture, ASRock Industrial can not only manage all microservices and tasks, but it can move them to the cloud, to the edge, and back and forth to minimize bandwidth utilization and latency.
The hybrid architecture also comes into play here, as ASRock Industrial can now configure its system to run on either the Efficient-core or Performance-core, depending on the microservices' needs.
ASRock Industrial's close relationship with Intel also allowed it to preview the new processors before they were released, and to prepare for the changes with their customers.
"Intel brings more insights into how to address customer needs and how we can help our customer, especially for systems integrators to reduce their development time," says Chang.
The recently announced 12th Generation Intel® Core™ processors, code-named #AlderLake, are already making waves across all industries. via @insightdottech
For instance, ASRock Industrial recently worked with a leading manufacturing company to consolidate the workloads in its automated optical inspection (AOI) systems. The manufacturing company wanted to improve product quality and customer satisfaction with the help of machine vision technology. But it was using Windows OS-based industrial control PCs to run machine automation, and a separate Linux-based system to run inspection models. Because of the different operating systems, they struggled to properly transmit data.
"The time between computer A to computer B would take too long to complete the data transition," says Chang.
By implementing ASRock Industrial's iEPF-9010S Series, powered by 12th Generation Intel® Core™ processors, into the AOI solution it would address the data transmission using shared memory technology.
The iEPF-9010S Series is an edge AIoT platform that takes advantage the Intel Thread Director for supercomputing power. It also comes with rich I/Os, and flexible expansions to connect multiple devices to the AOI system.
This workload consolidation enabled the company to speed up its data transmission by 100 times compared to the previous method. Additionally, the manufacturing company now has fewer devices to manage, lower system-integration complexity, and a smaller system-equipment footprint, according to Chang.
He explains that the switch to the iEPF-9010S Series was a seamless one. "If a customer would like to use this solution, they can just buy our box and we can have such stuff installed in our system. So they can just open the box and put it on their software application. Then that's up and running quickly," Chang says.
Alder Lake's Hardware Integration
ASRock Industrial is also benefiting from the new hardware-security features in the processors. "Cybersecurity in tech is the hot topic all over the world. When we introduce industrial IoT into industrial automation there are lots of OT devices that become very vulnerable," says Chang.
The company saw this firsthand in a 5G smart pole/smart city implementation, where the smart pole was integrated with lots of devices for lightning, air quality control, and traffic monitoring. Having a platform based on Alder Lake allowed all the data from those devices to be sent to the edge for image classification. Intel's latest software guards and PTP technology also helped make sure the data was secure within the hardware.
In addition, Alder Lake's new real-time capabilities provided real-time visibility into what was going on in the city, so operators could make fast and informed decisions as necessary.
Going forward, ASRock Industrial is excited to see what other customers do with these new features and will continue to help solutions reach their full potential.
"ASRock Industrial is not only for the hardware provider. We also think about and are working across Intel verticals to help customers get a better solution. That's our goal for our end customers. And we also help to make the world better than ever," says Chang.
Related Content
To learn more about the 12th Generation Intel® Core™ Desktop and Mobile processors, read CES 2022: Intel® Launches Revolutionary CPU Architecture, and listen to Inside the Latest Intel® Processors with ASRock Industrial. For the latest innovations from ASRock Industrial, follow them on LinkedIn at ASRock-Industrial.
This article was edited by Kenton Williston, Editor-in-Chief of insight.tech.