Fill form to unlock content
Error - something went wrong!
Get the latest updates on IoT for industrial.
You are following this topic.
Industry 4.0: From Physical Connectivity to the Cloud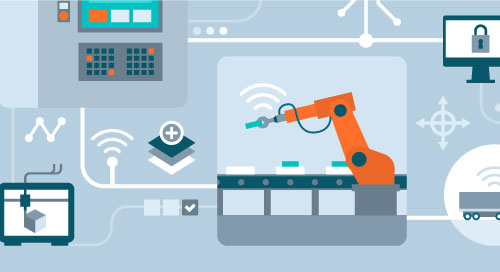 Forward-thinking manufacturers look to transformational technologies like edge AI and computer vision to increase agility, boost productivity, and lower costs. But who would have thought that simply connecting industrial endpoints to the cloud would be a substantial obstacle.
This is a hardware challenge stemming from the sheer number of industrial communications protocols that exist today. There are hundreds of standard and custom industrial protocols. And unfortunately, many of them use different physical interfaces.
Consider just the most popular industrial protocols. Serial, display, industrial Ethernet, digital, and general-purpose communications all leverage different physical interfaces. This diversity can be problematic for off-the-shelf gateway solutions with a standard set of interfaces because many industrial applications require a custom mix of I/O. Space and resources are also at a premium in industry, meaning you just can't afford extraneous connectivity that is rarely, if ever, used.
The lack of hardware interoperability can force prospective industrial IoT users down one of two paths: Either daisy-chain different protocol translation gateways to get all the I/O your application needs, or build a custom solution.
Either way, the outcome can be costly.
Interoperability and standards are the building blocks to accommodate all of the equipment in a factory—modular hardware that supports open software is a good place to start.
Flexible Interfaces for Application-Specific IoT
American Portwell Technology, a provider of industrial PC and embedded computing solutions, offers an alternative. Its Modular KUBER-2000 Series takes a hybrid approach to the I/O challenge that offers the cost benefits of off-the-shelf systems while still providing flexibility (Figure 1).

Each of the six KUBER-2000 IPCs leverages a common technical foundation based on dual- or quad-core Intel® Celeron® N3350 or Intel Atom® E39XX processors and a standard I/O suite. These interfaces include:
Dual Gigabit Ethernet ports
At least two USB 3.0 ports
Two-pin terminal block
DisplayPort connection
And beyond these, Portwell expands the connectivity in different ways across its SKUs to address application-specific needs. For example, the KUBER-212A offers noise-isolated LAN and COM ports to improve system fault tolerance, while GPIO and CANbus support available on the KUBER-212B allow this system to be used for automation control.
Collectively, the KUBER platforms are capable of wireless communications that include Wi-Fi, Bluetooth, GPS/GNSS, LoRa, and 4G/LTE. And MQTT, OPC-UA, Profinet/bus, Modbus, and the PLC 61131-3 Software Stack. These are just a few of the automation-centric protocols natively supported by the platforms and their varied interfaces.
By building on a common, modular hardware architecture, the portfolio of off-the-shelf Industry 4.0 gateways can function as anything from an IoT edge manager or PoE switch to a SoftPLC or automated guided vehicle (AGV) controller.
A Universal Connection to the Cloud
It's essential that these systems can talk at the fieldbus level to communicate important data to one another, as well as the cloud. While full platform interface and protocol stack support are great for edge connectivity, they still need assistance transmitting information to the enterprise.
Portwell engineers accomplished this by adopting the Standardization Group for Embedded Technologies (SGeT) Universal IoT Connector (UIC) standard as part of the KUBER-2000 software stack.
UIC is a connectivity framework that allows embedded devices to exchange data with cloud infrastructure using either the MQTT or XRCE message protocols. UIC connects disparate endpoints that speak different protocols into a single, heterogeneous network of hundreds of devices.
The open-source, hardware-agnostic industry standard is composed of three parts:
Embedded Driver Module – The drivers that connect the embedded system to peripherals or other systems via interfaces like those described above.
Communication Agent – A software component that initializes and communicates with a cloud-based application server.
Project Agent – A configuration tool that instructs the embedded system on which peripherals to use, how to process data, and how frequently that data should be transmitted to the communication agent.
These UIC modules enable remote management and connectivity to more than 500 cloud solutions. One of these, Microsoft Azure IoT, recently certified the KUBER-2000 Series as part of its ecosystem.
Industrial Standards Require Industrial Reliability
The industrial IoT offers the potential to revolutionize manufacturing operations. But its benefits cannot be realized if the devices running edge-to-cloud applications—from predictive maintenance to employee safety—are unable to communicate efficiently and cost-effectively.
Interoperability and standards are the building blocks to accommodate all of the equipment in a factory, whether it's new or legacy. And flexible, modular hardware that supports open software is a good place to start.