IIoT Breaks the Legacy Language Barrier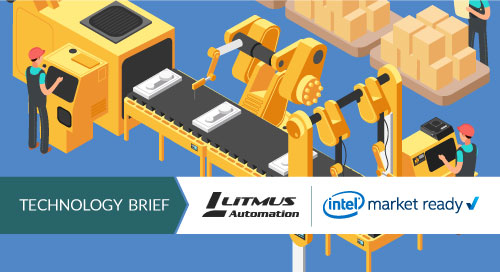 Volatile global forces are driving manufacturers to find new ways for lowering costs and achieving faster time to market. This requires building out an agile infrastructure that can integrate old and new assets as well as IT and OT systems.
With innovative technologies such as industrial device connectivity, edge computing, data processing, and real-time analytics, companies can make better decisions and quickly respond to market dynamics.
A top-tier manufacturing company in the automotive industry is making this happen by incorporating Industry 4.0 solutions in its factories. But when it was ready to deploy IIoT technology, the company faced a problem. Production machines didn't speak the same language. Like most other manufacturers, its factories run on varied, isolated legacy equipment.
The company's goal was to achieve 100 percent Industry 4.0 asset connectivity. It required a solution that could link the data from those machines and preserve its investment. It needed to collect and analyze data to enhance efficiency and a solution that could scale across 40 sites worldwide.
Smart Factory Scalability
The manufacturer chose the LoopEdge + Loop EdgeManager Manufacturing IoT Solution from Litmus Automation. The system encompasses industrial data collection, edge computing, device management, and analytics tools.
LoopEdge, the industrial edge computing element, provides a gateway software solution with drivers for existing equipment. It can communicate with hundreds of old and new devices, from PLCs to robotic systems, to modern devices and sensors.
This lets the manufacturer transform data into a common format, which can easily be leveraged by different in-house applications and enterprise systems. The system pushes that information into the Loop EdgeManager platform, deployed in the customer's own data center, to manage the data and devices across all its factories.
LoopInsights, the solution's analytics layer, allows it to visualize essential KPIs: overall equipment effectiveness, uptime, downtime, and yield. This gives the company a clear view of its assets and allows it to examine individual factory performance. The data also yields insights about productivity and efficiency.
The LoopEdge solution can send out automatic service alerts about machines and reconfigure them to correct a problem. The manufacturer can shut down a piece of equipment that's on the verge of failure—all remotely.
"This two-way communication between edge computing devices, combined with a holistic approach, makes the solution extremely scalable," said Younes. "In a little over a year, the customer has deployed it in nearly 20 factories. Without this approach, it would have taken up to five times longer, and costs would have increased 20 times or more."
In deploying the Litmus Automation solution, the company achieved notable results. It automated deployment with a self-service approach without the need of a System Integrator. It attained more than 70 percent visibility into production assets, and achieved the ability to run purpose-built edge applications.
All of this adds up to higher output and lower operational costs. And looking forward, the manufacturer will expand the solution across all of its 40 sites within the next 18 months.
Power at the IIoT Edge
The all-in-one solution includes two distinct but connected systems (Figure 1).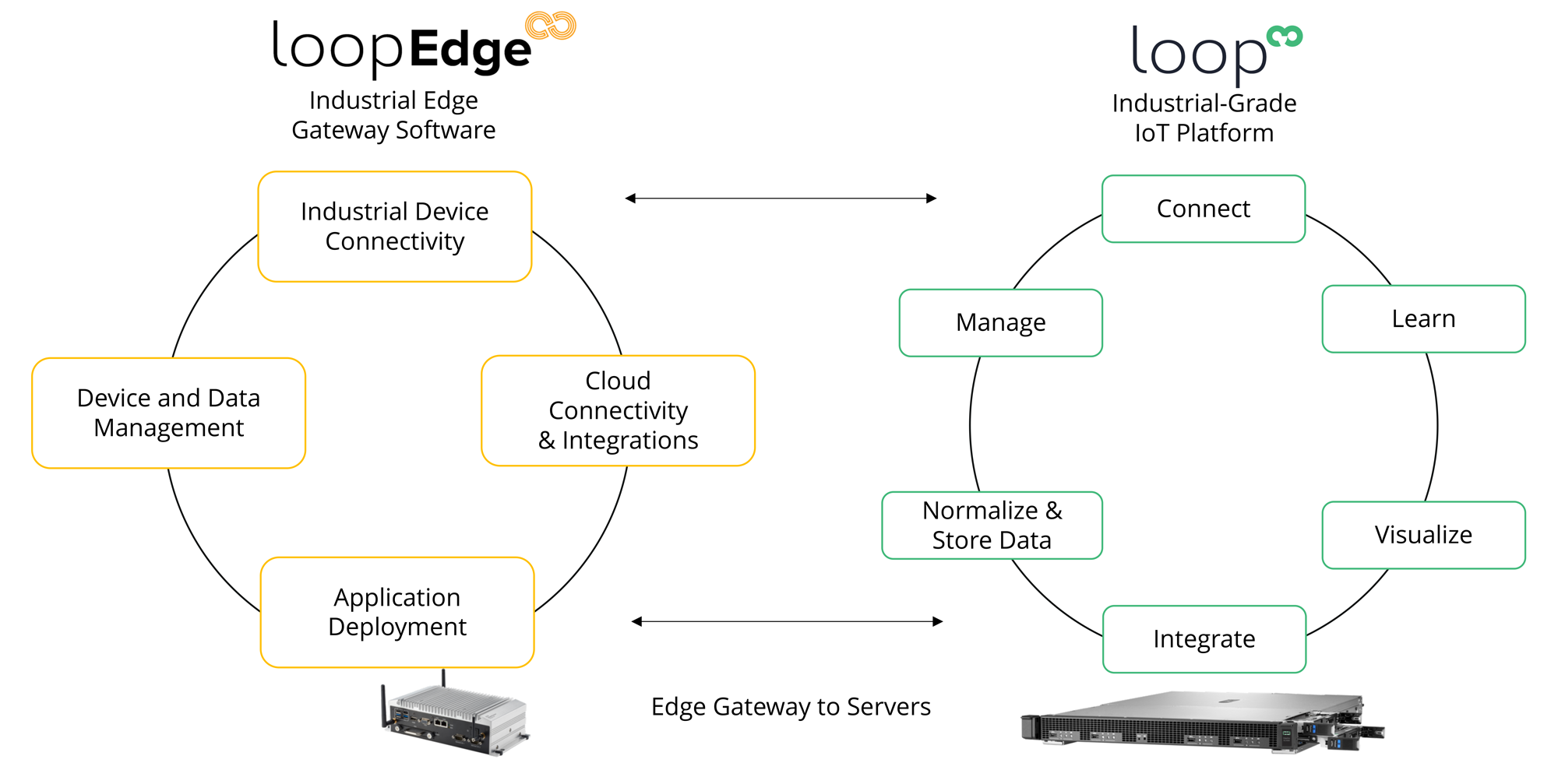 LoopEdge operates at the factory floor as an Industrial Edge Computing platform running on an IoT gateway based on Intel® technology. It provides complete data collection across legacy industrial systems, IoT sensors, and devices.
Once data is collected, users may filter, standardize, and store it locally. They can also run applications over the data. "Intel gives us the horsepower to run apps on edge devices," said Younes. "That capability provides a necessary base for the solution."
Loop EdgeManager is an extensive IIoT management suite for control and insight into how devices are performing, with the ability to deploy applications to run locally in the field. At the same time, it provides the ability to take actions immediately if needed.
Litmus Automation maintains a public marketplace for edge applications, including visualization tools, analytics, and data science apps, such as TensorFlow and Caffe. "We provide the data and integrate it into their pre-built applications or algorithms in ready-consumable formats, so their internal teams can leverage them," Younes said. "And they can create and deploy machine learning models down to the edge devices."
Companies can also write apps that run in Docker containers and distribute them across factory sites. In the future, the marketplace will make specialized apps and ready-to-go-solutions available. For example, these apps might perform predictive maintenance or monitor vibration for specific computer numerical control (CNC) machines or other types of equipment.
Focus on Security
According to a recent industry cybersecurity survey, 83 percent of respondents were concerned about cyberattacks. The solution addresses those worries in several ways:
The edge computing system runs offline, providing a barrier between factory floor machinery and potential hackers.
Administrators control user access to the edge system. For example, a manager might grant a worker access to one report or aspect of the software, but not another.
In communications between LoopEdge systems and the cloud-based Loop EdgeManager, information traveling in both directions is encrypted.
The solution also uses the Intel® Pre-boot Execution Environment (PXE) and standard protocols such as MQTT, in addition to security wrappers.
As IIoT solutions enable Industry 4.0, organizations will gravitate toward solutions that provide a standardized way to connect existing industrial devices and systems, and can scale rapidly.
"There's a huge difference between a simple pilot and a system that can scale to thousands of devices across hundreds of factories," said Younes. "Our approach lets companies manage both sides of the equation—operational technology and information technology—with a single solution."