Fill form to unlock content
Error - something went wrong!
Your content is just a step away. Please submit below.
OT and IT Optimize Smart Factory Operations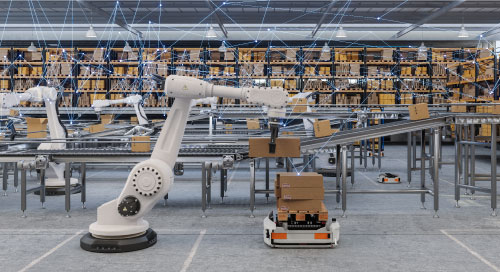 As the worlds of OT and IT converge, manufacturers are gaining a clearer picture of what's happening on the factory floor—allowing them to develop solutions to potential problems before they occur. In this way, companies save both time and money—responding faster to shifting market conditions—and increasing productivity.
When OT and IT systems are interconnected, manufacturers can analyze machine data in the cloud to uncover trends for predictive maintenance, rather than risk losing precious production time due to unexpected failures. And operations engineers can view information from plants scattered across the globe and securely manage machines—without setting foot inside a single factory.
This level of integration is vital to a manufacturer's ability to keep pace with evolving trends and grow their business. But making it happen, while preserving data security, demands the right technology. This is especially challenging because machines on most factory floors are huge capital investments, and any new system must work seamlessly with the old.
IoT Edge Computing Power-Efficient Operations
Schneider Electric Holdings, Ltd., a global leader in digital transformation, is making it possible for manufacturers to realize their production potential with its Harmony P6 iPC platform. The company's industrial advanced edge computing systems securely connect legacy machines and their data to the people who need it—eliminating manual data collection and the errors that come with it (Video 1).
A Smart Factory at Work
For example, the Schneider solution is in use at a global company that provides solutions to the pharmaceutical industry for its high-purity water, clean-utility requirements, and process application.
The Harmony P6 includes an innovative display with best-in-class visualization for the company's factory production processes, and ensures ease of maintenance for troubleshooting. This unique solution is powered by 8th Generation Intel® Core™ processors for a boost of data integration response and an additional layer of cybersecurity protection.
Harmony P6 Customer Adoption Key Success Factors
Critical parameters are shown for ease of decision-making
Reduction in overall service costs with remote maintenance and troubleshooting
Enhanced operator experience with innovative display and high-performing processors
#Edge applications connect to #factory machines to collect and preprocess data for #IT, while other applications analyze #data on-site—enabling streamlined operations. @SchneiderNA via @insightdottech
Secure Connectivity and Remote Monitoring
The Schneider iPC, combined with its EcoStruxure software platform, are at the heart of the solution. Edge applications connect to factory machines to collect and preprocess data for IT, while other applications analyze data on-site—enabling streamlined operations (Figure 1).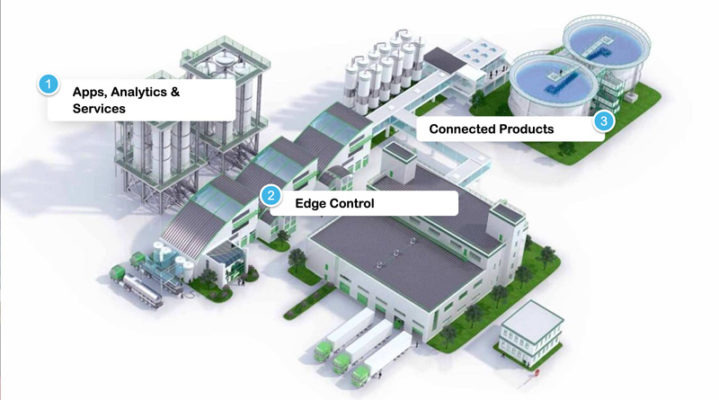 The platform digitizes industrial machines and processes through:
Smart Design and Engineering: Shorten time to automation implementation—improving productivity and reducing costs
Workforce Empowerment: Visualization and control with associated software
Asset Performance: Connecting OT and IT for data management and optimization
Cybersecurity: End-to-end cybersecurity, including remote connections
Investment Continuity: Reliable and better user experience, along with longer lifecycle
Integrated Security Protects Data
While the integration of OT and IT data allows companies make more-informed and more-productive decisions, at the same time they must manage the growing risks of cyberattacks. The combination of Schneider and Intel hardware, software, and security assurance expertise help keep manufacturing systems and data more protected. Harmony P6 with Intel-integrated, hardware-based security prioritizes capabilities such as authentication, encryption, and resilience.
Depending on a company's needs, this information can also be sent to other factory machines such as a distributed control system (DCS) or SCADA. Redundant drives are essential, since losing historical data such as chimney smoke analysis may result in fines.
The Schneider EcoStruxure Machine SCADA Expert software combines data visualization with additional SCADA functions, providing major operational improvements compared to using HMIs. To help factory-floor machine operators, edge applications parse machine-sensor data, sending real-time alerts and showing workers via a dashboard how to fix problems—instead of inundating them with unnecessary information. And manufacturers can analyze machine data in the cloud to uncover trends for predictive maintenance, allowing them to solve problems as soon as, or even before, they occur.
"It's so much easier, and faster, to manage data when you already have everything in the SQL database—rather than uploading it manually from CSV files. Then you can do whatever you want with it: generate reports and graphs or analyze system data," says Krzysztof Aleksandrowicz, Senior Sales Engineer OEM, Schneider Electric.
Nonstop Operations
Having 24/7 access to machine data means more timely maintenance since factory managers can now fix machine problems during scheduled downtime. And they can connect to the system remotely at any time, allowing them to evaluate problems before sending technicians to the site to investigate. As a result, maintenance time can be cut by as much as 25 percent.
With solutions like the Schneider Harmony P6 and the EcoStruxure software platform, just-in-time manufacturing is now a reality. As a result, Schneider Electric and Intel are helping manufacturers transform their operations, strengthen security, lower costs, and better serve their customers.