Drop-in Software Takes Real-Time Analytics to the Grid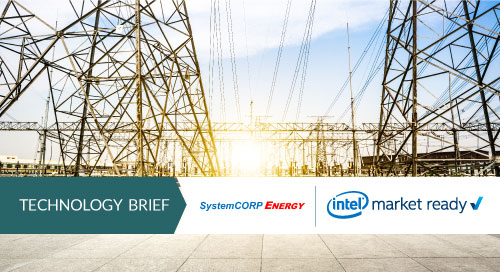 Legacy grid and substation equipment lack the technology needed to be compatible with the IIoT. This prevents many utility operators from making use of valuable data that can help reduce downtime, lower operating costs, and provide better customer service.
New solutions are addressing this challenge. Powerful edge hardware and software can simplify collecting and analyzing a broad range of real-time data, enabling energy suppliers to profit from important insights.
In addition to benefiting through predictive maintenance and lowered costs, these technologies allow utilities to maximize renewable energy sources, reducing fossil fuel consumption. This optimization can also help ensure that there's uninterrupted power at all times for homes, hospitals, businesses, and other users.
Take, for example, the municipality of Anzing, Germany, which wanted to modernize its power grid without experiencing downtime. Its utility, Bayernwerk AG, needed a way to collect a variety of technical data and convert it to a cloud-compatible format that's easy to analyze. That would allow Bayernwerk to discover and take advantage of potential optimizations and implement new initiatives. And with the grid being critical infrastructure, ensuring a secure and unobstructed data transmission in real time was a priority.
With help from SystemCORP Energy PL and Intel®, the utility deployed the Smart Grid IoT Plug&Play Software. The flexible application enables Bayernwerk to benefit through data-driven insights. For example, merging its grid data with weather reports makes it possible to predict levels of both renewable energy production and total energy consumption.
According to Detlef Raddatz, Managing Director at SystemCORP Energy, this allows the utility and its customers to maximize the feed-in of energy from rooftop photovoltaic (PV) systems and to reduce their carbon footprint.
"The utility can notify residential consumers that there will be enough solar energy to run home appliances between a certain set of hours for the best tariff," said Raddatz. "Likewise, it can let business customers know when they can run heavy equipment using solar power.
SystemCORP's Smart Grid IoT Software? It can cut development and integration time by approximately two-thirds compared with conventional methods. @insightdottech
Streamlined Predictive Analytics
The SystemCORP ADH (application data hub) platform provides a drop-in software solution for integration on embedded Intel® processor platforms. This enables an upgrade path for legacy substation equipment to digital substation capabilities without major capital investment and secondary equipment customization.
And the utility's IT and OT staff do not need to learn new skills or be cloud computer specialists. By using this solution, their existing knowledge is all that's necessary to connect substations into the cloud.
"The solution can cut development and integration time by approximately two-thirds compared with conventional methods," said Raddatz. "It does this through a modular approach that allows new software applications to be added in little time."
The software directly pools and pre-processes incoming data packages at the Intel-powered gateway. It uses JSON/MQTT or direct interfaces to Azure or AWS and a secured VPN connection to safely transfer that data to the cloud (Figure 1).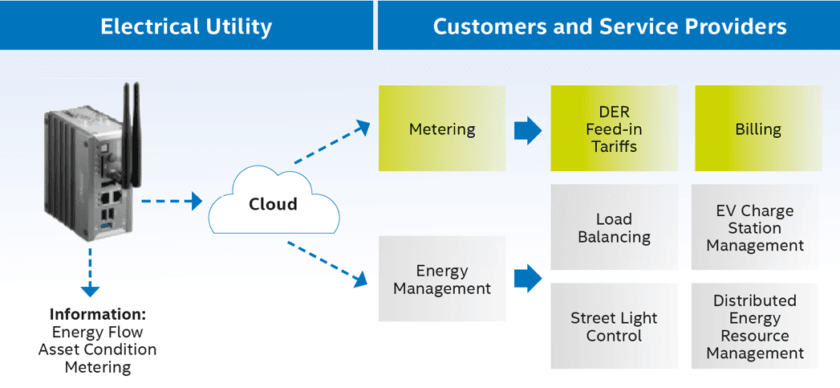 By using standards, such as IEC 61850, DNP3, Modbus, and others, the solution can handle every grid communication protocol that's been in use during the past 20 years, plus those expected to be in place over the next 30.
And adding programmable logic controller functionality, compliant with IEC6113, a smart grid gateway becomes a true IIoT edge server tailored for the electrical utility industry. This means that utilities can also profit from smart grid investments that, so far, are difficult to capitalize on. Moreover, they can shrink the size of future spending while increasing the scope of its return.
Besides predicting how much renewable energy a utility can expect to transmit over a set of hours, the solution can also determine what's required from other sources to supply enough power to the grid. This type of data modeling and activity is essential for providers and their customers to efficiently use renewable resources, cut emissions, and avoid outages.
"It's impossible to perform this analysis on a whiteboard," said Raddatz. "It's a learning process that must be conducted on the grid using actual data."
From Bright Ideas to Smart Grids
Raddatz relays a story about when the electrical grid first got smart. It didn't happen in the late-20th century or the early 21st. It got smart in 1918. That's when someone had the bright idea to add a fuse, enabling systems to be safely and automatically turned on or off.
"Of course the smart grid has come a long way since then," said Raddatz. "It can now lower costs, enhance predictive maintenance, optimize renewable resources, improve customer service, and even reduce downtime."
To that end, Raddatz believes that processors in smart grid substations will become more powerful and utilities will run virtual intelligent electronic devices on smart grid devices. He believes it can be as straightforward as adding software modules without changing what we already have.