The Know-How IoT Systems Integrators Need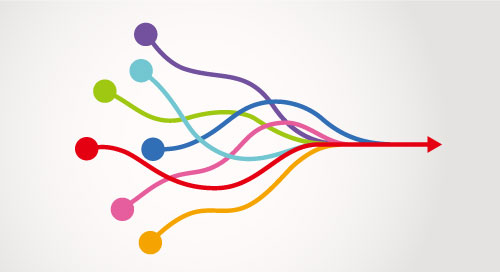 As more enterprises focus on digital transformation, systems integrators need to support an ever more sophisticated digital infrastructure. Adding complexity to the equation, IoT is becoming an integral part of new systems. Experts estimate that 31 billion IoT devices will be connected this year, and by 2025 that number will more than double, reaching 75 billion devices.
As a result, innovation is rapidly accelerating. The IoT extends digital transformation far beyond the IT realm into physical operations. The possibilities seem endless, and so do the number of solutions. Designing and assembling end-to-end systems requires stitching together elements from multiple suppliers across multiple geographies. And merging all of those technologies into a full solution requires access and information.
For SIs at the center of the transformation, the pace of new technology—such as artificial intelligence and computer vision—has become like a conveyer belt of innovation—one with a speed that keeps increasing. Where do they start? And, more important, how do they keep up?
Your Guide for IoT Projects
To succeed in this new domain, SIs can partner with IoT solution aggregators.
In an emerging role in the industry, aggregators sit in the middle of the value chain, where they can assemble multiple elements of the solution across a range of technology partners—providing proven, integrated offerings to SIs. Think of them as talent scouts that help SIs assemble the best players for their solution. They're the distributors of the future, and a vital part of the IoT ecosystem.
"The term 'aggregator' is very descriptive; in fact, it's a term that Intel® coined," says Troy Smith, Intel's Global IoT Solution Aggregator Program Manager.
"With the evolution of the industry, distributors started to recognize the value that capabilities provide and have embraced the role. As aggregators, they bring all the pieces together and manage supplier relationships. They enable the SI to focus on the work they do, rather than having to recruit and manage a bunch of new suppliers," says Smith.
For SIs at the center of the transformation, the pace of new technology has become a conveyer belt of innovation.
The Right Connections for IoT Applications
The IoT space, by its very nature, is fragmented. Aggregators have established connections with a wide range of suppliers. They know whether there are newer or more compelling solutions available for specific markets and use cases. They offer more value than traditional distributors by providing expertise as well as scale, expanding SIs' reach with access to technology that they may not have been able to get on their own.
Aggregators can be especially valuable to small- and medium-size SIs that may not have sufficient bargaining power. Aggregators can help them optimize their cost structure with their purchasing capabilities.
One of the pain points for integrators and their customers is in finding solutions that work together for successful deployments, that bring real business benefits. With new technology, proof of concept can take months to even years. Intel® IoT Solution Aggregators bring a portfolio of proven Intel® IoT Market Ready Solutions and Intel® IoT RFP Ready Kits that can solve some of those pain points right away. Accelerated deployment creates a faster time to revenue (Figure 1).

For example, take an SI that specializes in the healthcare industry, where moving to the latest remote care systems is an urgent need. Aggregators can bring together a tested and proven solution—with all of the necessary products, technologies, and services. And their partnership with Intel helps aggregators on-board new vendors more quickly, to better meet market needs—a win-win for SIs and their healthcare customers.
One-stop access to multi-vendor IoT solutions helps system integrators accelerate IoT Solution Deployments.
Adding Up the Value
Aggregators can help an SI expand its business with next-generation technology, including cloud, security, IoT, analytics, and mobility—providing a framework that encompasses all of the latest components necessary to stay relevant in the marketplace. They also offer value-add financial and logistical services so SIs don't have to get bogged down in the details of working with multiple vendors. And freed up from the time-consuming tasks of assembling, configuring, and testing solutions allows SIs to spend more time with customers.
Aggregators can also work with SIs in consultative ways, helping them build their own expertise as they create robust solutions together. SIs solve business problems, but they may not be aware of the technology elements and why one solution is better than another. Aggregators, as a result of their relationships with these suppliers, can provide that kind of guidance, helping SIs select the most relevant solution that meets the challenges they're trying to solve.
"There are just so many solutions out there," says Michael Lin, Director of Global IoT Ecosystem Scale at Intel. "Aggregators can help SIs provide services and create new capabilities to accommodate many of the client's needs. They can even do the customization. Aggregators can be a one-stop shop, and not just from an ingredient availability standpoint; from a solution level, as well."