From OT to IT: A Systems Integrator's Toolkit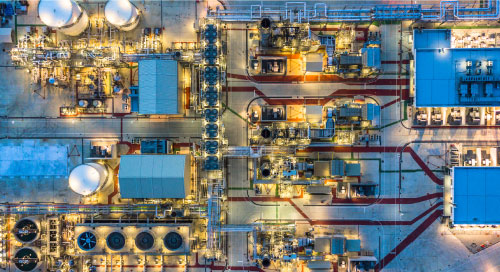 With a hands-on background, operational technology systems integrators (OT SIs) build and install the equipment that makes companies run more efficiently. Specialists in operations, they're also masters of their domain, focusing on sectors like energy, manufacturing, or retail. But a key challenge can be keeping up with an increasingly complex and ever-evolving infrastructure.
Businesses in these segments are moving at a rapid pace toward digital transformation. But some integrators don't have the tools, technology, and expertise to keep up.
Today, much of the equipment used in these traditionally siloed applications is going through a digital revolution to maximize output and minimize loss. Systems integrators are expected to be at the forefront of this rapid transformation that's occurring from the factory floor to the retail store. And success today requires expanding their reach beyond the operational sphere to the IT department.
To avoid missing out on opportunities for growth or, worse yet, losing out to competition, OT SIs need information and access to the latest technologies, products, and innovations. But not everyone has time for a crash course in IT. To best serve their customers with full solutions, operations pros can find a partner in solutions aggregators.
Putting Technology in Your Toolbox
Aggregators are taking an emerging role in the industry, and they're not the distributors of the past. These value-add partners possess deep knowledge of the IoT space and are a new hub in the value chain. They can assemble all of the necessary technology from a wide range of suppliers to meet an operations specialist's needs with proven, use-case-specific solutions (Figure 1).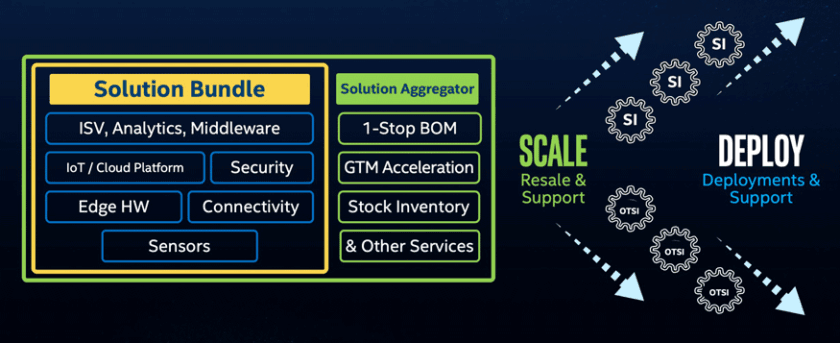 "Perhaps you have an SI that works in the energy sector," says Troy Smith, Intel's Global IoT Solution Aggregator Program Manager. "They have significant expertise in the energy field of operations. They can take on new challenges by engaging with an aggregator. For example, an aggregator can help provide a customized edge-to-cloud smart grid solution that offers real-time energy monitoring to improve the efficiency of energy production, distribution, and consumption."
Systems integrators know their industries, while Intel® IoT Solution Aggregators know the best technology and tools available to solve end-user overall business goals. Operations experts may have handled targeted deployments, such as installing a predictive asset maintenance system on a factory floor, but taking advantage of the latest IoT innovations has been out of reach.
Artificial intelligence (AI) and computer vision are disrupting business processes with significant operational improvements—from automated quality control to robotics. Aggregators can expand an OT SI's depth and reach by giving them access to modern technologies that they may not have been able to deploy on their own.
In fact, the solutions in an aggregator's toolbox can be industry-changing, helping SIs create new and unexpected applications to optimize business operations. Consider the use of a computer vision and AI-driven drone that monitors pastures to help manage ranching operations.
This is happening today in Indonesia, where cattle farmers oversee millions of cows. It's logistically impossible to assess each one every day, but providing preventive monitoring for their livestock could transform a farmer's business and revenue by predicting the health of animals based on their behaviors. And the same technology can be applied across multiple industries.
"Across industries and applications, the variety and the diversity of an aggregator's solution portfolio can be of critical value to the SI community," says Michael Lin, Director of Global IoT Ecosystem Scale at Intel.
The solutions in an aggregator's toolbox can be industry-changing, helping SIs create new and unexpected applications to optimize business operations.
Providing More IoT Project Value
In addition to connecting operational teams with the latest tools, aggregators can help solve other challenges. For example, deploying a proof of concept can delay projects for months or even years, slowing down productivity and time to revenue. Solutions aggregators help address this pain point through a partner ecosystem comprising cloud solution providers (CSPs), IoT component vendors, and a portfolio of Intel® IoT Market Ready Solutions and Intel® IoT RFP Ready Kits. This "value chain" enables a faster ramp to meet customer requirements with ready-to-roll architecture that accelerates deployments
"An aggregator can take an existing Market Ready Solution or RFP Ready Kit," says Smith. "They can deconstruct and reconstruct them to fit local markets and needs. While the solution and use case are the same, the actual configuration and packaging might be different for a given end customer, geography, or application."
Cutting Through the Complexity
More than 70 percent of companies don't have an IoT plan in place. This is where operations experts come in. Solution knowledge and availability are critical factors, and relationships with aggregators can help OT SIs cut through the complexity and grow their businesses. An aggregator will easily become an important partner in designing and implementing full solutions for the future.
"Conversations become key," says Lin. "An OT SI might reach out to an aggregator and say, 'You helped me deploy a predictive maintenance solution for my customer. Now they want to automate their quality control process. Do you have something else that you can share with me?' Aggregators can help them help their customers. It's foundational in their DNA."