Fill form to unlock content
Error - something went wrong!
Your content is just a step away. Please submit below.
Industry-University Partnership Drives Hands-On AI Learning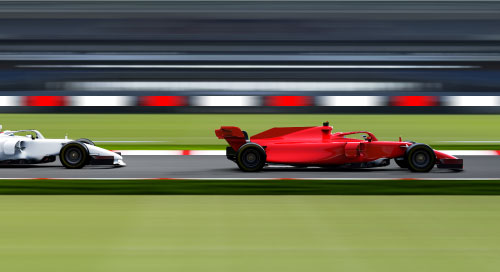 Driving a race car around a track is nerve-wracking enough. Now rev that concept up a gear to include an autonomous race car. A self-driving vehicle that can perform at blinding speed while negotiating banked curves and other cars without incident might seem like an impossible feat. But it's precisely what drives a partnership between Aristurtle, a Greek student car-racing team from the Aristotle University of Thessaloniki, and Cincoze, supplier of rugged embedded computing solutions. Using the Cincoze DS-1202 embedded computer gave the racing team a boost in the Formula Student competitions, an international engineering design competition that gives students a platform to experience, build, and learn about race cars.
Edge AI for an Autonomous Race Car
The Aristurtle team had previously entered the competition with its electric race cars. But during the 2020-2021 competition season, the team decided to develop its first autonomous vehicle (Figure 1). Deciding not to reinvent the wheel from scratch, they modeled their autonomous race car on a previous season's electric vehicle.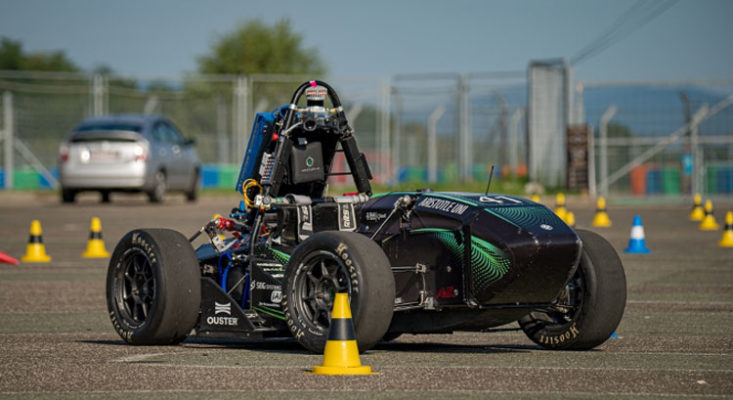 "Since we used a previously developed vehicle by our team as a base for our autonomous solution, we needed to ensure software and hardware compatibility between the autonomous pipeline and the rest of the vehicle's electronic systems, in order to minimize unnecessary and time-consuming changes," says Nikos Kotarelas, Autonomous System Alumnus Member for Aristurtle.
As expected, it was not a simple cut-and-paste endeavor. Achieving human-like perception and sensing were immediate challenges, according to Cindy Lin, Senior Marketing Manager at Cincoze. "Autonomous race cars rely heavily on sensors to navigate the track and avoid obstacles," Lin points out. "In reality, there may be many other unpredictable factors that can affect sensor accuracy, such as weather and environmental conditions."
The team found developing autonomous driving software was time-intensive and required expertise in many areas, including software engineering, robotics, computer vision, and artificial intelligence.
Integration of the steering and brake actuators as well as the processing unit on the vehicle proved to be one of the most difficult tasks since the autonomous vehicle had to be drivable by a person as required by the competition's rules, Kotarelas explains. As a result, the space available for placing these systems in the vehicle was limited.
Driving Toward an Edge AI Solution
Aristurtle decided that an Autonomous Processing Unit (APU) could gather the necessary data from sensors and peripherals and perform the complex computations required by the team's software to drive and steer the vehicle.
The embedded computing solution chosen had to meet stringent requirements for connectivity, hardware performance, and ruggedness. Eliminating shock and vibration were also key considerations during the design process, according to Kotarelas.
Additionally, the team wanted to reduce the students' computing burden and allow them to focus more on the integration of automotive electronics and complex AI inference issues. The DS-1202 checked all the boxes.
"We noticed Cincoze offered high-quality embedded computer systems that matched our criteria regarding connectivity, performance, and robustness," says Kotarelas. "The partnership with Cincoze for a DS-1202 equipped with an Intel® Core™ i7-9700TE processor meant making our design process simpler and achievable in the short timespan we had to construct the vehicle."
As #AutonomousVehicles become more commonplace, so will the need for trained #engineers who can steer the industry in the right (safe) directions. @cincoze1 via @insightdottech
"The fanless heat dissipation design, anti-vibration features, and sturdy casing ensured operations in the automotive environment the system was used in," Kotarelas continues.
Lin explains that it was the Intel processor within the embedded computing system that allowed Cincoze to fulfill complex AI inference and real-time processing of sensor data needed for autonomous race cars.
"Our mission is to offer solutions that address the challenges of high-power consumption, cooling techniques, energy efficiency, and compact size required for embedded computing in response to AI computing demands," Lin says. "Through this student collaboration, Intel has enhanced the confidence of our automotive customers, enabling faster adoption and shorter time to market for automotive projects."
A Valuable Industry-Education Partnership
As autonomous vehicles become more commonplace, so will the need for trained engineers who can steer the industry in the right (safe) directions.
Partnerships like Aristurtle and Cincoze are mutually symbiotic. They offer industry a chance to test-drive and better their equipment while facilitating student innovation.
"Autonomous driving is a new field, students need to learn AI and explore new methods in practice, which helps to increase their innovative ideas," Lin says. Since such partnerships increase opportunities to learn AI from real-world test cases, students strengthen their knowledge of a variety of key subjects in the industry like image processing, AI inference, automatic control, and more.
Laying the foundation for a well-trained workforce in this way can advance the progress of smart transportation technology.
"Having access to companies like Cincoze bring us closer to the industry they represent by gaining insights on the sector they specialize as well as tangible support in the form of a sponsorship/partnership," says Kotarelas.
The future of embedded computing is on a fast track to adoption. "One of the biggest trends in the embedded computing industry is integrating AI technologies, enabling these devices to perform more complex tasks in real time, while remaining power-efficient," Kotarelas says.
The key, as the Aristurtle partnership demonstrates, is to understand "the needs of each problem toward creating application-specific platforms, ensuring real-time processing and power efficiency," Kotarelas explains. Whether those embedded edge AI solutions might help in high-stakes surgeries or to ensure a nail-biting finish on the racetrack.

This article was edited by Christina Cardoza, Associate Editorial Director for insight.tech.