Education Gets an A+ with AI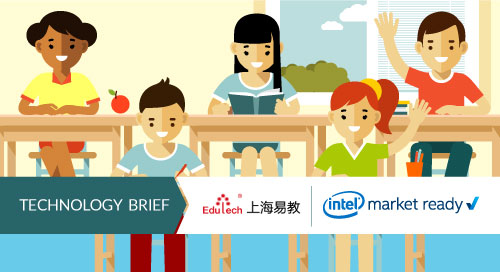 With China's rapid economic growth, it's no surprise that there is pressing need for schools to be upgraded. And it is technological innovations that will drive development of new opportunities in instruction and learning. Government incentives are helping drive the industry to new heights. Remarkably, Chinese startups receive 50 percent of all global venture capital investments in the education segment.
In some of the most promising applications, computer vision, artificial intelligence (AI), and deep learning enable schools to gain more insights into how students respond in the classroom. Administrators and instructors can use this data to advance their teaching methods, strengthen student engagement, and improve educational outcomes.
"The degree of concentration is seen as one of the most important factors in the classroom. The more engagement, the better the performance," said Zhang Yao, Assistant General Manager of Shanghai Edutech.
But despite the benefits of new technologies, schools have found challenges when adopting them. A lack of interoperability has made many solutions inefficient to maintain, and their complexity requires instructors to divert too much time from teaching to deal with system problems.
Achieving Results With Digital Displays
Because the blackboard remains a primary focus in the classroom, it is often one of the most important teaching tools.
The Smart Blackboard by Shanghai Edutech uniquely uses cameras, sensors, and AI to analyze classroom activity, evaluate instruction, and improve teaching performance. It features intelligent perception, facial recognition, automated data collection, and live broadcast—serving as the center of a smart classroom.
The system analyzes student behavior and detects expressions like happiness, sadness, antipathy, and surprise. In addition, it can recognize activities such as reading and listening while also tracking attendance, tardiness, and absence.
These capabilities benefit both teachers and students by improving classroom efficiency and educational outcomes as measured through test scores. The results are remarkable.
One middle school in Shanghai saw its college entrance rate rise 24 percent in the year following deployment, while its ranking in physics, chemistry, and biology education rose from 13th to 4th best. And at a school in Shandong, the number of students passing the college entrance exam rose by 45 percent within three years of the solution being implemented.
The simplicity of the solution enables teachers to reduce their administrative load and easily measure student attention, then adjust their methods to improve performance. Teachers can view this information in real time on any device and compare with past performance data to evaluate how students respond to their methods and lesson plans.
"It's teacher-oriented and convenient. They can learn more about how students are responding, and they don't have to change their teaching habits to adjust to our solution," Yao said.
Edge-to-Cloud Analytics
Intel® technology is key to the overall solution. Intel® processors provide the compute power to support data analytics at the edge. And Intel® OpenVINO™ technology uses facial expression data—comparing it against a database of emotions and expressions.
In addition to analyzing student behavior, the system can also collect and measure other valuable data such as energy consumption of devices, work status of each node, software version, and system logs. Environmental factors, such as temperature and humidity in the classrooms, can also be integrated into the analysis to maintain optimal learning conditions.
The blackboard is supported by the Edutech Cloud, which connects the entire system of classroom devices and data. The platform can remotely control multiple smart devices, manage software, and share information simultaneously. "What we're trying to do is let all of the devices and software fit together in a total solution so that the data can be in a similar format for analysis," Yao said.
This offers a one-stop service to combine all information, reduce operational complexity, and support interoperability among all hardware and software (Figure 1).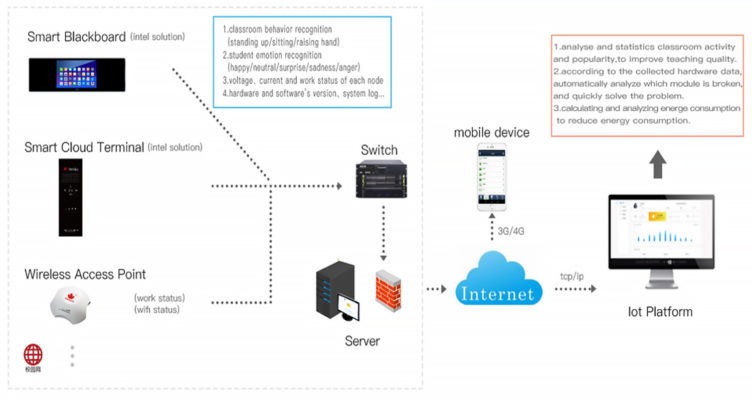 From Classroom to Country
Shanghai Edutech is taking its solution beyond city schools and classrooms. One of the biggest barriers to high-quality education across the country is a lack of teachers—especially in remote areas. The Smart Blackboard can help to improve education in isolated villages through the "double teacher" method.
When deployed in a distant school, an expert instructor can not only dictate lessons but also measure student response to the lessons, regardless of location. Enabling this kind of remote, online instruction can close the education gap and create new opportunities countrywide.