Ed Tech Personalizes Student Engagement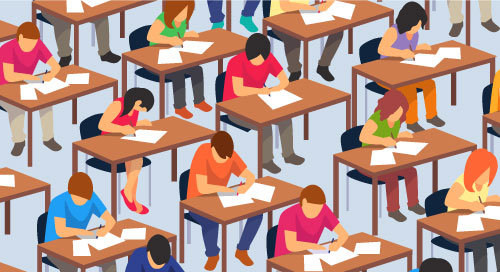 Noble or not, teaching is a difficult vocation under the best of circumstances. But add a lack of trained teachers and overcrowded classrooms, the good education that parents around the world work so hard to give their children can seem like a pipe dream.
And upon examination, it's easy to see why. To be effective, teachers must not only create lessons that hold students' interest. They also have to present those lessons to a range of students, each of whom has a different set of needs. And those needs are changing all the time.
"On their own, teachers can't always focus on every student in the class," said Wilson Lin, Director of Product Planning Department at IBASE Technology Inc. "But with AI technology and computer vision, schools can have accurate, objective data on every student, as a group and individually—in real time and over time."
Smart classrooms reduce teachers' administrative burden while providing a more complete picture of what's really happening with each and every one of their students. And analyzing this information opens up opportunities to personalize and improve the learning experience that weren't possible before.
Now a teacher can know, for example, whether a student's waning interest is child-specific or indicates the need for more interactive, engaging lessons in general. Parents can be alerted to potential areas of concern before they become bigger problems. And teachers can monitor and develop their own classroom skills—be it in a class of 25 or 55.
New Ed Tech Goes Beyond Facial Recognition
With the IBASE AI Education Platform, teachers can pinpoint where their attention is most needed at any given time. When a student's performance begins to decline, is it because he's having problems at home or because the student in front of him keeps turning around to talk? The data generated by the IBASE platform shows where and when a teacher might need to dig deeper to understand learning problems, and suggests possible courses of action to address them.
The system uses skeleton detection, facial recognition, and behavior identification to track nine different behaviors such as active listening, and six emotions like happy, angry, or scared (Figure 1).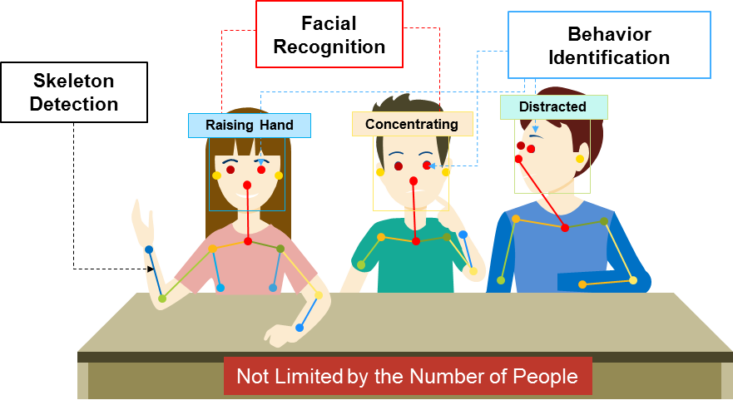 Images are taken during a class for analysis, and results are classified based on the student behavior, the materials the students used, and their interactions with other people in the classroom. The collected information is organized under each individual's name.
Teachers can take immediate action based on even the most subtle indications of decreased classroom engagement—for example, more frowning or less hand-raising—as soon as they arise and track trends over time. Instead of waiting for outbursts or poor test scores to tell them who's bored or distracted, they can work to improve their teaching methods and the learning environment, and easily gauge the impact of their efforts.
Privacy regulations in a particular country or school might dictate that the facial recognition feature be disabled or left off entirely, but this is easy to do, according to Lin. And the solution works just as well without it.
SIs provide real video feeds from the classroom, and @ibasetech trains their algorithms to reach 90-95 percent accuracy.
Helping System Integrators Help Schools
The AI Education Platform includes the hardware, software, and tools a system integrator might need to deploy a proof of concept (PoC) right out-of-the-box. Yuan QDeep and the Intel® OpenVINO™ Toolkit maximize edge performance of video analytics running on the Intel® CPU or VPU based computer (Figure 2).

For system integrators to demonstrate the full value of the education platform and its AI technology to schools, IBASE offers ample support. First, the solution's functionality is simple, and the system itself is easy to install out-of-the-box. Its default arrangement is pre-trained for two cameras for 55 students and a teacher, in a 6 x 8-meter room (Figure 3).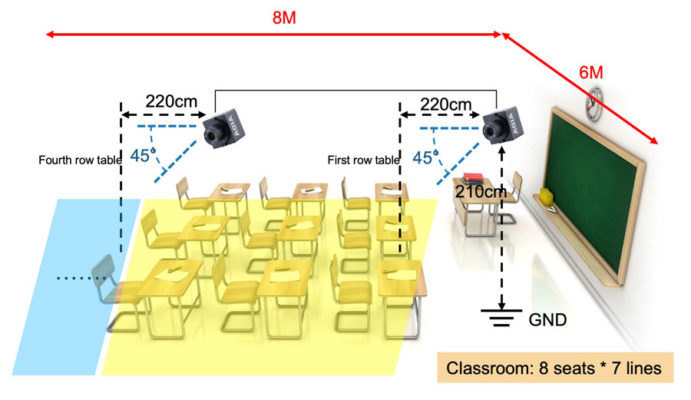 For many schools, this setup is sufficient. But if the client's specs are different, say class sizes are bigger, IBASE leverages their R&D experience to advise SIs on how many cameras to use and where to place them.
The solution is modular, too, and comes with an SDK so SIs with software development skills can work with schools to determine their needs and then modify or enhance the kit themselves, for example, by adding a different language or other region-specific features.
Alternatively, IBASE can help SIs with customization for schools that need more functionality than what's included in the box. In that case, SIs provide real video feeds from the classroom, and IBASE trains their algorithms to reach 90-95 percent accuracy. "That way, the data is much more useful to administrators and educators alike," noted Lin.
If it's an integrator's first time working with the company, IBASE will assign a team to go to the field site and work with the SI to ensure a flawless installation.
"Once an SI has done two or three installations, they can easily replicate them for other schools," said Lin. "Until then, we collaborate with them to make sure the installation goes smoothly and yields maximum results for the school." And what are maximum results? A school that has left slow progress behind and turned "smart"—leaving its teachers, students, and parents smarter, too.