Fill form to unlock content
Error - something went wrong!
Get the latest updates on IoT for education.
You are following this topic.
AI-Assisted Videoconferencing Taps Into Virtual Meetings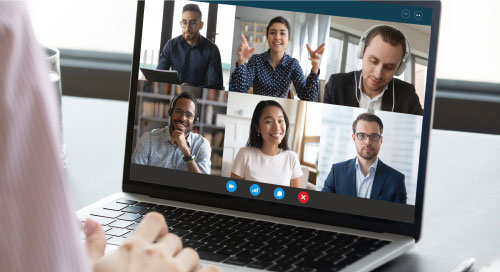 From barking dogs to poor lighting that casts dark shadows, we've all been in virtual meetings with technical challenges, making it difficult to collaborate. Massive adoption of videoconferencing started as a quick fix during the pandemic, but as companies look forward to a post-COVID workplace, many intend to continue with flexible remote working arrangements. A hybrid model with some employees in the office and others at home redefines the workplace and requires robust scalable technology that connects teams in more meaningful ways.
"Technologies that support a remote workforce will need to evolve to keep up," says Sudeep Trivedi, head of alliances and go-to-market for Logitech Inc., a leader in video collaboration. "On any given day, 30% to 70% of employees will be working from home. They need to feel like they are truly part of a virtual team. The days of a speakerphone in the middle of a conference room table are over."
AI Drives New Virtual-Meeting Capabilities
While a hybrid model may be the preferred working arrangement, technology disparities often create an uneven playing field. Employees returning to the workplace can receive high-quality performance from their collaboration tools, with optimized audio and videoconferencing setups. But home-based employees will be at a disadvantage, connecting to meetings from laptop cameras with unflattering angles and uneven home office lighting.
"We believe that users will demand tools that help them look their best so they can be effective in their communication wherever they are for more natural collaboration and relationship building," says Trivedi.
Innovations in videoconferencing technology can address the discrepancies to foster engaging interactions. Logitech's Room Solutions, for example, use AI running on Intel® processors that can improve audio and video.
This solution removes background noise, such as typing, a noisy HVAC system, or shuffling papers. Lighting is adjusted to correct for shadows, which are often a problem for home-based workers who lack ideal settings. And AI uses neural-network technology to recognize humans and auto-frame meeting participants, automatically adjusting as people move in and out of the room.
"Other technologies zoom in on an active speaker, but we decided to use our technology to show the whole collaboration in the room," says Trivedi. "If you zoom in on a person, they can become self-conscious. You also lose that group dynamic, which can provide context."
On any given day, 30% to 70% of employees will be working from home. They need to feel like they are truly part of a virtual team. @Logitech via @insightdottech
Videoconferencing Hardware + Virtual-Meeting Software
An Intel® RFP Ready Kit, the Logitech Room Solutions are plug-and-play systems, and customers can choose the model that best fits the size of their meeting spaces and their technology standards. The solution includes an Intel® NUC, a small-footprint PC, running Windows IoT. It ships preloaded with the customer's choice of Microsoft Teams Rooms or Zoom Rooms software, enabling companies to standardize and easily scale their videoconferencing. The kit also has audio and video tools, including a camera, microphone, and speaker. And it includes a user-friendly touchscreen controller called Logitech Tap (Video 1).
"Users hate when technology challenges them," says Trivedi. "If each setting has a different experience, it causes a lot of anxiety and hurts technology adoption." The Logitech Tap offers a consistent user experience, so employees know what to expect and can quickly get started with their collaboration instead of trying to decipher what technology is in what room and how to make it work. Starting a meeting is done through the same process, whether it's between two people or a large group in a boardroom.
New Opportunities for Integrators
The new standard of hybrid working brings new business opportunities to systems integrators (SIs), who help customers by deploying technology to deliver more consistent and natural collaboration experiences. SIs can tailor the platform to specific hybrid workplace models and collaboration needs, and help with deployment, creating an optimal end-user experience that follows best technology practices.
"And there's always opportunities for SIs to offer additional services to keep the environment up and running," says Trivedi. "These tools will become mission-critical in a hybrid workplace."
The Logitech Room Solutions also have capabilities beyond meetings. Their ultra-high-definition 4K camera technology can provide a head count inside conference rooms or boardrooms. This capability could help integrators design solutions with capacity parameters, sending alerts to help companies enforce social-distancing policies.
Videoconferencing Beyond the Office
While the system has applications in a wide range of industries, it's driving real change in education and healthcare. The videoconferencing tool is helping K-12 and higher-education institutions fill the enormous demand for learning in a hybrid classroom environment. And hospitals are using the solution to provide remote care, allowing specialists to check on hospitalized patients remotely at any time. Doctors can also set up convenient telehealth appointments. Video connections allow families to visit with their loved ones in distant facilities or after hours.
"Right now, schools and healthcare institutions are using the technologies to address the current situation, but they're starting to think beyond the pandemic," says Trivedi. "If you're an educational institution, you can expand your scope to reach underserved populations in rural areas who don't have access to quality education or healthcare."
Trivedi believes robust videoconferencing will be a catalyst for business change and growth. "Smart video technology goes beyond digital substitution," he says. "It drives real digital transformation by helping organizations expand the scope of possibilities to reinvent and transform their businesses."