Fill form to unlock content
Error - something went wrong!
Stay up-to-date with the latest IoT news.
Build PoCs Faster with 11th Gen Intel® Core™ Processor Testbed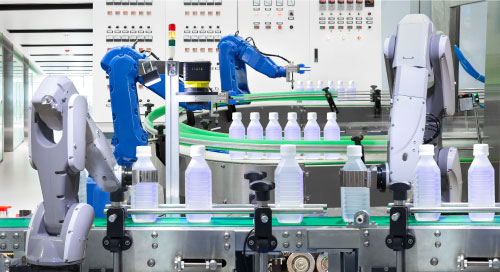 It's hard to believe, but the concept of Industry 4.0 is already 10 years old. It was first introduced by the German government at the 2011 Hannover Messe trade show as a long-term strategy to computerize manufacturing.
Where are we with the Industry 4.0 concept a decade later?
"There's always hype about the technology cost improvements and process improvements," says Reiner Grübmeyer, Director of Product Management at Kontron, a leader in embedded computing technology. "People want to improve and ease their installations, especially for cost reasons, but also to change production time."
"It is all becoming much faster," he continues. "But on the other hand, it always has to be controlled, and there are some well-established standards that cannot really be broken up quickly."­
In short, we still have a way to go before realizing Industry 4.0's full cost, efficiency, and reliability promises of a decade ago. And that's because, according to Grübmeyer, "the technology is not completely live yet."
The availability of PoC testbeds like the NGSF will allow #industrial operators to refine their implementations, measure ROI, and begin their #DigitalTransformation at the optimal time. @kontron via @insightdottech
Shaping the Future of the Smart Factory
To Grübmeyer, "live" means persuading internal and external customers of Industry 4.0 technology by demonstrating something with easy installation and easy tools, which is also simple to understand.
Historically, one of the best ways to accomplish this is working with prototypes or proofs of concept (PoCs). But, as he points out, there's no harmonized configuration tool that simplifies the integration of Industry 4.0's many diverse components.
In response, Intel® and Kontron are collaborating on the Next-Generation Smart Factory (NGSF) testbed, an industrial technology demonstrator that provides all the ingredients necessary to build your own PoC on-prem. The full NGSF testbed, first showcased at the 2020 Intel® Industrial Summit, incorporates different wireless standards, Ethernet Time-Sensitive Networking (TSN) switches, industrial PCs as well as servo motors, all operating on an OPC UA Publisher Subscriber protocol.
Users can mix and match portions of the pre-built NGSF testbed with their own solutions to validate a specific use case in the context of a full-fledged, working Industry 4.0 installation. The testbed was designed around off-the-shelf, Intel-powered hardware platforms like Kontron embedded box PCs, but also integrates optimization solutions like the Intel® OpenVINO™ Toolkit and operational network orchestration software such as Intel® Edge Controls for Industrial.
"The NGSF was developed to bring all the Intel technology inside a single testbed," says Walfred Tedeschi, software application engineer in the IoT group at Intel. "For everything in industrial, there is a counterpart inside of the testbed: the orchestration, the hypervisors, the artificial intelligence on the edge, the stacks, and so on."
For example, two critical capabilities Grübmeyer says are needed for industrial IoT architectures—real-time converged networks and workload consolidation—are supported by commercial products like 11th Gen Intel® Core™ embedded processors. The new IoT-centric processors include features such as:
Intel® Time Coordinated Computing (Intel® TCC) that minimizes jitter and latency across enterprise and operational networks
Hardware-assisted virtualization and acceleration that enable multiple, mixed-criticality workloads to run simultaneously on the same device
Functional safety (FuSa) design elements that combine with an Essential Design Package (Intel® FSEDP) to simplify compliance with industry standards
Industry 4.0: Coming to an IPC Near You
Now that industrial operators have a ready-made PoC build environment at their fingertips, is the critical mass horizon for Industry 4.0 deployment any closer? That depends on what critical mass looks like to you.
For Grübmeyer, testbeds like the NGSF offer a glimpse of the future of industrial systems that will operate more like modern consumer electronics than traditional industrial devices. And thanks to embedded controllers based on high-performance processors that support workload consolidation, that future will be increasingly software-defined.
"It's a step in this vision of software-defined industrial systems, where you have a platform that is capable of doing almost everything and then you just put applications on top of it," the Kontron technologist says. "We have predictive maintenance. We have object recognition. But I think to get to the flexibility and ease of application exchange with the simplicity of a PC is the longer-term goal."
Much how desktop workstations revolutionized the enterprise value chain, running multiple high-value apps on a single industrial PC, could extend smart factory benefits from point deployments to entire supply chains. But if nothing else, the availability of PoC testbeds like the NGSF will allow industrial operators to refine their implementations, measure return on investment, and begin their digital transformation at the optimal time.
"They now have a recipe to achieve this," Grübmeyer says. "They can see Industry 4.0 is working and there is no big complexity behind it. That is one step further to getting it rolled out in the field."