With Edge AI, Tomorrow's Autonomous Store Is Here Today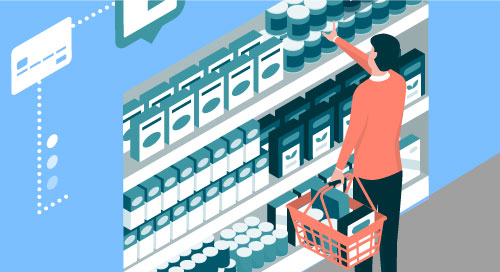 Retail shoppers want to get in, out, and on with their lives. And many retailers want them to, as well.
Convenience stores, fast-food restaurants, and other quick-service facilities use self-serve kiosks and self-checkout stands to accelerate the buying experience. But while these solutions can be more convenient and efficient than traditional checkout lines, they still require human staff to assist customers and are more susceptible to theft.
That's all changing with autonomous stores that eliminate checkout altogether (Video 1).
Video 1. Autonomous stores use AI and mobile app technology to charge shoppers for goods. (Source: Cloudpick)
"In this new type of store, we ask customers to register an account on a mobile app before entering the store," said Dr. Jeff Feng, CEO of Cloudpick. "After downloading the app, they add a payment method just like with Uber. And after registering, they enter the store, take items, and leave. It's really fast, frictionless checkout."
Inside the AI-Enabled Store
Automated checkout solutions like the Autonomous Store from Cloudpick are end-to-end technology installations that mirror the traditional shopping experience. A combination of AI, computer vision, deep learning, and edge computing allows registered customers to select multiple products, then simply walk out.
Here's how it works:
The application provides a QR code that shoppers use to gain access at store entry gates.
The code is then associated with a virtual shopping cart for each shopper in the store.
A vision system uses deep learning algorithms to identify the selected items and adds them to the cart.
If a customer puts an item back on the shelf, it's removed from the cart.
At checkout, edge computing platforms correlate all of this data and transmit it to a cloud-based billing platform in real time.
The Autonomous Store can track more than 30 shoppers and their actions over an area of roughly 1,000 square feet (Figure 1).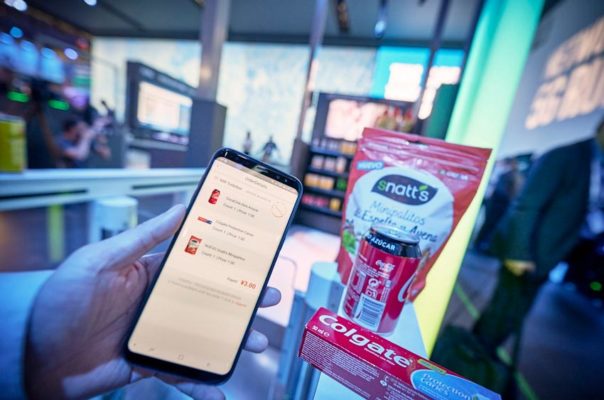 The Cloudpick vision system generates a virtual representation of everything in the retail space (including shoppers) and applies gesture recognition algorithms.
Virtual Reality for Physical Retail
To ensure accuracy, the Cloudpick Autonomous Store uses a couple of types of AI in parallel.
The first, and perhaps most obvious, is image recognition algorithms that identify various products in the store. Images of every SKU are labeled in a training database, and the resulting algorithms are deployed into the Cloudpick vision system, using the Intel® OpenVINO™ Toolkit.
Separately, the system generates a virtual representation of everything in the retail space (including shoppers) and applies gesture recognition algorithms to determine whether consumers have picked or replaced certain items. These algorithms are also capable of identifying behaviors such as walking, standing, crouching, or running, which helps distinguish one shopper from another.
"The vision system is smart enough to re-create everything in the store," Feng explained. "It basically re-creates every single person as a physical entity so we're able to tell customer A from customer B. And we're able to distinguish them during the whole time they're in the store."
Because most of these workloads are executed on 8th or 9th generation Intel® Core™ processor-based edge computing platforms, Cloudpick can dramatically reduce the amount of data sent to the cloud. And because QR codes are the only information used to track individuals within the virtual rendering of an autonomous store environment, consumer privacy is assured.
"When you register using the mobile app, that's the only information we get. We're not able to tell if you're Jeff or someone else," Feng said. "We only know a customer entered the store and they have individual payment information. That's it."
Building Digital Brand Loyalty
For consumers, the obvious value propositions of the autonomous store are speed and ease of use. But what about store owners? On the surface, retailers can reduce operational costs by augmenting human workers with AI and edge computing. And since these technologies don't eat, sleep, or take vacations, stores can remain open 24/7.
Peeling back the onion reveals more profound advantages for quick-service retailers. Because consumers register before shopping, they automatically become digital members of that store.
"So now the store owner has the power to communicate with their customers, and not just when they're in the store," Feng said. "Based on the mobile app, the retailer can do a lot of things they could not do before, like personalized marketing and coupon delivery for different customers."
Faster, Smarter Retail and Beyond
Peering further into the future also reveals a picture of more intelligent, automated communities centered around autonomous spaces. Imagine walking into a multipurpose environment and selecting lunch from a digital signage menu. On that menu you also select an option "Pay Utility Bills", then move on.
While your food is being prepared, you shop for items from your grocery list. A food runner—human or not—identifies you and serves your lunch at a nearby table. You then leave the space, groceries in hand, through an exit to a train station.
Your bills are paid, your lunch has been purchased, your groceries have been charged to your account, and you already have a digital train ticket to ride. This frictionless future could actually be closer than you think thanks to rapid innovations in AI, computer vision, and powerful edge compute.