Winning the Retail Game with Digital Displays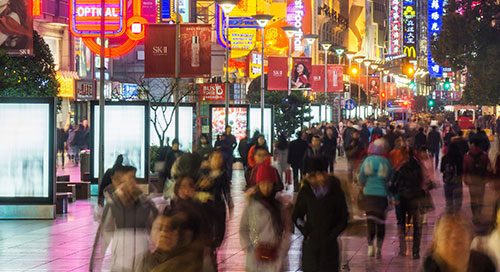 Jianghan Street in Wuhan, China is known as the "Walking Street in the City." Well over a kilometer in length, it hosts more than 100,000 visitors each day, and is one of the most famous shopping districts worldwide.
Consider the challenges faced by stores trying to stand out in such an intensely competitive retail environment. Every window features some form of advertising, with many using digital displays that play videos of the store and its products. But if every retailer is using these tactics, how does any one of them attract the attention of shoppers?
This problem doesn't just affect lesser-known vendors—it's experienced even by major players like Belle International, the largest shoe brand in China. To stand out in the crowd, Belle turned to Koscar Interactive and an interactive sidewalk gaming solution.
A Winning Strategy With Digital Displays
Koscar's Intelligent Vending Solution for Retail (IVSR) features a wall-size digital display platform (up to 3 meters high) that uses an entire shop window at the Belle Wuhan retail location. But rather than simply play videos or present still images, popular videogames attracts shoppers as shown in Video 1.
Video 1. Popular WeChat video games are integrated into the Koscar IVSR. (Source: Koscar Interactive)
Most people have seen these games only on smartphones, and the idea of playing them on a multi-meter screen is exciting. Icons are overlaid on a backdrop of HD videos that define the store brand and its products. Using the touchscreen, passersby can launch the game of their choice. The platform can even support multiple simultaneous users.
In addition to the attraction of free games, players are incentivized to compete for store coupons or prizes.
For example, one way Belle uses the IVSR platform to drive sales is through time-sensitive discounts, presented in the form of QR codes displayed on the window. And leveraging social media, gamers must follow the Belle WeChat account to receive the code.
Yet another option is to install a vending machine directly in the window to create a point-of-sale system at the exterior of the store. The POS terminals featured in the Koscar solution offer multiple control windows and delivery doors.
Beyond games, floating bubbles contain images of enticing products that glide around the screen, further branding the store and its products in the viewers' minds. Observers can "pop" the bubbles by touching them, revealing bigger pictures and more information. Shoppers can even use the window to purchase footwear online or directly from the store.
In the background, the IVSR also captures behavioral data associated with the users, such as how many people played the game, how many were in the vicinity watching, how many won, and how many coupons were redeemed. All of this information can be correlated with POS data from within the store to show real return on investment.
So how well has Koscar's IVSR performed for Belle International thus far? After just six months, sales have doubled.
A Vision for the Future
In Koscar's initial IVSR solution, software running on an Xbox Kinect performs the behavior and other analytics. The embedded Intel® Core™ processor delivers the multitasking horsepower needed to serve and control the games and perform the anonymized analytics. A high-performance graphics card drives the video and display.
As for software, the various applications integrated use standard APIs. For payment and messaging, Koscar leverages specific APIs from WeChat and Alibaba Alipay.
Moving forward, Koscar is deploying an alternate intelligent facial recognition solution. Next-generation IVSR systems will use the Intel® OpenVINO™ Toolkit for these tasks, as it helps optimize and accelerate neural networking algorithms running on Intel® processors. And, even better, the toolkit comes with more than 20 pre-trained models and algorithms that can be dropped into complex vision applications (Figure 1).

With OpenVINO, Koscar will be able to provide extended analytics on the players and people in the crowd. For example, detailed demographic data can be captured, such as age, gender, and emotion (happy, surprised, excited, etc.), which will allow more relevant games and focused brand messaging to be presented to potential shoppers standing in front of the display.
In the fullness of time, the system may even be used to recognize returning gamers and customers and greet them by name, thereby increasing their sense of having a relationship with the store or brand.
Today's shoppers are constantly inundated with an overload of visual stimulus and a cacophony of sound. Belle International is setting the standard for engaging customers in high-traffic environments, with unique interactive gaming to stand out in the crowd.
Next-generation retail advertising is upon us. Are you game?