Fill form to unlock content
Error - something went wrong!
Your content is just a step away. Please submit below.
Unified Data Infrastructure = Smart Factory Solutions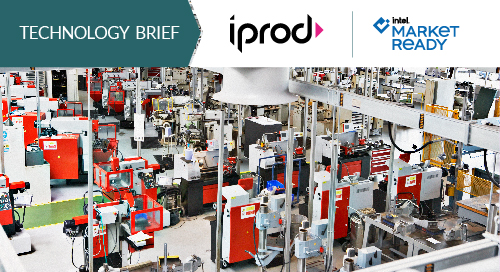 Industry 4.0 solutions need to be accessible to manufacturers of all sizes and budgets—but software that's scalable, cost-effective, and incorporates many functionalities in a single platform can be difficult to find. To get a unified digital system, manufacturers might have to integrate multiple software services and platforms to enable data flow across key areas such as predictive maintenance and process management. But developing integration among unrelated software applications can be a lengthy and costly process—and the results are often imperfect.
The iProd Manufacturing Optimization Platform was designed to solve these challenges and give manufacturers access not only to a unified digital platform but also a business ecosystem where the company shares real-time information with clients and suppliers. The cloud-based, pay-as-you-go solution provides actionable insights from edge devices to support organizations as they automate and manage key business processes. Nine different cloud-based software applications enable optimal systems performance, and with an intuitive, user-friendly interface, manufacturers can:
Plan production execution and monitoring
Manage assets
View and manage KPIs
Make purchases and manage supply chain
Handle administrative tasks
Share drawings and comments in real time
Cloud-Based Software Increases Operational Efficiency
One example of the iProd platform in action is with VHIT Spa, part of the Diesel System Division of the Bosch Group. VHIT Spa operates in the field of hydraulics, developing vacuum pumps for the automotive, hydrostatic controls, and positive displacement pumps for the automotive sector, tractors, and earthmoving machinery.
Located in northern Italy, the Bosch VHIT plant is a leading supplier of critical components to major automotive manufacturers globally, including Peugeot, Citroën, Volkswagen, Audi, Porsche, Daimler, Fiat, Iveco, CNH, Jeep, Chrysler, and VM Motor.
Bosch VHIT is a company devoted to innovation. In recent years it has started a process of efficiency by removing non-value-added activities and enhancing those of work optimization. Corrado La Forgia, Bosch VHIT CEO, explains: "For this reason, the company is on the path to 'make the machines talk and make them intelligent. It was necessary to receive data from machines to get accurate and valuable information—increasing productivity and having visibility into how many pieces are produced in the day, month, or year—providing the right tools to production managers so they can make the right choices to increase production quality and efficiency."
The company saw an ROI within just a few months of using the iProd platform. Before the first year, its machines achieved an overall equipment effectiveness (OEE) for a 10% increase in productivity and a 15% reduction in costs. Its flexibility and ease of use allows integration with any other CMR managing software and business process already in use by the company, which limits the costs of installation and data integration management.
Industry 4.0 Solution with Ease of Deployment
The Manufacturing Optimization Platform consists of a rugged industrial tablet, mobile app, and Intel-powered IoT edge gateway for device interconnection. Potential users of the platform include a wide variety of roles, from property and production managers to engineers, administrators, project managers, and even CEOs.
Using the iProd solution, manufacturers can easily interconnect existing machines, IoT sensors, and modules from different brands in any part of the world. "It's very simple to connect and get up and running," says Pier Luigi Zenevre, iProd Co-founder and Chief Marketing Officer. "All our data architecture is unified, making it simple to feed in data coming from different machines." Information is pre-analyzed and filtered at the edge, then sent securely on to the cloud.
Partnership with Intel plays a key role in the solution's success. "Connecting with Intel was one of the most important decisions we made," Zenevre says. "It's a reference technology for us, and a lot of companies approach us because of that partnership."
"We've created an integrated solution that lets #manufacturers develop their talent pool rather than needing to keep many workers close to machines on the floor." – Pier Luigi Zenevre, @iProd40 via @insightdottech
Preparing for a Machine-Based Marketplace
The Manufacturing Optimization Platform paves the way for a future where industrial machines will become customers. "We anticipate the arrival of automatic factories, where machines do not wait for human inputs but manage their own tasks," Zenevre says.
One way they can do that is through the solution's built-in IoT marketplace, which contains algorithms capable of interacting with machines, as well as humans. Purchases can be made in multiple ways: by the employee, the machine and confirmed by a person, or the machine within a given budget.
For example, a connected sensor might inform that it needs a predetermined spare part to continue its production tasks, avoiding machine downtime. It can reorder raw materials according to future production plans pre-set on the iProd Manufacturing Optimization Platform. And a machine can place an order for those items through the IoT marketplace—all without human intervention.
"When the machine is triggered according to predetermined rules chosen by the manufacturer, it's able to make purchases within a given budget," says Zenevre. "We've been called by Gartner the first industrial platform that will be able to implement this 'Machine Customer' technology."
Ultimately, a system such as this one allows manufacturers to maximize and invest in human resource development. "We've created an integrated solution that lets manufacturers develop their talent pool rather than needing to keep many workers close to machines on the floor," Zenevre says. "Our goal is to see a culture of innovation emerge in manufacturing—one where the operator is a key stakeholder and one of the most important sources of information, because they bring their past experiences and can help define the most efficient ways to run the factory floor."

Edited by Georganne Benesch, Associate Editorial Director for insight.tech.