Fill form to unlock content
Error - something went wrong!
Your content is just a step away. Please submit below.
Opening the AI Floodgates with No-Code Computer Vision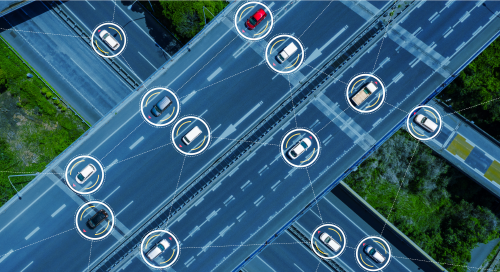 Computer vision is expected to periodically increase organizations' ROI while maintaining workplace safety over the next couple of years. This is because of its ability to provide incremental business productivity, streamline processes, track downtime, lower operational expenses, and keep an eye on safety regulations across all enterprises.
But bringing these solutions to life is not an easy task. To operate successfully, a computer vision system needs three things: enormous amounts of image data, cost-effective product pipeline appropriate algorithm selection, and repeated layers of optimization. To do this work successfully, organizations need in-house expertise, which many lack, and hiring help can be expensive, according to Harshal Trivedi, founder and CEO of no-code computer vision and video analytics platform Tusker AI.
And despite a majority of business leaders believing computer vision can save them time and money, once a skilled team is assembled, it often takes them months to train algorithms for a single use case. Even after all that work, many projects die in proof-of-concept trials, foiled by unforeseen data problems or implementation issues.
Thankfully, companies like Tusker AI are evolving technology to simplify the development process, enabling even people with no coding or AI skills to quickly create, produce, test, and scale effective computer vision solutions. And as smart vision systems become more widespread, faster development could give organizations a significant edge.
DeepTech No-Code Computer Vision
Many organizations already collect thousands of images in CCTV security cameras. To simplify application development, Tusker AI created a tool that uploads these images onto its platform, where companies can click to choose their own data-driven solution model—or several models—and immediately start training algorithms on the images/videos. Then they click another button to test the models and review their accuracy. If a solution looks appealing, they click Deploy.
"Upload, train, deploy—three clicks and you're good to go," Trivedi says.
No coding or AI expertise is necessary, which helps businesses save time and money. The Tusker AI video intelligence platform simplifies computer vision by removing overhead and providing a user interface automated engine, which helps design, deploy, and understand data sources to meet business needs. In addition to automating and standardizing model design tasks, Tusker AI includes complex queries to improve business alignment, ensure data integrity, and simplify integration.
"The result is faster insights and business impact, fully automated business processes, and the ability to rapidly upskill," says Trivedi.
Completed AI models can be available in hours, instead of months, freeing developers to focus on other projects. Efficiency is enhanced by the platform's use of the Intel® Distribution of OpenVINO™ Toolkit, which contains many building blocks for assembling image recognition and deep learning models.
"Intel OpenVINO speeds development, optimizes performance, and reduces costs," Trivedi says.
With Tusker AI, companies can also create additional models or add new images without extra charge. Tusker AI's deep learning models can identify a range of concepts, including objects, incidents, emotions, and predictions for industrial-grade deployments.
"Once the pipeline is there, you can automatically scale. Whether you have one image or millions, the cost per camera is the same," Trivedi says.
A Kaleidoscope of AI Models
AI models can also be tweaked to accomplish a nearly infinite variety of specific tasks more efficiently. Tusker AI's vision intelligence platform has made the automation of quality control, visual inspection, defect identification, and assembly line optimizing possible.
As #SmartVision systems become more widespread, faster #development could give organizations a significant edge. Tusker AI via @insightdottech
For example, at a large, monthlong religious festival in India, organizers used Tusker AI to help volunteer staff manage the event's 14 million visitors.
"In the past, there were many management problems. No one knew when to expect the crowds," Trivedi explains.
Organizers used smart video cameras and developed an AI model for them to notify parking attendants ahead of approaching cars, helping them reroute traffic and guide more than 50,000 vehicles a day into spaces in each lot. Cameras were also installed at entry gates and pavilion entrances, where an AI model counted visitors, helping staff manage crowd flow. Other cameras were placed at food stands, where an algorithm tracked food sales and correlated the information to inventory, ensuring that supplies never fell short.
In the industrial industry, computer vision models play a key role in workplace safety. For example, at a heavy-machinery manufacturing plant, one or two workers were injured every year after stepping too close to a machine containing a powerful, air-sucking fan—despite a bright yellow line painted on the floor warning them not to cross it when the machine was running.
The plant created an alerting system with Tusker AI, using smart cameras to notify the floor manager whenever a worker steps close to the line. If anyone crosses it while the machine is operating, an audible alarm is sounded. This simple system is preventing serious, costly accidents and work stoppages at the plant, Trivedi explains.
In warehouses and factories, AI models can also be created to warn managers of incipient problems, saving money and improving safety even further. The computer vision algorithms may be added to—or replace—the third-party video monitoring services many companies currently use. These services record events, aiding forensic investigations, but many don't provide alerts to help companies prevent incidents as they occur, according to Trivedi.
Preventing problems was a high priority for an ecommerce delivery firm bearing the cost of 100 to 300 damaged packages every month. The company used Tusker AI to create monitoring algorithms for its warehouse video cameras to make sure workers were following proper procedures. The system alerts a manager if goods are thrown, loaded improperly, or otherwise mishandled. Since the system was installed, monetary losses and complaints about packaging have decreased by over 50%.
Because video cameras collect large amounts of personal information, Tusker AI uses multiple controls to ensure data privacy. When images are selected for analysis, only their relevant metadata is transferred, processed, and stored. The metadata is encrypted in transit and at rest, and is subject to access controls and regular security audits. Compliance with regulations such as Europe's General Data Protection Rule (GDPR) and the California Consumer Privacy Act (CCPA) is built into the platform.
The Future: Computer Vision Models Everywhere
The spectrum for secure, easy-to-use computer vision models is broad, but it's nothing compared to the smart video tsunami to come, Trivedi believes.
"We will be seeing self-driving vehicles, robots, drones, and many new metaverse, virtual reality, and augmented-reality applications. These systems cannot operate without visual analytics," he says.
Though advanced solutions have major hurdles to cross before going mainstream, many companies are plowing time and money into AI vision research. When their products launch, Tusker AI hopes to help customers customize them without having to code.
"We are planning to build our platform to take automation to the next level," he says.

This article was edited by Christina Cardoza, Associate Editorial Director for insight.tech.