Fill form to unlock content
Error - something went wrong!
Stay up-to-date with the latest IoT news.
The On-Premises Performance and Reliability Guarantee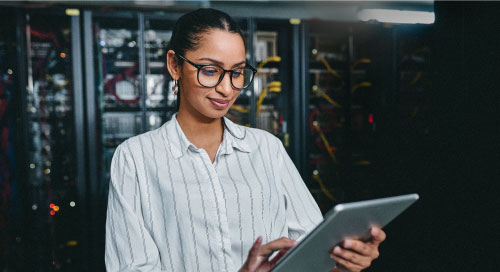 Contrary to popular belief, not everyone is rushing to the cloud. While the cloud does promise better flexibility, scalability, and speed, many organizations remain suspicious of its performance, availability, and security. Especially when every major cloud provider has suffered through multiple massive outages.
"Many companies have the mindset of 'It's my data, and I don't want it on someone else's computer,'" says Philip Elder, owner of MPECS, a hyperconverged infrastructure (HCI) provider. Because of this, he believes some workloads will never make their way to the cloud.
On-Premises Versus Cloud Computing
But questions around reliability are just one of the reasons companies decide to stay on-premises. Other factors include performance and costs. "The marketing has been very successful as far as the cloud is concerned; however, the reality is that public cloud gets very expensive fast when the workloads require performance," Elder says.
For instance, Elder recently worked with a customer in the surveying and mapping industry that wanted to run everything in the cloud. But the amount of data they generated, stored, and processed was massive.
"We are talking about terabytes of data per minute. As soon as we get into a high-performance solution set where we need volume, the public cloud doesn't make sense," he explains. "After doing an assessment of their company, best practices, and business model, we found the cost to run their business in a Tier One cloud would be seven figures per month."
The #cloud pendulum is swinging back toward #OnPrem solutions as customers realize they can achieve the same if not better benefits on-premises. @MPECSInc via @insightdottech
This is one of the reasons why Elder founded MPECS: to give businesses a choice to keep critical workloads out of the public cloud and run HCI-based solutions either fully on-premises or in a hybrid cloud approach.
The company focuses on small to medium-size businesses providing HCI solutions that Elder says deliver the performance, reliability, and cost public clouds cannot match.
The survey and mapping customer was able to save hundreds of thousands of dollars using a hyperconverged cluster solution.
According to Elder, MPECS was one of the first companies to build a Hyper-V cluster on the Intel® Modular Server platform. This allowed the company to deliver resilient storage and networking. As the industry shifted to the cloud, MPECS stuck with the on-premises cluster approach, adding a hybrid option for customers that wanted some level of cloud capabilities.
The Promise of On-Premises
With MPECS, Elder says organizations get an on-premises guarantee that enables them to confidently keep their services online with no interruptions.
This capability was particularly important to one of MPECS' nonprofit customers, which relies on donations for 100% of its revenue. The nonprofit organization often operates on deadlines, sending out time-sensitive emails to collect funds. An outage that would interrupt its operations is out of the question, Elder says: "So the preference in that case, where there's a sensitivity to timing, is for on-premises solutions."
The number of organizations that require keeping their data in-house expands across all industries, according to Elder. "Some companies want everything on-premises. They want everything to be hands-on," he says. "The cost per hour for downtime or being locked out of a cloud service, for instance—for even a small accounting firm of 18 to 20 seats—can be in the thousands of dollars per hour."
Elder thinks of MPECS solutions as an insurance policy that ensures servers keep working for the duration of their lifetime. For instance, one accounting customer has been running an MPECS solution that leverages Intel servers for more than six years, and the solution has run since Day One without a single interruption.
MPECS does perform regular maintenance to keep its solutions running, but there are no unscheduled outages that occur. "It's like owning a car," Elder says. "You have to change your oil, you have to change your tires and your brakes, and all the obvious maintenance that needs to be done."
Hybrid Cloud Security You Can Trust
In addition to performance and reliability, MPECS solutions are designed with security in mind. The host infrastructure, whether it is a standalone Intel server or a Microsoft Storage Spaces Direct cluster, is separate from the production layer.
"The advantage we have with the on-premises model versus a public cloud or even a hybrid situation is we have control over the security," Elder says. For example, if a user clicks a ransomware link, MPECS can isolate the machine and prevent the infection from spreading.
But even more important, Elder says, is user awareness. Since the company focuses on small to medium businesses, MPECS works with customers to ensure they understand the consequences of what they do and how to spot vulnerabilities. "The first rule of thumb of on-premises or cloud security is to train the human. That's the first line of defense, and then the second line of defense is in the way the system is architected," he says.
As Elder looks toward the future, he believes the cloud pendulum is swinging back toward on-premises solutions as customers realize they can achieve the same if not better benefits on-premises.
"I see that pendulum continuing as more and more people take an honest evaluation of their costs and realize that the little box in the corner and software licensing is all they really need to run their business at a much-reduced cost," he says.
This article was edited by Christina Cardoza, Senior Editor for insight.tech.