Fill form to unlock content
Error - something went wrong!
Stay up-to-date with the latest IoT news.
The IIoT As-a-Service Streamlines Digital Transformation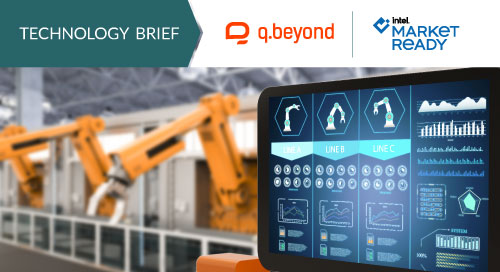 Industrial machines produce an inordinate amount of data. But manufacturers have predominantly relied on this valuable information to control their production flow rather than to drive automation or support forward-looking activities like predictive maintenance.
But big data is gradually bringing about big disruption in manufacturing. Along with the IoT and edge computing, digital transformation may finally take hold within the industry. q.beyond, a leading IT service provider, is making this happen by employing a "digitization-as-a-service" approach. In this way, the company is helping midsize manufacturing customers fully harness the power of data in their business.
Why Manufacturing Digital Transformation Now?
Many companies have been slow to adopt transformative technologies due to the lack of time and expertise for innovation outside their core business. Yet digitization is critical now more than ever for manufacturers. With a shortage of skilled labor, increased global competition, and profitability pressures, they must foster more agile operations.
But modernizing a business with legacy processes into a digitally driven organization isn't that simple. Innovation is often time- and cost-intensive, which is why some companies have turned to managed services to accelerate their transformation.
From cloud modernization to IT outsourcing, q.beyond's platform-based services empower manufacturers to digitize their business. The company combines edge computing infrastructure and hardware devices with advanced engineering software to help manufacturers innovate without having to overhaul their existing systems or significantly expand their IT capacity.
"Companies do not have to develop software themselves and don't have to integrate it themselves. That saves them time and risks," says Uwe Schnepf, Head of Industrial IoT Solutions and Strategic Partnerships at q.beyond.
The #Edge is advancing shop floor connectivity and transforming #manufacturing companies into digitally-enabled businesses. @qbeyondag via @insightdottech
Transforming Industrial Processes with the Edge
q.beyond's model is anchored around its EasyEdge platform service, which uses Intel® processor-based edge gateways to securely collect, process, and analyze data from industrial equipment on the factory floor. The solution is interoperable and extensible, so manufacturers can use it to expand the capabilities of existing systems and to connect any device they use in production without encountering vendor lock-in or issues with data sharing.
Partnerships are key to q.beyond's overall solution and services. One of the company's partners is IoT supplier Advantech, which provides edge devices that can be directly connected to machines via industrial fieldbus or ethernet protocols. Software from another partner, cbb software GmbH, is integrated into the edge device to facilitate OT-IT integration and to collect machine data, which can be stored locally on the device or in the cloud.
q.beyond also has a middleware solution called Edgizer used by EasyEdge that serves as the operating system for the edge gateways and provides centralized device management
Combining software and hardware from its partners allows q.beyond to deliver several benefits for customers, including the ability to decouple data collection, abstraction capabilities that reduce data complexity, and support for various protocols such as OPC UA, MQTT, and REST API. Customers can access real-time shop floor connectivity and insights, numerous interfaces for integration, and remotely access machines.
q.beyond offers all these services to customers through a cost-efficient, pay-as-you-grow model. Schnepf says manufacturers can start with just one edge gateway connected to a single machine and the Edgizer platform for centralized device management. Once a customer decides to continue with the service, they can then connect additional machines and pay a monthly service fee per device.
Driving Innovation for Manufacturers
One example of how q.beyond help customers achieve more agile operations is with Schütte, a Germany-based leading global manufacturer of machine tools.
Schütte uses edge gateways and the Edgizer platform, along with its own proprietary software. This allows them to collect data and run analytics in real time to measure machine performance, and remotely access and update equipment on their customers' shop floors.
"They use the processes running on the edge gateway to do their analytics and to visualize it. Then they talk to the people operating the machine at shop floor level about system status," Schnepf says.
Schütte also has used the platform for around-the-clock remote monitoring of machines at customer sites and to remotely access machines and perform updates. This has minimized on-site deployments and increased uptime of its machines worldwide.
Schnepf says Schütte showcases how other manufacturers can use this emerging technology to digitize their businesses.
"You do not need people onsite to do setup. That helps a lot in terms of lifetime support and establishing new models for smart service," he says. "Also, having the data about how their machine is used to produce parts provides a lot of feedback to the manufacturer about how to optimize the machine itself."
Bringing the Smart Factory to Life
The edge is advancing shop floor connectivity and transforming manufacturing companies into digitally enabled businesses. But this all starts and ends with data. Data will serve as the foundation for so many future manufacturing innovations — whether it's AI-driven predictive maintenance or smarter product development.
"We think there are many, many ways of improving services and products using this type of technology," Schnepf says. And with all these edge-driven services and capabilities, manufacturing's long-anticipated digital transformation is coming to fruition.
This article was edited by Georganne Benesch, Associate Content Director for insight.tech.