Tech Keeps Cities Going in the New Normal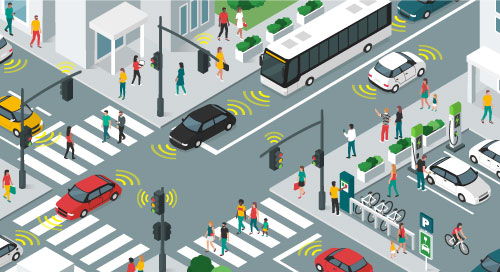 The COVID-19 pandemic has changed the way we work, the way we educate our children, and the way we interact with one another. And as scientists, governments, and citizens around the world reach toward a "new normal," technology has a huge role to play in keeping us safe and healthy.
The new Intel® e-book COVID-19: Reimagining Life in a Post-Pandemic World explains how cities, businesses, and hospitals are moving forward. Here are some highlights of the emerging technologies covered in the e-book:
Business & Education: New Dog, New Tricks
Businesses and schools are two of the places where people spend most of their day, so it makes sense that technology solution providers are working on tools that can decrease risk in these locations.
Early in the pandemic, many school systems scrambled to provide remote learning that replicated the in-school experience. There are already technologies in place that can do this, and tech providers are working on new solutions that will not just enable but enhance remote learning. Some solutions may also allow kids to be safely taught in person—like thermal cameras and analytics software that can scan kids and staff for fevers upon entering the school.
Meanwhile, businesses that want to limit risk through cashless payments or contactless delivery of goods will be able to use smart vending kiosks. These machines can be remotely managed, and have the added benefit of reducing operating costs. Automated air ventilation and filtration systems will help control microbes and mold in office buildings. And touchless or voice-activated elevators, along with floor signs, will help with physical distancing and minimize surface contacts.
To reach the "new normal," cities need these technologies. Via @insightdottech
Cities & Transportation: Going the Distance
Before the pandemic, many cities had already started on a journey toward "smart." They began using IoT and connected technology to fetch and process data to create efficiencies, promote economic development, and enhance the quality of life for all residents.
Governments that want to safely reopen their economies, and keep them going, will take advantage of video analytics that offer real-time insights into occupancy, density, and human behavior in crowded areas. Other tools will be used to monitor and track social distancing, and provide alerts when guidelines aren't followed.
In transportation, blockchain technologies will minimize in-person interactions while maintaining confidential communications. Cameras and fever detection devices will allow airports or other ports of entry to add health checks to their security screens.
Healthcare: Reducing Risks, Improving Outcomes
It's no surprise that healthcare is the focus of many emerging technologies in the COVID-19 fight. Healthcare workers and patients alike are at high risk of contracting the disease within healthcare facilities.
That's why telehealth will likely become a primary mode of medical care delivery in the future. Remote monitoring will help patients with chronic disease by tracking and sending health data to their medical providers, so these patients won't have to schedule potentially risky in-person visits.
In critical care units, integrated healthcare technologies will monitor patients and help busy personnel by quickly identifying at-risk patients and alerting staff when certain criteria are met.
A Day in the New Normal
So what might a day look like in a city that's implemented all these new technologies? Here's one scenario for a New York City doctor we'll call Amelia.
Amelia starts her day at home with a virtual fitness class, and her daily "work clothes" include health wearables.
Infrared fever detectors monitor Amelia as she boards a bus that collects contactless fares. The bus is cleaned several times daily by disinfecting robotics.
At the hospital, computer vision checks Amelia's compliance with PPE. During her shift, she follows up with some patients via telehealth and sees others in person; material-handling robotics easily and safely move patient samples to the lab.
Amelia shops on the way home, picking up a grocery order prepared by robotics.
In the evening, Amelia enjoys entertainment from her favorite streaming platform, talks to friends via video—and engages in some online retail therapy!
Many Intel partners are helping make this vision a reality. To learn about all the technology cities might implement—and citizens might interact with—post-COVID, download the e-book COVID-19: Reimagining Life in a Post-Pandemic World.