Innovate Customer Service with Next-Gen POS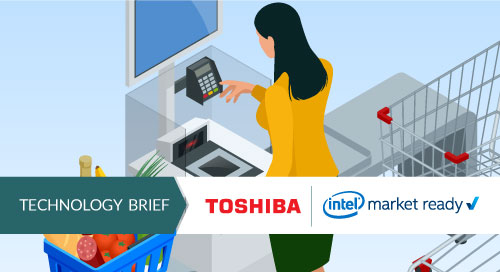 In the era of mobile payments and seamless commerce, consumers are demanding more flexible and convenient shopping options. Now more than ever, these trends are accelerating—compelling retailers to quickly respond. In this new retail environment, health and safety must be factored into staff and customer interactions. Self-service checkout, touchless payment, and buying online for in-store pickup (BOPIS) are no longer nice-to-haves. They're must-haves.
Many retailers are already upgrading their point-of-sale (POS) systems to capitalize on payment trends and enhance the in-store experience. But to make the most of their investments, they're seeking systems that can easily support this next evolution of customer service innovations and the ever-changing retail environment.
To enable these new requirements, merchants are replacing antiquated registers and terminals with POS systems that can support digital capabilities and new payment methods.
But they are looking for more than just checkout and payment flexibility. As retailers upgrade their POS, many are looking to adaptable, edge-to-cloud platforms. These systems typically have small footprints and the flexibility to be positioned anywhere in the store.
Flexible POS Systems Meet Customer Demands
The Toshiba TCx 800 All-In-One POS is a great example. The rugged, easy-to-deploy platform can be used in almost any retail environment. The all-in-one device comes in many configurations, with three screen sizes, two colors, and a variety of features and compatible peripherals.
The adjustable display seamlessly shifts from 90 degrees to lie flat, as shown in Figure 1, enabling it to be deployed in a variety of spaces, from countertops to kiosks and even poles and ceilings.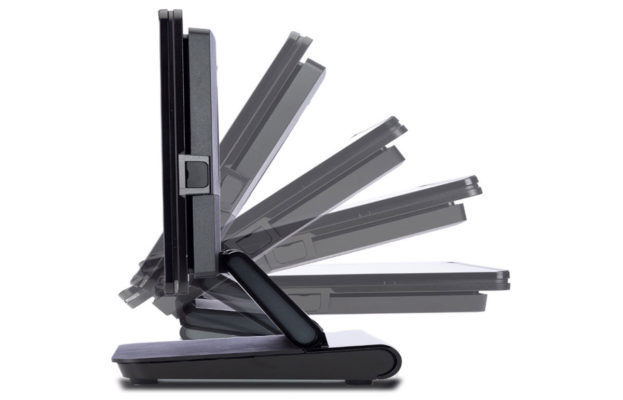 "This flexibility lets retailers use the same device throughout a store in a variety of formats," said David Eash, Global Product Line Manager at TOSHIBA Global Commerce Solutions, Inc.
"It can be used as a small- or medium-footprint register, and the same solution can essentially be used as a large-format kiosk or a self-checkout," Eash said. "A big benefit is that it can meet the needs in a lot of different segments."
Easy Serviceability Means Less Downtime
POS devices handled by associates and customers 365 days per year are put under extreme use, making them susceptible to dirt, lint, moisture, vibration, and shock.
"For systems that aren't easily serviceable, worn-out components can lead to big expenses and downtime," said Keely Jinol, Global Brand Marketing Manager for Infrastructure at TOSHIBA Global Commerce Solutions, Inc.
The system's tool-free access to critical components helps streamline in-store work. And cables with locking connectors can reduce accidental power and communication interruptions. The ease in making repairs or performing routine upkeep without waiting for a specialized technician reduces downtime. If day-to-day issues do arise, Toshiba is well equipped to handle them—swiftly and seamlessly, 24/7.
"Serviceability, availability, and reliability are critical," said Jinol. "With ever-changing expectations, the front-end solution is top-of-mind for many retailers."
One major retailer with 2,000 stores and 26,000 registers recently deployed the TCx 800 in an ongoing transition to offer a better checkout experience. Part of the overhaul entailed replacing traditional checkout aisles with more-modern fixtures to enhance the look, layout, and feel of the store. The flexibility of the TCx 800 enabled it to expand into self-checkout, mobile payments, BOPIS stations, and to support new methods of interacting with customers, all with one platform.
"It gave them the flexibility to cleanly integrate it into those new fixtures and to use the same device in multiple locations," Eash said. "They're doing a lot of online, mobile payment, changing the footprints of their stores, and they've become successful in new methods of interacting with customers."
The integrated components and cable management system also help retailers reduce the risk of the POS system being unplugged or damaged in the daily demanding use of retail, increasing reliability and ease of service.
"Serviceability, availability, and reliability are critical. With ever-changing expectations, the front-end solution is top-of-mind for many retailers." — Keely Jinol, @ToshibaCommerce
Expansion and Growth
Retailers are seeking long-lasting POS systems that serve as a platform for growth and enable them to upgrade and scale up into new payment options.
With easily replaceable components, cable management, and a rugged design, the Intel® processor-based platform offers a reliable lifespan of 7 to 10 years in most environments. "Such retail-hardened platforms can save up to 14 percent in costs per system over an eight-year span," said Eash.
The end-to-end solution includes all edge hardware, software, and cloud-ready solutions to enable the POS operations and deliver business analytics (Figure 2).

Specifically designed for retail, the platform drives optimized performance with integrated application technologies that reduce cost. Complemented by industry-designed peripherals like the TCx Single Station Printer, the flexibility is enhanced with a multitude of connectivity and enablement options.
Retailers can easily manage the status of all POS systems across multiple locations through Toshiba's modular Systems Management Solution, which includes Retail Enterprise Management Service (REMS). This offers options for remote access, active communication, managed POS and IO alerts, and full visibility management capabilities.
"The systems platform can help you manage current capacity and enable planning for operational improvements, setup and configuration, and so on," said Barry Cox, Product Line Manager for Systems Management. "When we talk about life cycles and maintenance, it's providing that information ahead of problems. Ultimately, it's a framework, an expanded platform you can build upon and add functionality. It's a POS system that evolves with the customer—and with rapidly changing retail dynamics."