Systems Integrators Deliver IoT Projects Far and Wide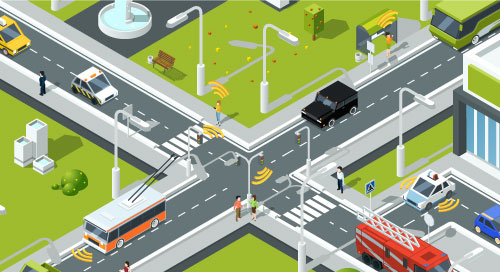 The drive toward digital transformation across industry, retail, cities, and other market segments is creating new challenges for systems integrators. In the past, SIs could focus on specific verticals, technologies, suppliers, and domains—such as the factory floor or the data center. But a narrow focus won't cut it today.
The fast-changing IoT landscape has expanded the realm of what's possible. But broad, scalable systems can be fragmented, and vertical-specific solutions require expertise. Systems integrators can fill the gaps by partnering with a full-service solution aggregator.
Aggregators provide far greater value than the traditional distributors of the past. With deep knowledge and market-ready tools, they can provide SIs with innovative technologies, verified solutions, supplier management, business services, and logistics on a global scale.
"Systems integrators understand their customers' immediate technology needs, but that may not be enough," says Dennis Niu, Asia Pacific Vice President of IoT Solutions, at WPI Group (WPIG), an Intel® IoT Solution Aggregator. "We help SIs deliver on end-users' overall business goals, which is important in an ecosystem marketplace. It's one-stop shopping in the Edge AI era."
IoT Applications Have Wide Reach
Within the next three years, experts predict the number of IoT-connected devices will increase to 43 billion. The wide reach creates endless opportunities, especially with smart infrastructure. For example, governments are transforming cities by adding innovative technology that can improve efficiencies and safety.
In one city, WPIG created a smart streetlight IoT project that not only saved the city money, it was also a basis for adding new applications. These connected streetlights can be turned on and off automatically based on calendar, schedule, or ambient conditions.
Once the application is in place, a systems integrator can work with an aggregator to grow its business by expanding into more smart city capabilities. For example, streetlights can be equipped with video and artificial intelligence and integrated into broader solutions (Figure 1).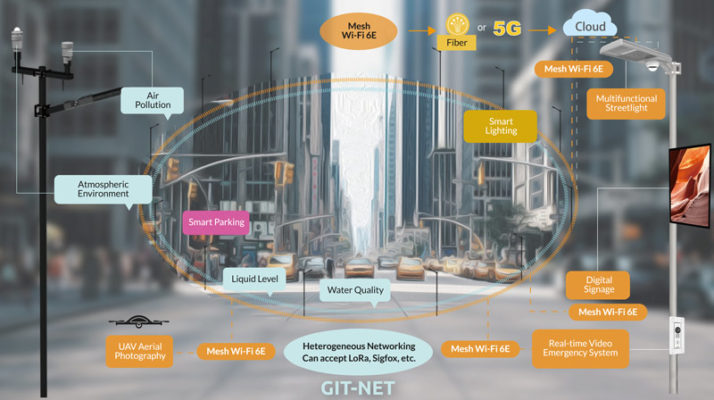 "Smart streetlights can track violations, such as drivers not parking in the right place or not paying the parking fare," says Niu. "Every streetlight could be a micro cell connected to a 5G radio station. The whole infrastructure becomes part of a smart city. We help connect the SI to vendors and suppliers to meet those needs. We partner with them and bring new ideas and solutions to make connected vision a reality."
And leveraging an aggregator's portfolio of proven Intel® IoT Market Ready Solutions (Intel® MRS) and Intel® IoT RFP Ready Kits (Intel® RRK)—assembled from a large ecosystem of products and partners—simplifies deployments and speeds time to market.
By partnering with WPIG, SIs can offer complete solutions for extremely complex challenges that they may not have been able to build on their own. SIs can better serve customers and pursue new markets by bringing them proven, scalable solutions that address broad integrations without having to manage all of the partners. On the other hand, solution suppliers can quickly scale their solutions to other countries with local WPIG recruited SI partners.
"Innovation won't stop. To make the right decisions, system integrators need to think big, start small, and move fast."
—Dennis Niu, WPI Group.
IoT Projects Can Also Go Deep
While complex systems can be customized to address a wide range of challenges, SIs can also serve customers by developing vertical-specific solutions that go deep within a market segment. IoT solution aggregators can help here, too. For example, WPIG optimized the aquaculture solution Aquadlink developed by its partner Quadlink—a leader in the Taiwan aquaculture market—restructuring an Intel MRS (Figure 2). The vertical-specific product is targeted to the fish farming industry, which is important in Asia Pacific.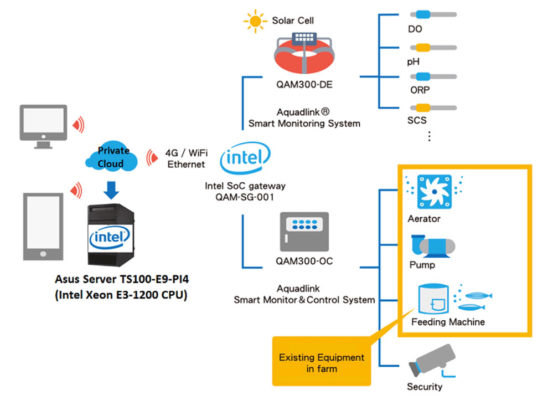 The Aquadlink solution provides environmental monitoring of aquaculture waters for disease control and breeding. It uses IoT automation sensors and solar power, and can be customized by breed. WPIG is scaling the solution, helping SIs sell to individual fisheries as well as fishery associations and fodder industries, penetrating a new market and establishing expertise in a niche.
"Taiwan has a lot of high-value fisheries," says Niu. "This solution is made for a real use case and can be deployed quickly. We bring value by bringing proof of concept, which is important. It would not be easy for an SI to do a solution like this alone."
WPIG also helps SIs dig into the details of deep domain knowledge by consulting on sales strategies. "We know that SIs need to approach the second-generation fish farmers, who are more open to adopting technology," says Niu. "The first generation believes in their own senses and experience. They don't feel they need technology. But the second generation doesn't want to go to the field every day. They want to use their mobile phone to remotely manage situations. You can't convince a first-generation fish farmer by yourself. But if you can get the second generation, you will have a greater chance that they will do the selling for you."
Both of the above solutions have been duplicated successfully in other countries with local SIs. WPIG aims to recruit local SI partners in Asia Pacific countries to distribute Intel MRS and RRK solutions locally in the shortest time. It helps both suppliers and SIs accelerate time-to-market with technical, sales, and marketing support.
With an IoT solution aggregator on their side, SIs can serve markets wide and deep. The key to staying relevant is keeping up with changing marketplace needs. "Innovation won't stop," says Niu. "To make the right decisions, system integrators have to think big, start small, and move fast."