Fill form to unlock content
Error - something went wrong!
Stay up-to-date with the latest IoT news.
SIs Deploy Interactive Digital Signage with Ease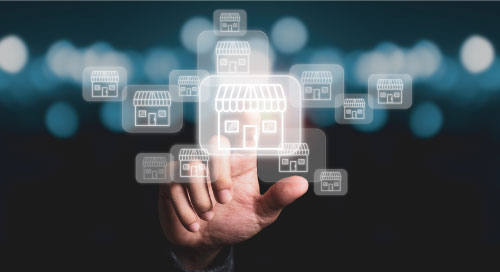 AI, machine learning, and the IoT have created a retail technology marketplace in which virtually anything is possible. There's just one problem: An abundance of technology makes connecting the dots a challenge. Today's systems integrators need to assemble complex solutions for their clients with support services that enrich the relationship. Hardware and software providers, on the other hand, need help finding new uses and markets for their products.
Enter the matchmakers of innovation: modern technology distributors. Using their deep product knowledge and expertise, they unite interactive digital-signage SIs with manufacturers and ISVs, helping each grow their business by gaining access to an ecosystem of needs and solutions.
"Today's reseller has to have a tech stack beyond what they had 5 or 10 years ago," says Dean Reverman, Vice President of Marketing at Bluestar, Inc., a specialty electronics distributor. "They have to walk in the door with a broader number of solutions sets. How do they do that? Smart systems integrators lean on value-added distributors."
While traditional distributors pick, pack, and ship, Reverman says value-added distributors move beyond the basics by leveraging insider knowledge.
"Our unique disposition gives us optics," Reverman explains. "We understand what value-added resellers are going through on a day-to-day basis, because we're interfacing with them on a day-to-day basis. We understand what product vendors are trying to accomplish with their strategic goals and their product developments. And we understand what the software community is bringing to the table by creating unique solutions they want to get into the ecosystem."
To facilitate matches, BlueStar launched its TEConnect program, bringing together hardware and software providers to generate new solutions, such as digital-signage kiosks and interactive digital signage.
"One of the things we try to do is tap into the software community and enable them in the channel," says Reverman. "And a lot of what we distribute would be a doorstop if it didn't have a piece of software on it."
Intel® plays a major role in BlueStar's matchmaking process. "We now have a partner when our customers come to us with early-stage solution development," says Reverman. "This is so critical for IoT. Having the ability to lean on Intel's engineering prowess is how some of those solutions get built. With our TEConnect program we've built a lot of camaraderie with Intel, which is how we bring software development companies into the channel and enable them to sell their products."
"While traditional distributors pick, pack, and ship, value-added #distributors move beyond the basics by leveraging insider knowledge." – Dean Reverman, @Think_BlueStar via @insightdottech
Creating Digital-Signage Kiosks
A good example of the ecosystem at work is BlueStar's partnership with Elo Touch Solutions, Inc., a leading manufacturer of interactive touchscreens. The two companies work together to create and promote innovative industry-specific solutions. One such product is Appetize, a point-of-sale system made specifically for stadiums that process guest transactions and track inventory at scale. The solution includes fixed and portable terminals, kiosks, and handheld devices.
BlueStar assembles the components that include Elo Touch screens, stands, and printers. Then the distributor takes it a step further, offering installation services that help SIs deploy the complete solution.
"With Appetize, for example, you could be deploying hundreds of thousands of units to locations," says Karey Linkugel, Business Development Manager for BlueStar. "That takes time, and someone is going to have to put it all together. Before the product even leaves our warehouse, BlueStar takes the Elo screen, puts it on a stand, runs the cabling, and installs the software. Then we put it in a box and ship it to the location."
And to generate demand, BlueStar and Elo Touch combine marketing dollars to run campaigns and grow their businesses.
"Manufacturers like Elo want to work with somebody who knows the business and the technology and who has an experienced sales team that can hold their hands and run down the street," says Linkugel.
"We value the opportunity to consult one another as the environment changes, and determine what fits best for both companies," adds Kim Davis, Senior Director, Channel Sales for Elo Touch Solutions. "Their value is tremendous for our business as they manage it very well and continue to grow our product line."
After the Match
In addition to bringing together hardware and software providers, BlueStar supports its customers with custom configuration, financing, marketing, and service support.
"Resellers are cash strapped to a certain degree," says Reverman. "They go out and win deals, but they don't always have the ability to finance these opportunities. We offer unique financing options that enable resellers to go to market with solutions."
Distributors also gain value from the relationships, including the ability to offer dynamic new ways to package solutions. And they can promote the innovative new uses to market and grow their own businesses.
As tools and use cases become more sophisticated, value-added distributors like BlueStar are the retail solution experts, offering the right technology and services for SIs, helping them gain access to new markets and opportunities.
"We're helping our partners with the latest proven technologies—opening doors so that they expand upon the business that they're doing today," says Reverman. "Maybe it's machine vision, maybe it's back-of-house tagging and tracking assets. Whatever it is, our job is to make it happen through our ecosystem. It's like a Swiss army knife, enabling solutions and taking them to market."
This article was edited by Georganne Benesch, Associate Editorial Director for insight.tech.