Fill form to unlock content
Error - something went wrong!
Stay up-to-date with the latest IoT news.
Real-Time Analytics Drives Real-Time Security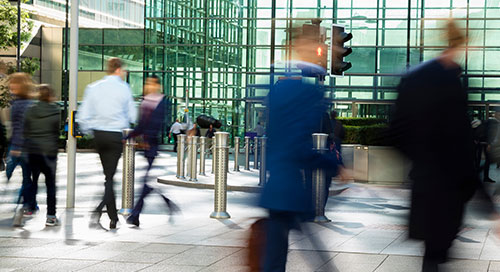 Editor's Note: Commercial businesses, schools, hospitals, and other organizations place a high value on campus-wide safety. And the need to protect people and assets has never been greater. Facility and security staff are facing new mandates—such as preventing crowding, controlling building access, and conducting health screenings.
The good news is that robust security solutions make it easier to tackle these challenges. Computer vision and edge analytics make centralized monitoring and control a reality, easing the burden on security staff. And often these system work with existing video camera infrastructure, streamlining the transition to these new technologies. Read how one company is making this a reality today.
---
The increasing need for safeguarding business campuses has led to an ad hoc proliferation of security cameras, which generate tremendous amounts of video. But making use of the constant streams from hundreds of cameras is beyond the ability of most existing systems, reducing effectiveness.
Technologies such as artificial intelligence (AI), real-time analytics, and centralized management can solve these challenges, while integrating with legacy systems. These solutions composed of algorithms and digital tools can exponentially increase security levels. This allows more security staff to get out of the control room and establish relationships with people on the business campus, leading to increased cooperation and an enhanced sense of safety.
Yet developing such a multifaceted solution requires expertise in multiple areas. That's why Solution Integrators (SIs) expect manufacturers to do more than provide technology. And to that end, companies like Honeywell Commercial Security have taken notice. They're working directly with SIs from the pre-sale to post-sale stage, helping them demonstrate how the solution will provide the end customer with the security it needs.
Campus-Wide Safety Right Out of the Box
The MAXPRO NVR provides an open and expandable architecture. It integrates by design with legacy security systems, helping integrators offer enterprise customers a future-proof security solution.
Vijay Dhamija, Senior Engineering Manager with Honeywell, explained that organizations spread across large areas—typically consisting of multiple buildings, offices, paths, parking facilities, and other spaces—are vulnerable due to their size and configuration.
"There could be 500 cameras deployed on such a site," Dhamija said. "The security staff might be able to monitor up to 25 of them at once. But that means they can't see 95 percent of what's taking place."
This is where AI comes into play. The system comes with algorithms that process video data to detect anomalies corresponding to intrusions or other events in the scene, as well as providing facial recognition. It responds by looking at the historical behavior of alarm activities, and then correlates multiple data points to determine the nature of an alarm.
These algorithms can alert security staff to a variety of situations: for instance, if someone attempts to climb a fence or if a car without white-listed license plates passes the gate. In this way, AI monitors every camera at all times.
Using the system and with assistance from Honeywell, SIs can build a solution that transmits a very low stream of data from the camera, reducing processing power consumption. "Even with a 1080p full HD or 4K camera, our algorithms need a relatively small video data feed to work," Dhamija said. "This enables the system to process data faster and improves accuracy."
The system, developed by Honeywell as an Intel® IoT RFP Ready Kit (RRK), also provides SIs with an opportunity to receive help from the company's design group at each stage of development.
"We work closely with the integrator on every MAXPRO project, even before it's sold and deployed," Dhamija said. "Our application engineers and data scientists help SIs customize the solution to meet the needs of their customer. They'll also help with training and making modifications, post-deployment."
Dhamija described an interesting example in which spiders began to congregate on the lenses of a customer's cameras. The algorithm was then trained to recognize spiders, preventing false alerts, while still performing facial recognition and other applications—even with spiders on the lens.
And since MAXPRO can be integrated with other Honeywell systems, such as maintenance and operations, it's possible to automate a request to clean the cameras or perform other tasks.
"Our application engineers and data scientists help SIs customize the solution to meet the needs of their customer. They'll also help with training and making modifications, post-deployment." —Vijay Dhamija, @Honeywell @insightdottech
Real-Time Analytics Mean Real-Time Security
The MAXPRO NVR refers to the network video recorder while the MAXPRO VMS denotes the video management system software.
An NVR differs from a DVR or digital video recorder in how it processes video data. An NVR system is edge based; it encodes and processes video data at the camera and streams information to the NVR where it's stored and analyzed. A DVR system processes video data at the recorder, meaning the system must be capable of transmitting every frame of video before it is analyzed.
Another difference: Typically NVRs use IP and high-definition video cameras, while DVRs use only analog cameras. Legacy analog cameras are not an issue for MAXPRO, which can include encoders that work with these older devices.
Powered by Intel®, the solution supports simultaneous recording, live monitoring, and search and system management. Data comes into the NVR directly or through a server. The NVR makes that data available for the software in a central monitoring environment (Figure 1).

Honeywell designed MAXPRO to support industry standards, including:
Open Network Video Interface Forum (ONVIF) Profile S, Profile G
Physical Security Interoperability Alliance (PSIA)
Real Time Streaming Protocol (RTSP)
In this way, an SI and its customer, with help from Honeywell's application engineers, can select from a wide range of Honeywell or third-party cameras and other equipment to configure the optimum solution.
The SI, using guidance from Honeywell, will then install all the cameras, NVRs, and the VMS, which includes client workstations. They'll also make sure that video quality and performance meet benchmarks before completing deployment.
Facial Recognition and GDPR Compliance
Because the MAXPRO is an AI-equipped edge-based system, the cameras can select, extract, and transmit only the video data needed to perform applications such as facial recognition, access control, people counting, and theft prevention. It uses the Intel® OpenVINO™ toolkit to enable selective blur on video footage to mask the identity of individuals in the frame. Yet it still records facial recognition data, allowing the solution to comply with GDPR regulations.
Working across a broad partner ecosystem has afforded Honeywell opportunities to improve its Intel-based security systems. "Intel provides us with early access to their latest chips and accelerator cards," Dhamija said. "And this means solution integrators can accelerate their time to market with end-to-end solutions that solve complicated physical security challenges."