Increase Digital Signage Uptime, Lower TCO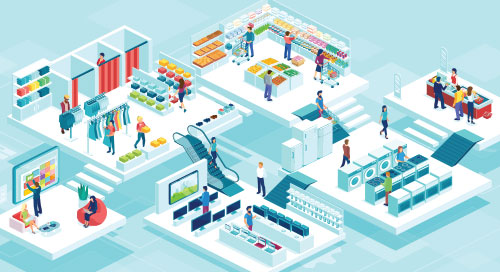 According to studies, 9 out of 10 consumers prefer to shop in a physical store when buying something for the first time. And Nielsen research showed that digital signage in grocery stores resulted in as much as a 33 percent increase in sales over static print signs.
These and other market statistics are driving retailers to invest in digital displays. Today, the technology is enhancing shopping experiences and influencing consumer purchasing decisions in a number of ways:
Drawing customers into retail spaces with informative messaging
Keeping customers engaged through immersive, interactive, and personalized content
Prompting impulse purchases by offering detailed product information and "flash" sales
Promoting customer loyalty and satisfaction through touchscreen-based systems that offer bill payment, benefit programs, order processing, and other line-cutting information and services
But the sales and engagement advantages of digital signage technology come at a cost. And while you might believe that the cost of purchasing and installing equipment is a barrier to entry, ongoing platform management and maintenance is the most expensive proposition for most retailers. This is especially true when considering that these technical tasks fall outside of retailers' core expertise of sales, marketing, and logistics.
To overcome the management and maintenance challenges of digital signage, system integrators are developing solutions that reduce the complexity of deployment. These platforms integrate a suite of remote management functionality that offloads store personnel or on-site technicians from the complexity of maintaining digital signage systems and shifts those responsibilities to IT departments.
These capabilities are now combined into off-the-shelf, entry-level digital signage solutions that are compact, rugged, and wall-mountable. They offer advanced graphics and media playback technologies in support of the latest UltraHD 4K displays.
High-End Integration for Entry-Level Signage
Now Micro is one vendor developing systems that align with the aforementioned requirements. The company's most recent media players, the DMPS-4200 and DMPS-4200Q, are part of a family of wall-mountable 7.44" x 7.13" 1.94" signage solutions that can be used to drive third-party displays in kiosks, POS systems, digital menu boards, video walls, and other retail applications (Figure 1).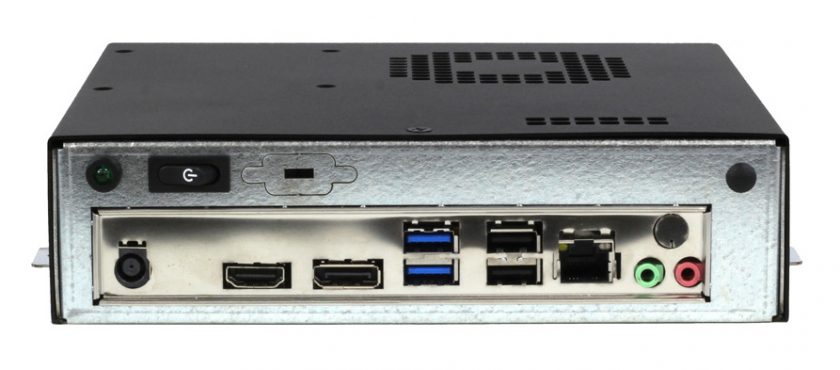 Based on 8th generation Intel® Core™ vPro processors, the DMPS-4200 and DMPS-4200Q leverage integrated Intel® HD Processor Graphics to support two simultaneous UltraHD 4K displays. The host processors also enable table-stakes digital signage I/O, including DisplayPort, HDMI, USB, and serial interfaces. These can be accessed through the systems' rear panel for quick and painless integration.
But just as important as the multimedia support, retailers and system integrators looking to reduce management and maintenance headaches appreciate the combination of remote technologies available on the media players. These include:
Gigabit LAN and optional Wi-Fi connectivity that allows the devices to be accessed from anywhere with an Internet connection
Pre-integrated Windows 10 Pro or Windows IoT Enterprise operating systems, the latter of which supports Mobile Device Management (MDM) capabilities
Intel® Active Management Technology (Intel® AMT), a feature that allows IT managers to discover, repair, and protect assets like networked digital signage players
Active Management for Retail Digital Signage
To abstract away the complexities of platform maintenance and management, the Intel AMT keyboard, video, and mouse (KVM) feature lets IT managers perform maintenance on remote connected devices, regardless of their power state or the functionality of their host operating system (Figure 2). So, rather than sending a technician in person to a retail store to fix an issue with a digital signage player, IT operators implement patches or upgrades over-the-air with a software update.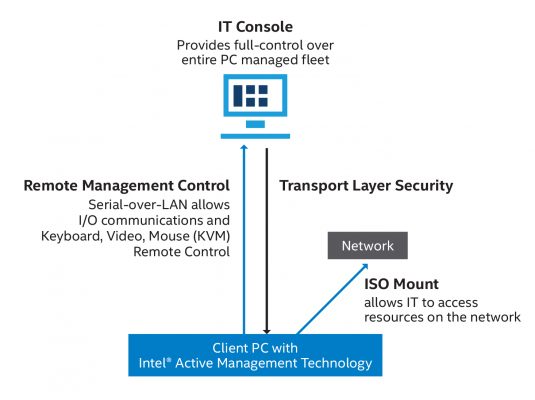 All that is required for Intel AMT is a compatible host processor such as 8th generation Intel Core vPro devices, and a serial LAN connection like the Gigabit Ethernet or Wi-Fi connectivity available on Now Micro's DMPS-4200-series media players. IT administrators can remotely manage entire fleets of deployed networked devices over a secure TLS connection, obtaining full control over system and network resources.
As shown in Figure 3, Intel AMT can have a significant impact on the total cost of ownership of digital signage solutions, as well as platform downtime. When compared to traditional IT maintenance practices, Intel AMT has exhibited the ability to reduce troubleshooting time from more than 40 minutes to less than five minutes.
(Editor's Note: More information on Intel AMT in retail environments can be found in "Ring Up POS System Sales with Intel® vPro™ Technology".)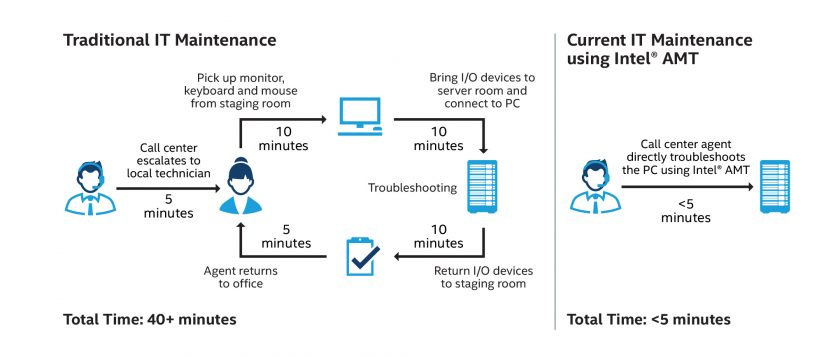 "On-premise devices supporting digital signage allow us to easily do things like remotely reimage the device because we have on-site storage," said Bernard Carter, Director of Product Development and Operations at Now Micro. "I can also remotely triage and repair OS issues without having someone go out and touch the device. With video caching on that device, I can distribute large gigabyte videos once to the store. I don't have to distribute the same content 16 times to 16 different players, saving bandwidth and operational headaches."
Meanwhile, the MDM features of Windows IoT Enterprise that comes pre-loaded on Now Micro DMPS-4200-series media players helps IT managers enroll connected devices quickly so that they may communicate with enterprise management servers. But more important, it also installs a management client that periodically syncs with those enterprise servers, allowing media players to automatically check for available software updates and new policies enforced by system administrators.
A Look Into the Future
An effective digital signage solution should be smart, visually rich, contextually aware, interactive, and bring the ease of online shopping to users in physical retail spaces. But this can be achieved only if a digital signage system is operational in the first place.